3 Improvements to Pass on Prior to Listing a Home For Sale
Posted by Kevin Kling on Wednesday, February 22, 2023 at 11:37:19 AM
By Kevin Kling / February 22, 2023
Comment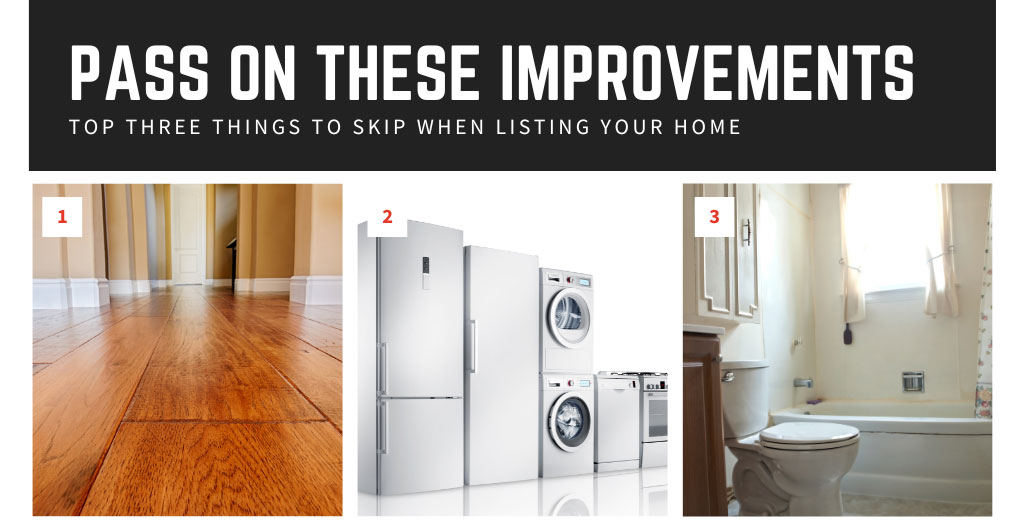 When it's time to sell your home there are many things to consider and it can be a hectic time as you plan a future move. Earning the most money possible for your home is always the #1 goal when it comes to selling your home, and to potentially garner great value, it is important to make your home stand out to prospective buyers. Many sellers choose to spend some money on home improvements prior to listing in hopes of generating more interest when the property hits the market. But how much renovation or upgrading is too much? Is there a point that some of these face-lift items could become a sunk cost? Let's explore some top renovations that may not be necessary to sell your home for a great price.
Carpet & Flooring
Whether you have tile, hardwood, laminate or carpet, it is not always necessary to make any changes to your flooring prior to a sale. A potential buyer may like the current flooring or have their own ideas and taste for flooring changes after purchase. The best option is to make sure wood floors are polished or your carpet is professionally cleaned to present well for those viewing the home. Of course, if there are major stains or strong odors in carpet, significant water damage on wood flooring or cracking tile, then replacement might be considered.
Appliances
If it works, don't fix it, or replace it, in this instance. The new owner of your home may be bringing appliances from another property, have their own ideas for a specific brand or type of appliance in renovation, or they may be happy to have usable appliances without adding any further expense. If your refrigerator, cooktop, clothes washer or dryer or all serviceable, this should be an item to skip on replacing prior to listing your property.
Kitchen & Bath
Speaking of appliances, kitchens and bathrooms are some of the most commonly updated rooms both prior to and after a sale. Resale home options built in the 1980's, 90's or before that have never had major renovations tend to show their age for buyers with more modern taste. But what if your renovations aren't to that next buyer's taste as well? Kitchen and bath renovations tend to recoup barely half of the funds invested on resale according to industry reports and these renovations can also take time, delaying your potential sale in an ever-changing market. The important thing to remember is to ensure these living spaces are functional and clean to show their potential to prospective buyers.
Fresh paint, landscaping, pressure washing and thorough cleaning are some of the lower cost items that should top your list for improvements prior to a home sale. Other more expensive items as discussed above should be considered on a case by case basis. If you would like more advice from a local real estate professional prior to listing, please feel free to contact us 386-999-3977. We are here to help!