Aboveground vs In-Ground Pools: Which Style Do You Prefer?
Posted by Kevin Kling on Wednesday, February 16, 2022 at 9:28 AM
By Kevin Kling / February 16, 2022
Comment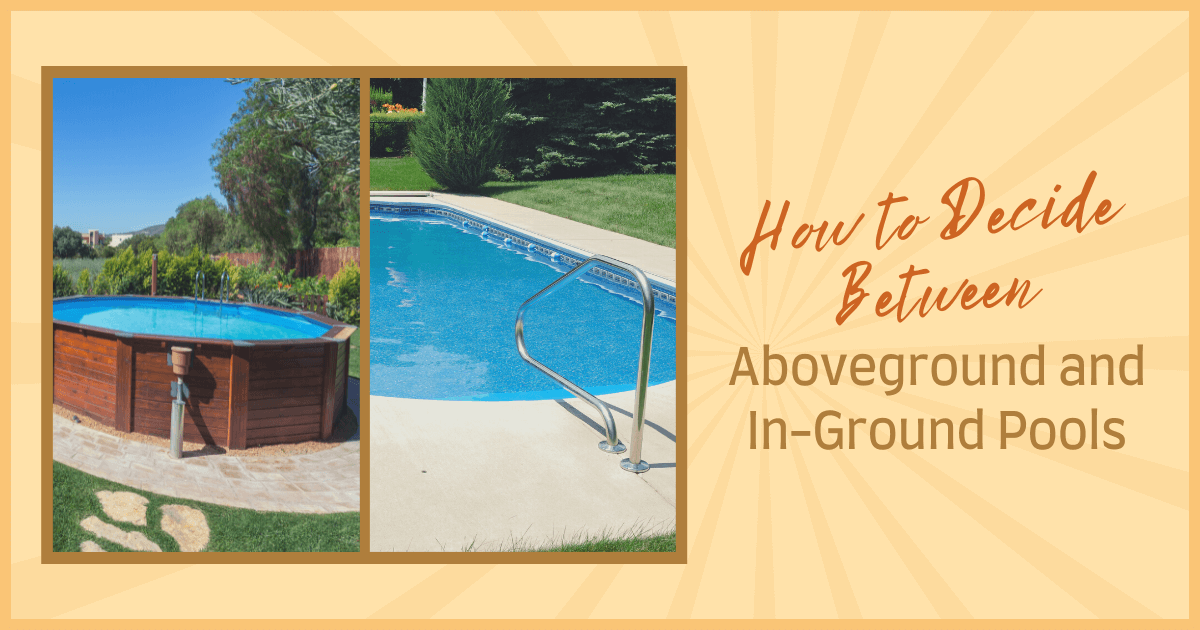 A backyard pool can be a great addition that allows for exercise, recreation, and socializing with friends and neighbors – especially with fun pool accessories. But should owners opt for an aboveground pool or an in-ground one? This partly comes down to personal preference, but there are a lot of other factors to consider when buying a home with a pool. Before you suit up and dive into pool ownership, keep reading to learn more about six things homeowners should think about when trying to decide between an in-ground pool and an aboveground pool.
Table of Contents
Cost of an Aboveground vs. In-Ground Pool
An aboveground pool is just about always going to be a more affordable option than an in-ground pool. If cost is a concern, an aboveground pool might be a better option. A small in-ground pool on the most affordable end of the scale can cost more to install and maintain than the most expensive aboveground pools on the market.
There are a number of reasons for this big price discrepancy. An in-ground pool requires an excavation company to dig a hole in the backyard, for example. This requires additional permitting and surveying, so the excavation company doesn't sever fiber-optic lines, sewer lines, or other underground infrastructure. In-ground pools generally need professional installation, which may not be necessary for an aboveground pool. In-ground pools also require more materials to construct them, and more expensive materials, such as concrete. An in-ground pool may also require the installation of a pool safety fence, depending on municipality rules where the homeowner lives.
Ease of Installing the Pool
Aboveground pools are definitely easier to install than in-ground pools. The aboveground pool arrives in a kit and can be assembled in just a few days by the homeowner or a team of professional installers. Spending a bit more on an aboveground pool allows for the addition of a deck, railing, safety fence, and locking mechanism. Aboveground pools can also be set up with a heating element to extend the swimming season.
In-ground pools are more difficult and time-consuming to install. The permitting alone can take several weeks for approval after a homeowner decides to install a pool. After that, must-haves when building a pool include professional contractors, who must dig and construct the structure from concrete, vinyl, or fiberglass. Weather conditions can also impact the installation time. Whereas an aboveground pool can take just a few days to install, an in-ground pool won't be ready to use for a minimum of several weeks.
Value Added by the Pool
An in-ground swimming pool can add value to the home in some cases. For example, if it is a luxury neighborhood where pools are the norm, it can add value thanks to buyer expectations. It also helps if the pool does not take up the entire yard, leaving room for recreation, gardening, landscaping, or other features. Homes with a pool also tend to be popular with buyers in states where the weather is generally warm and sunny, such as Florida or Arizona. Under the right conditions, an in-ground pool can add as much as 7% to the value of a home.
Aboveground swimming pools can actually reduce the value of a home. They don't have a long lifespan in comparison to in-ground pools, and therefore, most aboveground pools are considered temporary structures by home appraisers. That's not to say that all aboveground pools reduce value; great pool designs can make them attractive outdoor spaces, and the primary value of a pool is in the owner's enjoyment.
Aboveground vs. In-Ground Pool Maintenance
Aboveground and in-ground pools have similar maintenance requirements. Having a pool means that the homeowner will be doing weekly tests of chlorine and pH levels in the pool, conducting weekly chlorine shock treatments to prevent algae growth, cleaning and replacing the filter, cleaning the pump and skimmer baskets, and running a pool vacuum at least once a week.
When it comes to repairs, however, aboveground pools tend to be more vulnerable to damage, while damage in an in-ground pool is typically going to cost much more to fix. An in-ground pool is a permanent structure, so repairs usually require professional help.
Pool Customization Options
An in-ground pool offers the homeowner many more customization options than an aboveground pool. In-ground pools can be rectangular like a lap pool, round, irregularly shaped, or some other creative design, depending on the homeowner's preference, property size, and budget. In-ground pools can also be much deeper than an aboveground pool (typically 9 to 11 feet in the "deep end"), which allows for diving or jumping in the water.
If a homeowner can dream up a truly unique shape and size for an in-ground pool, it can probably be built to those specifications by a team of professional installers. In-ground pools also tend to be more visually pleasing because their level makes them look like a natural body of water.
Aboveground pools come in a kit, so they are mostly limited to round, oval, or rectangular in shape. Most fall within the range of 12 feet in diameter up to 33 feet. Aboveground pools are usually only 48 to 52 inches deep, so diving is not possible with them.
Longevity of the Pool
Aboveground pools are temporary structures that are not expected to last for many decades. If an aboveground pool is cared for and meticulously maintained, it can last the homeowner anywhere from 10 to 15 years. For some homeowners, this might be a better option. For example, if a family only wants a pool for the years while their children are growing up, or a homeowner foresees that they'll want to move again in a few years, an aboveground pool can be a smarter investment.
In-ground pools are considered permanent structures and have a much longer lifespan. If the pool is constructed from gunite, the plaster can be refinished once every decade or so. Likewise, fiberglass underground pools can receive a new gelcoat finish every decade. If the homeowner does that, an in-ground pool can last as long as 50 years. Even a typical concrete pool has an expected minimum lifespan of 20 years.
Aboveground vs. In-Ground Pools: It's Up to Owner Preference
Those are the main factors that a homeowner should consider when they want to install a backyard pool. Each type of pool has its own pros and cons, from the ease of installation and customization options to longevity and long-term maintenance costs. Homeowners should weigh all these factors before coming to a final decision on a pool.
Daytona Beach Pool Resources
How to Stage Pool Areas for Faster Sales - Coming Soon!
Design Ideas for Backyard Pools - Coming Soon!