4 Best Beaches in New Smyrna Beach: Oceanfront Fun Near You
Posted by Kevin Kling on Friday, October 21, 2022 at 3:13 PM
By Kevin Kling / October 21, 2022
Comment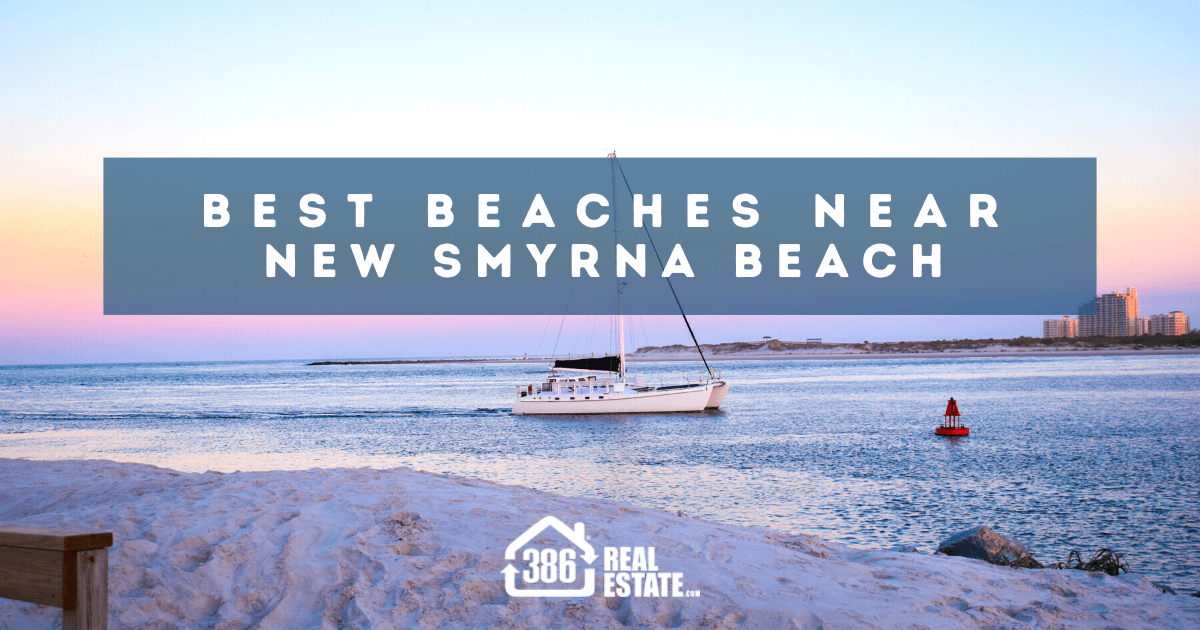 The city of New Smyrna Beach, FL, is a paradise for anyone who loves living close to the water. There are hundreds of condos along South Atlantic Avenue right next to miles of white sand beaches. Even further inland, many New Smyrna Beach riverfront homes have access to the Indian River North, Browns Bay, and Ponce de Leon Inlet, which leads directly into the Atlantic Ocean. Just watching the sailboats and yachts on the water is relaxing, but there's nothing quite like toes dipped in the sand next to the crystal-blue waters of the ocean. Fortunately, some great beaches in the area are open and accessible to everyone, whether they're visiting or moving to New Smyrna Beach. Here are four of the best beaches near New Smyrna Beach, FL.
Ormond Beach
Ormond Beach is north of New Smyrna Beach in Daytona. The Andy Romano Beachfront Park is a beautiful area about 30 minutes from New Smyrna Beach when traffic is light. As its name implies, the park is right next to the beach. It's open from sunrise to sunset, and there are plenty of parking spaces in the lot at the park's edge. Visitors are also allowed to drive out on the beach, although it's recommended that they have a four-wheel-drive vehicle and only do so at low tide. Watch the flags at the beach entrance to know when the tide is high or low.
There are shower stations and plenty of restrooms available at Ormond Beach. For those who don't want to go out into the water, there's a splash pad where kids and adults can cool off and still get wet. Locals say this beach is far enough north of the city of Daytona Beach that it tends to be less crowded. The sand is nice and clear (no seashells or gravel), so it's safe to take the shoes off and walk barefoot on the beach. The beach also has a concession stand on-site, and there's a BBQ grill that the public is welcome to use on a first-come, first-serve basis.
Winterhaven Park
Winterhaven Park is directly north of New Smyrna Beach and adjacent to the oceanfront homes in Ponce Inlet, but it takes a bit of a drive to get there. Visitors from New Smyrna Beach have to drive north to the city of Port Orange before crossing the Halifax River on Dunlawton Avenue. Then they turn right on S Atlantic Ave and go south to reach Winterhaven Park. A small parking lot on Winterhaven Drive is free to use—just don't park past the marked signs on this road.
The park opens directly onto the beach at 4589 S Atlantic Avenue. The park is open daily and has public restrooms and a shower available from sunrise to sunset. Parking is not allowed between 11:00 p.m. and 5:00 a.m., and there's no driving on the beach. It has some bike racks available for people who arrive on two wheels. The big draw at Winterhaven Park is the picnic pavilions. Each picnic table has its own shade pavilion, available on a first-come, first-serve basis. It's a nice spot to show up for a picnic and enjoy the sand without the heavy crowds experienced on some other beaches.
Bethune Beach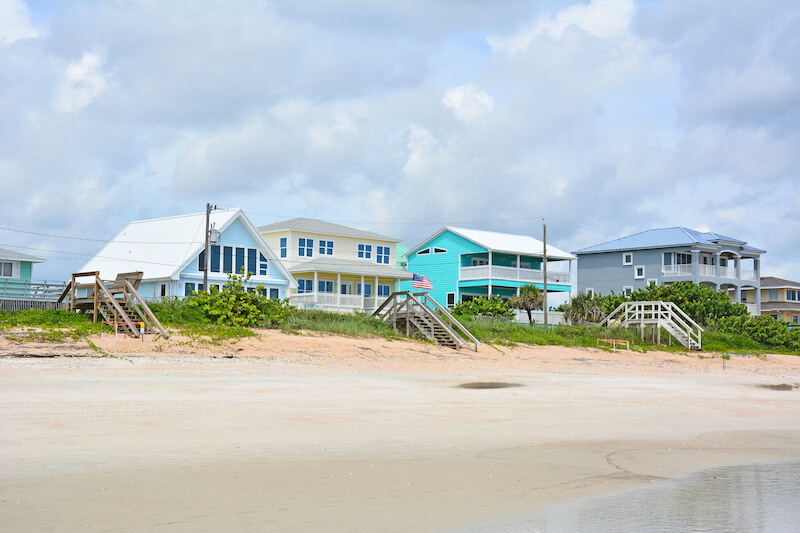 Just drive south of New Smyrna Beach on S Atlantic Avenue, and the road dead-ends at Mary McLeod Bethune Beach Park. The park's address is 6656 S. Atlantic Ave, near the Chadham by the Sea condos. It's about 3.5 miles directly south of New Smyrna Beach, and visitors can park next to the ocean on the boardwalk. The park has restroom facilities open from sunrise to sunset each day. Large picnic pavilions and restrooms are available for beach-goers, and the park also has about 800 feet of direct beach sidewalk.
In addition to the beach, visitors can enjoy the park, which has a grassy area, courts for tennis, pickleball, basketball, and volleyball games, and a children's playground. Anglers will enjoy trying their luck from the fishing pier. On the west side of the park, just a block away, visitors can see the Indian River North. It's a great spot to view pelicans, manatees, and occasionally dolphins. Visiting Bethune Beach is free, but vehicles cannot park there between 11:00 p.m. and 5:00 a.m. daily.
27th Avenue Beachfront Park
The 27th Avenue Beachfront Park is located in New Smyrna Beach, located on South Atlantic Avenue between 27th and 28th Avenue. Enter on the 27th Avenue side to reach the large parking lot—28th Avenue leads to the boardwalk, but there's no parking along the street. Fortunately, the parking lot is reasonably extensive and provides plenty of spaces most of the time. 27th Avenue leads to a beach ramp that extends down to the sand and the water. Vehicles must be four-wheel-drive to go out on the beach because the sand is very soft, but people can drive on the beach starting at 8:00 a.m. as long as they exit before 7:00 p.m.
The neighborhood is home to some of New Smyrna Beach's condos for sale and offers easy access to the Callalisa Creek Boardwalk and the New Smyrna Nature Park. The 27th Avenue Beachfront Park is situated on 3.4 acres at 3701 S Atlantic Avenue, where visitors can access covered picnic tables and public restrooms. It has a children's playground, a racquetball court, and an outdoor basketball court.
Enjoy the Sun, Sand & Water in New Smyrna Beach
These are just a few of the best beaches that complement all the fun things to do in New Smyrna Beach. One of the nice things about this community is that the beaches tend to be less crowded than some of the more well-known spots that attract tourists. For more surprises, ask some locals where their favorite beach spots are in this ocean-side community.
If New Smyrna Beach is your next home destination, contact Kevin Kling of 386 Real Estate at (386) 527-8577 to get started finding your New Smyrna Beach dream home today.