8 Best Daytona Beach Shores Condos: Ocean Views & Luxe Amenities
Posted by Kevin Kling on Monday, January 3, 2022 at 2:08 PM
By Kevin Kling / January 3, 2022
Comment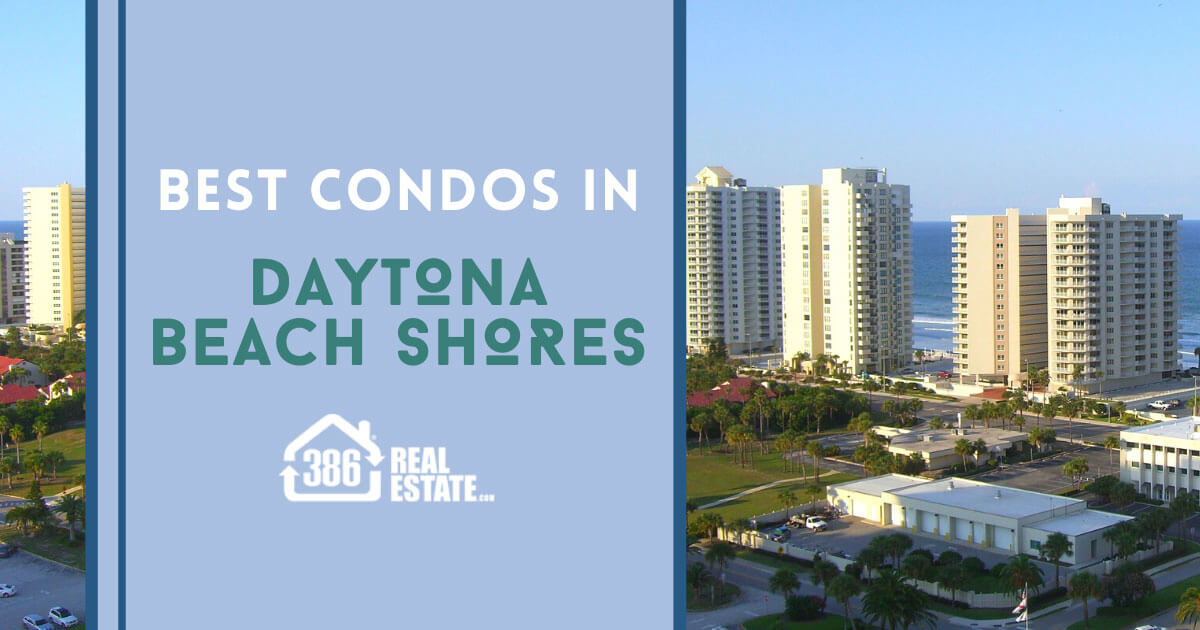 The city of Daytona Beach Shores sits along Florida's East Coast and is a favorite destination for those who love the sun, sand, and relaxing atmosphere that the Sunshine State offers. Many tourists visit the area each year, and some can't get enough of the Florida lifestyle, choosing to move to Daytona Beach Shores to stay. But where do they choose to live? While this beach city has plenty of options, some Daytona Beach Shores homes are more popular than others. Keep reading to discover some of the most popular condo communities in Daytona Beach Shores.
Towers Ten Condominiums
Towers Ten Amenities
Beachside garden
Library
Assigned storage
Assigned underground parking
Built in 2001, Towers Ten Condominiums is a 22-story oceanfront complex with 114 units. Located right on the beach, Towers Ten Condominiums features stunning views of the Atlantic Ocean on one side and the nearby Halifax River on the other.
Condo unit sizes at Towers Ten come in 2, 3, and 4 bedrooms and range from around 1,600 square feet for the smaller units to over 2,000 square feet for the larger ones. Prices vary but are usually between $380,000 and $650,000. This ocean condo has a social room, a fitness area, and a heated oceanfront pool, complete with a hot tub. Owners are also allowed up to two pets of 60 pounds or less each. Each unit also has its own washer and dryer hookup for convenience.
The condo's location, adjacent to Dunlawton Avenue, gives residents easy access to area amenities, including the nearby city of Port Orange, which has shopping, dining, and more. Closer to home, Our Deck Down Under is a seafood restaurant right on the Halifax River, and Surfside Tavern is a Daytona area favorite. In addition, the location of Towers Ten Condominiums gives occupants unparalleled access to the world-famous city of Daytona Beach.
The Peninsula Condominium
The Peninsula Amenities
Fitness center
Outdoor freeform pool
Sun deck
Assigned underground parking
At 23 stories, the Peninsula Condominium is one of the tallest high-rise condo complexes in the Daytona Beach Shores area, with only Peck Plaza condos being taller. The Peninsula contains 172 units, many of them being two bedrooms and two baths. Other unit sizes include three bedrooms, three baths, and a penthouse combined unit on the 23rd floor that is an impressive 2,900 square feet.
Prices at The Peninsula typically range from $410,000 for a smaller unit to $950,000 for one of the larger condos. Residents have four elevators to access their condos, which feature in-unit washer and dryer hookups. Located on the beach, units have an excellent view of the ocean to the east and the Intracoastal Waterway to the west. Residents can also use the clubroom on the penthouse level, which features panoramic views of the Atlantic Ocean and the surrounding city.
The Peninsula is near a wide selection of dining and shopping opportunities, including Little Italy Ristorante, which serves pizza and other Italian offerings; Cow Licks, a local ice cream parlor; and Ocean Club, a store selling beachwear and other related items. Also, a short drive away is the Daytona International Speedway, home of NASCAR's Daytona 500 and a mecca for race fans everywhere. Next to the speedway is the Daytona Beach International Airport, giving residents easy access to the rest of the world.
Oceans Six Condominium
Oceans Six Amenities
Underground parking
Exercise room
Indoor pool and sauna
Outdoor oceanfront pool
Built in 1993, Oceans Six Condominium is one of 11 sister buildings in Daytona Beach Shores. Oceans Six has 120 units spread across 17 floors. This U-shaped complex has two-bedroom, two-bath units and three-bedroom, two-bath units.
Unit prices for Oceans Six condos typically start at around $290,000 and go up to around $479,000, making them some of the most affordable condos in Daytona Beach Shores. Each condo has a beautiful view of the Atlantic Ocean and, beginning at the fourth floor, views of the Halifax River. The complex allows pets, though certain restrictions apply. The condos at Oceans Six Condominium feature large kitchens with a breakfast bar, walk-in showers, and spacious closets. Each unit is also fitted with tiles throughout, including in the bedrooms. Oceans Six Condominium is located on the driving part of Daytona Beach, which gives beachgoers unfettered access to the sun and sand.
Oceans Six Condominium is within walking distance of the local Publix, where residents can shop for all of their grocery needs. Lula M. McElroy Park offers a picnic area, playground, and basketball court. Vittoria's Italian Coffee & Pastry is a small coffee shop nearby that sells a selection of tasty treats.
Tuscany Shores Condominiums
Tuscany Shores Amenities
Oceanfront heated pool
Meeting room
Fitness center
Underground parking
Tuscany Shores Condominiums has 11 stories made up of 33 units. With a mixture of Spanish and Mediterranean styles, the building only has three units per floor, which means that the condos are pretty spacious at around 2,500 square feet each.
Condos at Tuscany Shores have three bedrooms and three baths and have their own spectacular views of the Atlantic Ocean, as well as the Intercoastal Waterway in some cases, from spacious balconies. Other condo features include nine-foot ceilings, gourmet kitchens, and crown molding throughout. Prices generally range between $625,000 and $800,000. Tuscany Shores is considered a boutique luxury condo due to the small number of units. The building also has a variety of onsite amenities, including a home theater area, billiards table, and a community kitchen. Pet owners will also be happy, as the complex has one of the most permissive pet policies in the area, allowing up to three pets weighing 50 pounds or less each.
Tuscany Shores Condominiums is located at the northern end of the Oceans line of condominiums. Nearby locations include Porto Fino Restaurant, a relaxed, white-tablecloth restaurant that serves pizza and more; Azure Oceanfront American Kitchen, serving gourmet seafood in the swanky surroundings; and Oceans Golf Club, a 13-hole, par 3 golf club open to the public.
Bella Vista
Bella Vista Amenities
Outdoor pool
Exercise room
Clubroom with kitchen
Considered one of the most luxurious condo complexes in the Daytona Beach Shores area, Bella Vista is 11 stories tall and has 100 units. Units at Bella Vista are big, with the smallest coming in at a little over 2,000 square feet. All of the condos in the building have three bedrooms and three baths. Most important are the views each condo provides from the sprawling tiled balcony in each unit, including grand views of the Atlantic Ocean and the Halifax River.
Prices for units in the building usually range from $405,000 to $730,000. Built in 2007, each Bella Vista condo has a variety of amenities, including 9-foot ceilings, custom flooring, and state-of-the-art appliances. Also included is a spacious master bedroom with a jetted tub and granite countertops in both the kitchen and master bathroom.
Across the street from Bella Vista sits the Tres Leches Café, which serves Cuban and Puerto Rican food. Further to the south on the South Atlantic Highway, residents can take in a meal at Mike's Galley Restaurant, ordering from the breakfast or lunch menu.
Ocean Villas Condominiums
Ocean Villas Amenities
Heated community pool
Clubroom
Sauna
Assigned underground parking
Constructed in 2006, Ocean Villas Condominiums is located next to the Sunglow Fishing Pier. With 76 units on 11 floors, condos in Ocean Villas give residents spectacular ocean views and all the amenities expected from the most expensive condos in Daytona Beach Shores.
Condos range in size from 2-bedroom, 2.5-bath to 3-bedroom, 3-bath and can cost anywhere from $825,000 to $1.2 million. The complex is served by three elevators, giving occupants some privacy when entering or exiting the building. The interior of the units offers residents plenty of space, with high ceilings and over 2,500 square feet of space, in some cases. Other features include floor-to-ceiling windows, gourmet kitchens, and built-in electric grills on the spacious balconies with glass railings for the best views. Ocean Villas is a pet-friendly community, allowing up to two pets weighing 60 pounds or less.
Other nearby hotspots include Jimmy Hula's Food Nirvana, which has tacos, burgers, and drinks, and Boondocks Restaurant & Tiki Bar, serving oysters, clams, and a selection of wine and cocktails, among other food and drink options. Residents are also close to Port Orange, Florida, and the many shopping, dining, and entertainment venues found there;
St. Maarten Condominium
St. Maarten Amenities
Two outdoor pools and one indoor pool
Assigned underground parking
Clubroom
Fitness center
The 12-story, 129-unit St. Maarten Condominium was built in 2005. This oceanfront condo complex sits along 400 feet of white sandy beach and uses an outside corridor system for access to units. All of the condos have three bedrooms and three baths, with over 2,000 square feet of living space.
St. Maarten condos generally cost anywhere from $730,000 to $1.23 million. Condo owners can have up to two pets weighing 60 pounds or less each. Condominium residents also have private access to nearby Daytona Beach, which is a part of the drive section of the beach. The condo units feature various amenities, including crown molding, granite countertops, and a wet bar. The open floor plan of each unit also lets the sun in to permeate the whole condo, and each unit's balcony allows residents to enjoy the views in private.
Nearby hotspots include the Daytona Beach Bandshell, offering live music throughout the summer, and the Daytona Beach Boardwalk, which has fun, food, and games for everyone. In addition, the Ocean Center, the fifth-largest convention center in Florida, is only a five-minute drive away from the St. Maarten condo complex.
Kingston Tower Condominiums
Kingston Tower Amenities
Assigned underground parking
Assigned storage
55-foot oceanfront pool
Clubhouse
Kingston Tower is a smaller seven-story condominium complex found on the non-driving section of Daytona Beach. Built in 2005, the building sits next door to the Seychelles condo building. Kingston Tower is made up of 14 luxury condo units, meaning there are only two units per floor for maximum privacy.
Each condo in Kingston Tower has three bedrooms and three baths and a 600-foot wraparound balcony, allowing residents to take in the great views of the ocean and the surrounding city of Daytona Beach Shores. Kingston Tower Condominiums is considered one of the most private complexes in the area. Condo unit costs generally range from $855,000 to $925,000. Residents travel back and forth to their homes via semi-private elevator access. Inside each unit, residents can enjoy hardwood and tile floors, spacious interiors, and crown molding.
Mere minutes from the Ponce de Leon Inlet Lighthouse & Museum, Kingston Tower Condominiums gives its occupants easy access to all the area offers. Nearby eateries include restaurants such as Crabby Joe's Deck & Grill found on the Sunglow Fishing Pier, bars such as YaYa's Beachside Bar, and other area hotspots.
Living in Daytona Beach Shores Is Exciting in One of These Popular Condos
Daytona Beach Shores is one of the hotspots for people who love Florida's best features: the weather and the beaches. Its proximity to many area landmarks and entertainment venues has endeared it to its many residents.
The above list of condominiums highlights some of the more popular locations to live in the area. Not only do they offer top-quality amenities, but Daytona Beach Shores condos provide some of the best views of the Atlantic Ocean, Intercoastal Waterway, and the surrounding city.
If Daytona Beach Shores is your next home destination, contact Kevin Kling of 386 Real Estate at (386) 527-8577 to get started finding your Daytona Beach Shores dream home today.