4 Best Neighborhoods in Daytona Beach: Where to Live Near the Ocean
Posted by Kevin Kling on Wednesday, February 2, 2022 at 6:10 AM
By Kevin Kling / February 2, 2022
Comment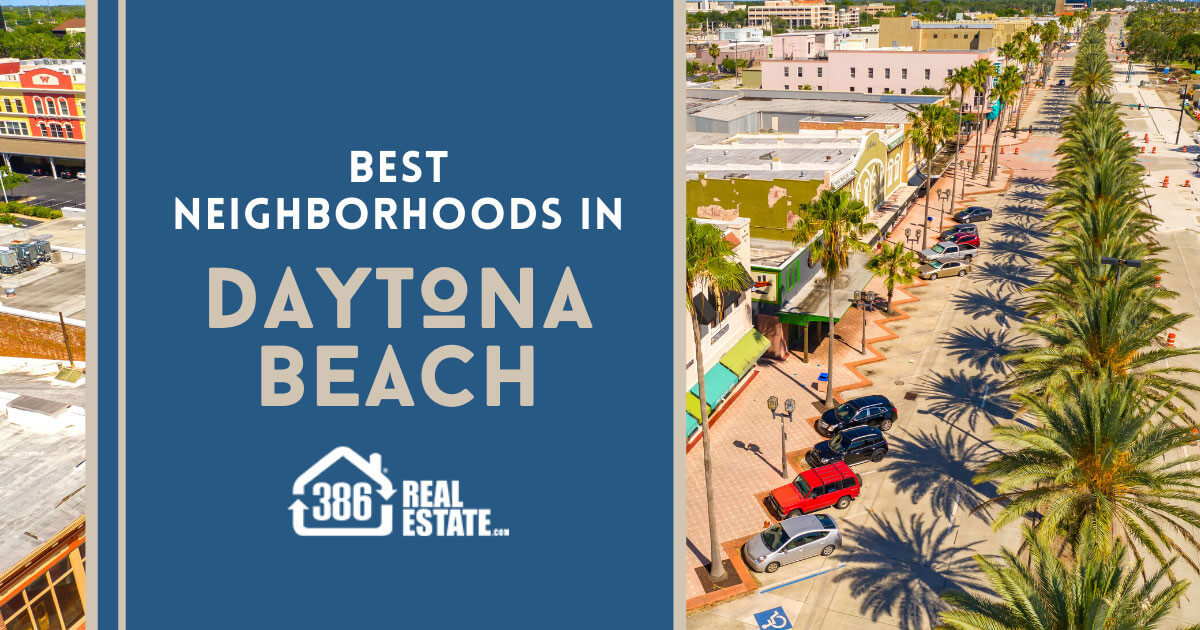 Known as the World's Most Famous Beach, the Daytona Beach real estate market boasts many excellent neighborhoods. The city's expansive beach, which motorists can even drive on in some spots, holds a place in automotive racing history. The nearby Daytona International Speedway inspires racing fans to move to Daytona Beach.
Along with access to the world-class beach, international airport, and many available activities, the best neighborhoods in Daytona Beach offer gorgeous oceanfront homes and luxury condos. Keep reading to become an expert on the best neighborhoods in Daytona Beach.
Pelican Bay
Pelican Bay Amenities
Shoppes at Southwind
Halftime Sports Pub
Golfview Plaza
Steve's Famous Diner
Pelican Bay is an over 1,800-unit gated community located in Daytona Beach, FL. The Pelican Bay community features two 18-hole golf courses and many other amenities, making it a popular neighborhood for buying a home in the Daytona Beach area.
Pelican Bay homes for sale range in price from $165,000 for smaller two-bedroom condos to $550,000 for a larger single-family home. Constructed from 1980 to 2006, the Pelican Bay community has homes starting at around 1,200 square feet up to about 4,200 square feet.
Restaurants close to the community include Huey Magoo's Chicken Tenders, a poultry restaurant specializing in chicken tenders; BJ's Restaurant and Brewhouse, located next to the Daytona International Speedway; and Louie's Pizza House, a local pizza place serving fresh pizza daily.
The neighborhood of Pelican Bay is also close to Daytona Beach International Airport, which lies directly to the north. In addition to playing a round of golf at the community's two golf courses, residents can also spend a day on the greens at the Daytona Beach Golf Club, a public golf course with 36 holes.
Mosaic
Mosaic Amenities
Caribbean Jack's
Tomoka Town Center
Angell & Phelps Chocolate Factory
Double Barrel Bar & Grill
Mosaic is a close-knit community near the north end of Daytona Beach. Close to Interstate-95, the Mosaic neighborhood features state-of-the-art energy-efficient SMART new construction homes in various award-winning designs. The homes within the community also have magnificent views of the surrounding area.
Homes for sale in Mosaic usually cost between $478,000 and $675,000. Homebuyers can also select one of the buildable plans, ranging from $396,000 to $646,000. House sizes within the community start at three bedrooms and go up to five.
In addition to its two pools, a bandshell, and state-of-the-art fitness center, the Mosaic community also has many nearby hotspots, including Tanger Outlets, an open-air shopping mall selling a wide selection of items; Fancy Q Sushi & Thai, serving a variety of Thai and sushi dishes; and Malcolm's Bar & Grill, located at the LPGA International Clubhouse on the LPGA International golf course.
Some other locations that residents can visit include the Green Turtle Kava Bar, which brings yummy Kava to Daytona Beach residents; the Blue Flame Bar, located at The Daytona Hotel; and the Daytona Brickyard Bar & Grill, offering some of the tastiest hamburgers in Volusia County, FL.
Ortona
Ortona Amenities
Andy Romano Beachfront Park
Bealls Outlet
Big Tunas Beach Bar & Grill
Reflections
Located along the Atlantic Ocean, the Ortona community lies in the northeast corner of the city of Daytona Beach. As an established neighborhood of detached homes, the Ortona community also has some low- and mid-rise condo buildings in the area that serve as vacation homes.
Ortona real estate prices start at around $285,000 for a smaller two-bedroom home to about $2.7 million for more extensive and expensive four-bedroom waterfront homes. Home sizes start at around 310 square feet for a small studio to 4,200 square feet for a larger, standalone home.
Local restaurants include Steve's Famous Diner, a breakfast and lunch diner; Crab Knight, serving various delicious seafood dishes; and Sessions Restaurant, found within the Hard Rock Hotel. And oyster lovers can check out The Oyster Pub, found in the middle of the tourist district. For drinks, residents can check out the world-famous Coyote Ugly Saloon.
Shopping options are also numerous in the area and include such locations as the Maui Nix Surf Shop, offering beachwear for men, women, and children; Ocean Club, with a variety of gifts for visitors and locals alike; and the Ellinor Village Shopping Center, a large shopping mall to the north.
Indigo
Indigo Amenities
Tanger Outlets
Blue Flame Bar
The WingHouse of Daytona Speedway
Fancy Q Sushi & Thai
Sitting just to the northwest of Daytona International Speedway, the community of Indigo encompasses a large area that includes neighborhoods located on area lakes. To of the most popular neighborhoods in this community include Indigo Lakes and Indigo Woods.
Homes in Indigo start at around $215,000 and go up to $745,000. Houses in the area include anywhere from two to five bedrooms and range in size from 1,200 to 4,300 square feet. Many of the dwellings in Indigo are the typical ranch-style home with a few multi-story homes mixed in.
Area shopping includes the stores at International Speedway Square, directly adjacent to Daytona International Speedway; Volusia Mall, which offers many eating, shopping, and entertainment options; and Nicole's Beach Street Mall, an eclectic mix of antiques, home decor, jewelry, and other items.
For food and drink, residents can check out one of the following locations, including Rock Bottom Restaurant & Brewery, offering a variety of craft beers paired with bar food; Cantina Louie, serving a variety of Mexican-inspired food; and Miller's Ale House, a casual sports bar with a wide selection of food and drinks.
Make Yourself at Home in Daytona Beach's Best Neighborhoods
Known for its sunshine and sandy beaches, residents also love the plethora of things to do in Daytona Beach, including the world-famous Daytona International Speedway. In addition, the year-round warm weather makes it a popular location for homebuyers.