Where to Live in Port Orange: 8 Most Popular Neighborhoods
Posted by Kevin Kling on Wednesday, October 6, 2021 at 12:12 PM
By Kevin Kling / October 6, 2021
Comment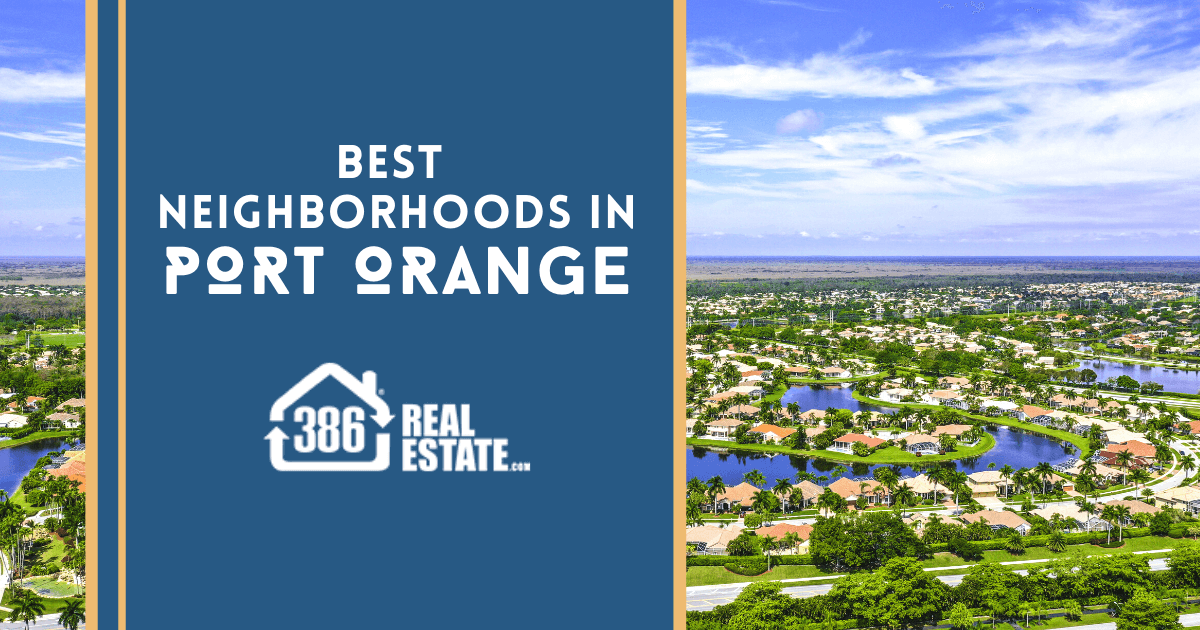 Port Orange, Florida, located in Volusia County, is a part of the Daytona Beach-Ormond Beach-New Smyrna Beach metropolitan area. Port Orange is considered one of the main cities in Florida's Fun Coast region. As such, the area is known for beautiful beaches and year-round warm weather.
The Port Orange real estate market boasts many neighborhoods with access to a wide range of amenities, including easy access to shopping, restaurants, and various fun activities. People moving to Port Orange are also close to Daytona Beach and only five miles away from Daytona Beach Airport. Keep reading to learn about the top eight neighborhoods in Port Orange, Florida.
Waters Edge
Nearby Attractions & Amenities
Coraci Park
Publix Supermarket
The Pavilion at Port Orange
Award-winning public schools
Considered one of the more upscale neighborhoods in Port Orange, Waters Edge homes for sale are situated along a 24-acre lake that residents can enjoy. Waters Edge is filled with Port Orange new construction homes. Prices range from $250,000 to $600,000 +, and floor plans vary from 1,400 square feet to 3,000 + square feet.
Airport Road Park is a 25-acre park to the north of the Waters Edge community along Airport Road. The park has many amenities for use by community members, including an outdoor workout area, tennis courts, and a playground. There are also walking paths for visitors to enjoy.
Sabal Creek
Nearby Attractions & Amenities
Quick interstate Access
Gamble Place Historic District
The Sabal Creek community offers potential residents a selection of three-to-four-bedroom Port Orange gated homes situated on lakefront lots, quiet cul-de-sacs, or adjacent to private conservation areas. The prices of homes for sale in Sabal Creek range from $210,000 to around $570,000 or more.
Cypress Head
Nearby Attractions & Amenities
Award-winning public schools
The Pavilion at Port Orange
A golfer's paradise awaits at Cypress Head in Port Orange. Many of the homes for sale in Cypress Head have a variety of amenities, including media rooms and flex rooms, among other features. Prices for homes in the Cypress Head range from $425,000 to $500,000.
Cypress Head residents can enjoy Flagsticks Bar and Grill, which features an outdoor patio area and a banquet room overlooking the golf course. Serving a variety of appetizers, soups, salads, and sandwiches, Flagstick Bar and Grill is open seven days a week and can host various events.
Cypress Head Golf Club is a beautiful, publicly owned, 18-hole golf course designed by renowned course architects Arthur Hills and Mike Dasher. With a challenging layout, Cypress Head features back-to-back par 3s and par 5s and has been voted "The Best Course in Volusia County" multiple times.
Like the original Mellow Mushroom, the company's Port Orange location has a variety of fresh, stone-baked pizzas to try. Locally owned, the Port Orange Mellow Mushroom has a friendly vibe that focuses on providing great food and excellent customer service.
Serving fresh seafood and perfectly grilled steaks, Coastal Grill & Raw Bar also has a variety of tasty appetizers, including fried gator and smoked salmon. The location is also known for its oysters, hence the raw in the restaurant's name. Other favorites include the menu's shrimp and scallop offerings.
Houligan's is a local, Irish-themed sports bar that offers the normal range of pub grub, including various appetizers, wings, sandwiches, burgers, and other menu favorites. A landmark in the Port Orange community for over 30 years, Houligan's prides itself on being a family-friendly sports bar.
Spruce Creek Fly In
Nearby Attractions & Amenities
Spruce Creek Air Park
Flapjacks & More
Nestled alongside the outskirts of Port Orange, Spruce Creek Fly In has a selection of luxury homes with golf, an air park, and hangar properties. In addition to traditional homes, some homes are also on the waterfront, or close to taxiways. Prices of homes for sale in Spruce Creek Fly In range from a low of around $300,000 to a high of $870,000 for a waterfront home.
Located at the member-owned, semi-private Spruce Creek Country Club, Prop N' Fore Bar & Grille has a wide variety of menu items to choose from, including appetizers, salads, and made-to-order sandwiches. Or, patrons can stop by the location's bar after a hot day on the course for a refreshing beverage.
Spruce Creek Airport is a small community airport about 20 minutes west of Spruce Creek Estates. Billed as a premier residential airpark, Spruce Creek Airport gives residents easy access to the surrounding region, including Orlando, Tampa, Miami, and other locations.
The scenic Spruce Creek Preserve is a 2,479-acre nature preserve directly south of Spruce Creek Estates. The preserve features over three miles of trails, complete with a 536-foot boardwalk and a 15-foot observation tower overlooking the marsh area near Spruce Creek.
The MySky Collection sells a variety of aircraft-themed furniture fashioned from genuine airplane parts. In addition to crafting and selling the company's unique furniture, which many have dubbed "works of art," the company also tours around the area and the country showing off its beautifully crafted pieces.
Sanctuary on Spruce Creek
Nearby Attractions & Amenities
Cracker Creek
Spruce Creek Country Club
Prop N' Fore Bar & Grille
The Roost at Crane Lakes
Sanctuary on Spruce Creek sits along the southern shore of Spruce Creek. Featuring four- and five-bedroom homes, the gated community also has larger lakefront homes at the northern end of the community. Prices for homes for sale in Sanctuary on Spruce Creek start as low as $220,000 and range as high as $995,000, with more expensive homes closer to Spruce Creek.
The Pavilion at Port Orange is a large shopping mall found to the north along Interstate-95. Some of the retailers within the large mall include Belk, Michaels, and Marshalls. The Pavilion at Port Orange has a lot to offer patrons, including Red Robin, Planet Smoothie, Texas Roadhouse, and others.
The neighborhood is also close to area medical facilities, including AdventHealth facilities located at the Pavilion at Port Orange.
To learn a bit of the region's history, residents can visit the Gamble Place Historic District to the northwest. In addition to being the home of James N. Gamble, of Procter and Gamble fame, the location is also surrounded by an associated 175-acre nature preserve.
Whispering Creek Estates
Nearby Attractions & Amenities
The Downwind Cafe
Bistro 424
Jopps Tack
Shenandoah Stables
Whispering Creek Estates has large, 2-plus-acre lots with homes that feature oversized garages and horse stables. As an equestrian community, Whispering Creek Estates provides plenty of room for residents to ride their horses. The neighborhood allows residents to live a country lifestyle while still being close to city amenities. The cost of homes for sale in Whispering Creek Estates can range from as little as $50,000 to as much as $1.2 million.
The Tomoka Wildlife Management Area, also known as Tomoka State Park, is located directly to the west of Whispering Creek Estate. The 2,000-acre park was the home of a local Native American tribe who fished the waters of the lagoons in the area.
Tiger Bay State Forest, another protected area north of Whispering Creek Estates, is an extensive wetland that is a critical aquifer for this region of Florida. Outdoor recreation in the park includes hiking, biking, fishing, and horseback riding.
About half an hour to the north of Whispering Creek Estate lies the Daytona International Speedway, home of NASCAR's Daytona 500 and Speedweeks, which proceed each year. This mecca of motorsports hosts daily tours and a look at the history of this favorite American sport.
Villaggio on the Lakes
Nearby Attractions & Amenities
Coastal Grill & Raw Bar
Herbert's Bakery & Bistro
Aunt Catfish's On the River
Port Orange Regional Library
Mere minutes from the beach, Villaggio on the Lakes offers resort living for residents and includes amenities such as a gated entry, a clubhouse, and a fitness center. The prices of condos for sale at Villaggio on the Lakes run from $150,000 to $285,000. Anyone looking for a Port Orange condo should be sure to check out this luxury community.
Nearby eateries include Rossi's Side Street Café, which offers diners a selection of breakfast and lunch items. Located right outside the Villaggio on the Lakes community, Rossi's Side Street Café is a favorite stop for area residents heading out for a day at the beach.
The Countryside Shopping Center is a high-visibility shopping area that has an assortment of shops to choose from. Shoppers can find almost anything they need at the shopping center, including grocery and thrift store items. Plus, they can work out at the local gym.
Dunlawton Sugar Mill Gardens is a historical botanical garden. The all-volunteer Botanical Gardens of Volusia organization cares for the 10-acre property, which features a variety of plants, some available for sale in the plant sale area. Best of all, admission is free, though donations are appreciated.
Willow Run
Nearby Attractions & Amenities
The Pavilion at Port Orange
The Fashion Safari
Mulligans Grille
Kenneth W. Parker Amphitheater
Willow Run offers attractive homes at a reasonable price. Prices for homes for sale in Willow Run range from $220,000 to around $380,000. Neighborhood amenities include a nearby 10-acre Willow Run Park, a playground, tennis courts, and a covered picnic area.
Amenities a bit further away include Tomoka Brewing Company. This local, award-winning brewpub serves a variety of beers along with craft cuisine, including a variety of delicious appetizers and pizza, which are also available for takeout.
Sonny's BBQ is another local favorite, providing a wide range of barbecue meals. Menu items include unique appetizers, such as Redneck Egg Rolls, an assortment of barbecue sandwiches, and signature barbecue classics.
With over a half million travelers passing through its gates each year, Daytona Beach International Airport is a connection point for area residents with places all across the globe. Initially constructed in 1952, the airport has grown from a regional airport to a destination for travelers worldwide.
Port Orange Neighborhoods Go Beyond Curb Appeal
With the area's bright, sunny days, proximity to the beach, and great food and entertainment, Port Orange has a lot to offer area residents. Whether it's a day at Daytona Beach or one of the smaller beaches along Florida's Atlantic coastline, residents are sure to have ample opportunities to enjoy a day of sun and sand.
But Port Orange has so much more to offer than just the beach, including delicious food, world-class shopping, and a desirably low cost of living. Best of all, the whole state of Florida has a vacation-type atmosphere, making it one of the more popular areas to live in the U.S.