8 Pool Accessories That Make Your Backyard More Fun
Posted by Kevin Kling on Wednesday, May 4, 2022 at 5:15 AM
By Kevin Kling / May 4, 2022
Comment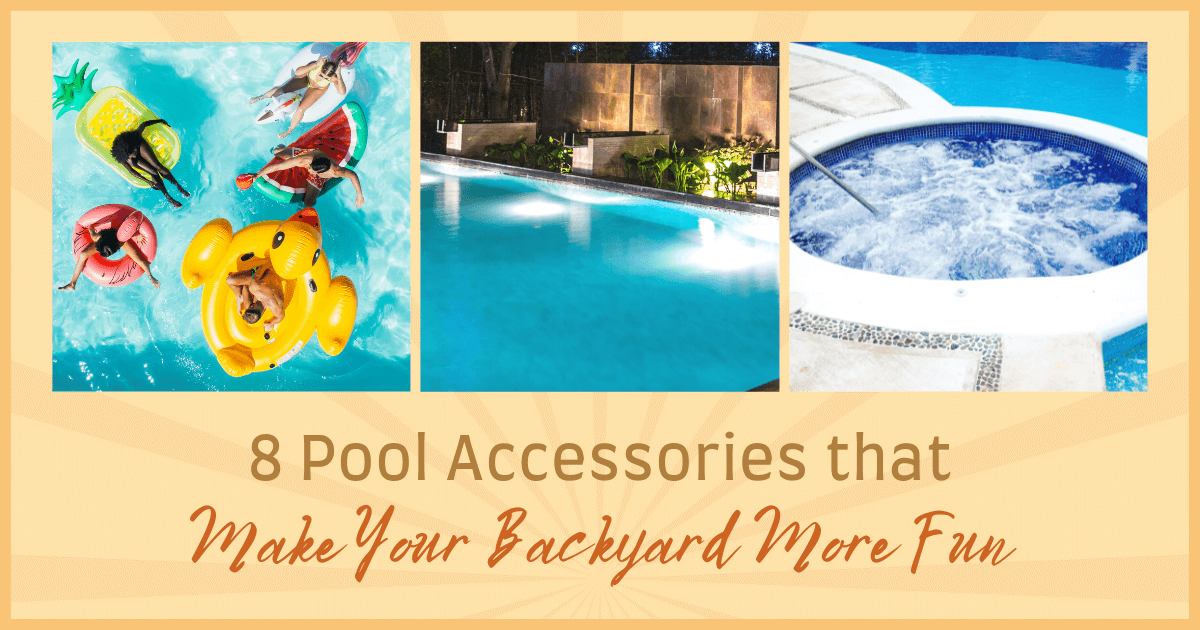 People ordinarily view homes with swimming pools as attractive places to live. After all, why not? Pools offer homeowners a great way to relax, exercise, and entertain. Many even create their own oasis and subsequently plan staycations centered around their pool areas. It's like having a private resort in one's backyard.
Many find it appealing to have a vacation destination right at home to bask in comfort and privacy. Get ready to make a splash with these eight accessories that will make your backyard pool more fun.
A Hot Tub/Spa
Imagine coming home and wanting a quiet place to unwind. What better way than to sink into a cozy warm hot tub to wash away the day's events? People looking to modify their existing pool layout will find there are professional companies equipped to revamp their space to add a hot tub or spa. A pool is a good investment on its own, and adding a hot tub can help drive the value up even higher.
Considerations will be the desired size of the hot tub, its depth, jets, how many seats it can accommodate, and whether the spa should flow into the pool itself. Once the details are ironed out, the specific technical requirements, such as chemicals, heating, UV lights, and plumbing, can be configured to make it easy to add a hot tub to a pool.
A Waterfall
Integrating a waterfall into the pool environment adds a unique "wow" factor to any pool. Go small or go big to make a standout pool experience. The relaxing aesthetic can even help increase the value a pool adds to the home. Waterfalls are also an attractive way to enhance water filtration since the water is continuously moving.
Before going for the upgrade, ensure it'll be built on a sturdy base, size, and dimensions. Doing research ensures the pool's waterfall is built to spec and offers the desired outdoor enhancement.
A Fire Feature
Fire pits are a cozy and beautiful enhancement that simultaneously ups the fun factor in any backyard space. Positioning it in proximity to the pool adds possibilities, especially since it can be enjoyed even in the off-season when the pool is closed. With a good design, the contrast of fire and water can be an amazing result, elevating the beauty and sophistication of the pool area. Choose from the following options.
Fire bowls (also known as fire woks)
Decorative fire pits
Gas feature with igniter/remote control to turn on and off
No gas features, using wood for fuel fire
Lava stones, river rocks, fire glass to enhance aesthetics
Build curved raised pool walls with recessed pockets
Whatever is ultimately decided, be sure any fire feature added to the pool area is built legally and correctly to avoid injury or destruction.
A Waterslide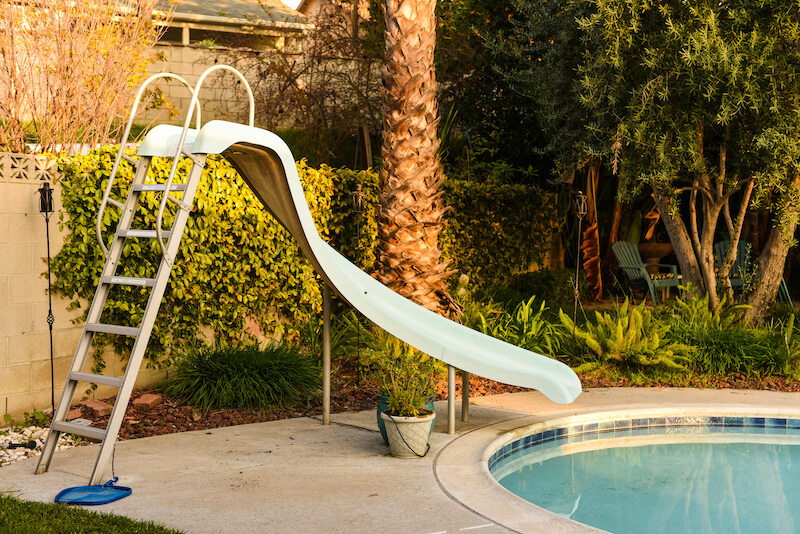 Pool slides are a fun addition to any inground pool (adding waterslides to above-ground pools often violates safety codes). The beauty of waterslides is that they come in various shapes, styles, and price points. Build an elaborate slide for all ages that rivals any resort pool, or go for the simplicity of a gentle ride that is fun for the kids.
The best place to install a waterslide is on the opposite side of the deck or patio, where people congregate. This way, people can enjoy looking at it, and those on the deck aren't splashed. Slides can be safely added to existing pools to allow for years of memories and enjoyment, as long as the correct installation is done.
A Robotic Pool Vacuum
Keep your pool clean is an essential part of routine care. However, robotic pool vacuums cut down on maintaining the pool and leaving more time to enjoy it. Robotic pool vacuums are highly convenient because they are designed to work independently during times of day when no one is in the pool. In other words, homeowners can enjoy the ability to have a pool that is ready to swim in at any given time. These also tend to be more energy-efficient than traditional pool vacuums.
Floating Pool Games and Entertainment
Inflatable pool games and furniture can enhance the enjoyment factors associated with pools. Homeowners can choose from various fun options to add to their pool areas, keeping in mind that depending upon the pool's size, there may be some limitations. Otherwise, the sky's the limit! Good products to add include:
Pong table
Pool basketball or volleyball (maybe both!)
Inflatable pool chairs and rafts
Pool noodles
Inflatable ring toss games
These and other fun floatable games and pool enhancements can add a different vibe to a pool, depending on guests and the type of day desired.
Outdoor Lighting
Pool lighting serves a practical purpose for safety and convenience, especially after the sun goes down, to avoid any accidental falls into the water. Aside from being safe, outdoor LED lighting for the pool area also adds to its ambiance and mood.
LED lights are an easy installation, are energy-efficient, and come in various shapes and styles. Color LED lights often create a festive feel, or specific lights can be selected to create a certain mood. Magnetic LED lights make it easy to shift lighting into other positions when desired – some are even solar-powered.
If LED lighting isn't desired, homeowners can also opt to have a professional install traditional pool lighting. Or, they can install a variety of both kinds. Tiki torches and other types of interesting lighting are also options to consider. If you're deciding between above-ground and in-ground pools, you should know that underwater lighting is easier to install in an in-ground pool.
A Cooler (Floating or Otherwise)
Once in the pool, no one wants to get up to get a drink or a snack. Additional floating drink coolers, floating snack holders, or having an area on the pool deck/patio dedicated to food and drink storage makes for a more relaxing experience without disruption.
Make Your Backyard Pool Your Own
Building a pool, then enhancing it with these and other cool features can transform a pool area's outdoor vibe and experience. Taking the time to think about what's desired and what would fit into a homeowner's lifestyle is essential. This way, money is invested in a way that will create value and enjoyment.
Daytona Beach Pool Resources
How to Stage Pool Areas for Faster Sales - Coming Soon!
Design Ideas for Backyard Pools - Coming Soon!