Condo Interior Design: 5 Tips to Maximize Space in a Small Apartment
Posted by Kevin Kling on Wednesday, June 29, 2022 at 9:34 AM
By Kevin Kling / June 29, 2022
Comment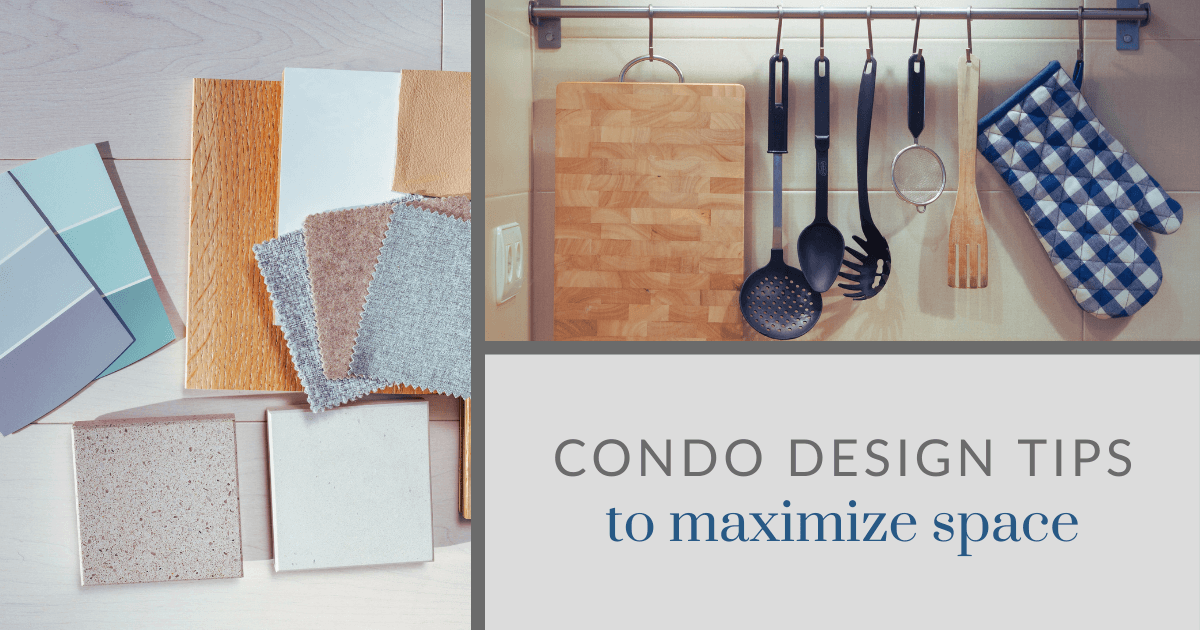 Whether you're a first-time homebuyer or just looking to downsize in a resort location, buying a condo can make for an excellent real estate investment. Owners enjoy luxurious amenities, amazing views, and fewer maintenance responsibilities in condos.
While it's always a good idea to declutter before moving, utilizing efficient small condo design ideas can ensure there's plenty of room to take all your belongings with you. Keep reading to learn about five condo interior design ideas that maximize space.
Think Vertically in Your Condo
The reason major metro areas build high-rises is that building upward maximizes space. Vertical interior design elements enhance the available storage space. Here are a few tips for vertical syle in your condo:
Utilize vertical wall space to create functional but stylish storage solutions.
Hang large cooking utensils, pots, linens from hooks, magnetic rails, or a wall-mounted bar/rack system in the kitchen.
Floating shelves add storage plus a decorative look in any room, from the kitchen to the bedroom and living room.
Floor-to-ceiling bookcases or built-ins are a great way to go vertical. When adding a bookcase versus a built-in, consider painting the bookcase the same color as the walls. This will help with the illusion and feeling of more space.
A pegboard works in any room. Paint it to compliment or match the decor and use it for everything from hanging keys to pictures, scarves, jewelry, and more.
Adding a nook to a bedroom or living space creates a functional space often needed in a condo. Go vertical with the nook design. Flank a slimline-style desk with two floor-to-ceiling, narrow bookcases. Add two floating shelves above the desk/between the bookshelves. This designated space can work as an office, creative, or crafting space while showcasing artwork, collectibles, books, and more.
Keep Sightlines Open in Your Condo
Long-range views are one of the best perks to condo living. However, to get that view, the sightlines must be kept open. When stepping into a space with an expansive window or focal point, the eye typically is drawn first to the view. The space immediately feels larger. However, that wow factor and openness are lost if the sightlines are blocked.
The first step is to determine the focal point of the room. It doesn't need to be a window, but usually, drawing the eye through the room to the outside can make the space feel grander. Stand at the entrance to the space, looking toward the window or other focal point. Anything that obstructs the view blocks the sightlines. Ways to improve sightlines include:
Choosing lower-profile furniture
Opt for glass or see-through tables
Use floating shelves
Mirrors to reflect the light
Recessed lighting instead of bulky fixtures
Keep the sightlines of a room open, and it naturally will feel more welcoming and attractive. It's one of the reasons the "open concept" home is popular with both owners, renters, and guests at short-term rental properties.
Choose the Right Furniture in Your Condo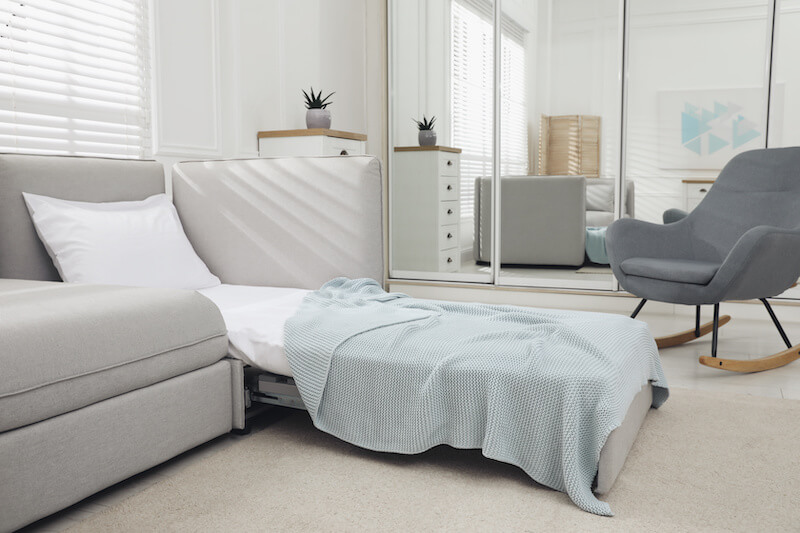 The right furniture can take a condo from just "okay" to "fabulous!" This statement typically holds no matter what the space or size of the home. Whether a first-time condo owner or new to the area, choosing furniture that works for the space is essential, connecting the overall interior design.
Multi-purpose furniture pieces get the job done, effortlessly combining functionality with aesthetics. To maximize condo space, look for convertible sofas that by day offer a comfy place to sit and, by night, transform into additional sleeping space. Modular units also work well. These pieces can be moved easily to create seating solutions when entertaining or at home alone. Look to ottomans and coffee tables with built-in storage for items like extra blankets and pillows. This helps keep the room decluttered and feeling more open.
Rooms that serve dual purposes also help make the most of condo space. Consider a daybed that doubles as a couch in a room used as both an office and guest room. Another option is to have a Murphy bed installed. Choose one with a bed and a pull-down table for the ultimate in multi-purpose furniture.
Create Zones in Your Condo
Creating zones is a great way to avoid a cluttered feeling in your small condo. Owners can do this by placing furniture strategically, choosing different wall colors, and adding dividers. Dividers in particular are helpful, since owners are unlikely to have the option to add walls to fully separate areas. Thankfully, there are plenty of options for dividers that serve the same purpose as walls. Portable room dividers are available in most home stores, but owners can also improvise with placing items like bookcases and curtains. Some of these dividers are partially see-through, which can add to the illusion of a bigger space.
When it comes to color, simply painting one room section a different color from the others will send the message that it's "separate." Similarly, setting something like a couch with its back facing another part of the room, the owner has established that those two areas are different. Both strategies take up no space, or use objects that are already in the condo. This will help to differentiate the areas without making the space feel small and cramped.
By establishing these distinct zones, owners will be able to make the most of their small condo design and enjoy a more comfortable living space.
Use Color Wisely in Your Condo
When maximizing a cozy space, use color wisely. Basic rules to consider:
White and lighter colors reflect light, which opens up the space.
Cool color palettes recede, while warm ones feel closer.
Minimalist color palettes typically include neutral tones, but adding cooler ones can make a space feel airier.
Sticking to a cohesive palette throughout the space reduces visual clutter.
For an ocean-themed condo, a palette with soft ocean blue, frothy white like wave foam, a light sandy neutral can help set the tone for the room's overall design and feel. Carry the color palette throughout the space, from the paint choices to furniture fabrics, tiles, woods, and metal selections.
It's important to consider all elements of the space. For example, dark tile or wood flooring can make it feel too cozy, especially when designing a room with an airy palette. If the room has a darker floor that can't be replaced, add a lighter-colored area rug to coordinate with the palette.
To play around with color palettes and work with textures and spaces, try creating a mood board on a site like Pinterest. It's an easy way to collect dozens of small condo design ideas and see what may or may not work for a particular space.
Make the Most of the Space in Your Condo
Buying a condo instead of renting is a great way to build equity while maintaining a low-maintenance lifestyle. Using efficient condo interior design strategies can multiply the space. Creativity and careful planning can provide a perfect home for anyone.