Daytona Beach Cost of Living: 7 Essentials For Your 2023 Budget
Posted by Kevin Kling on Thursday, June 2, 2022 at 5:15 AM
By Kevin Kling / June 2, 2022
Comment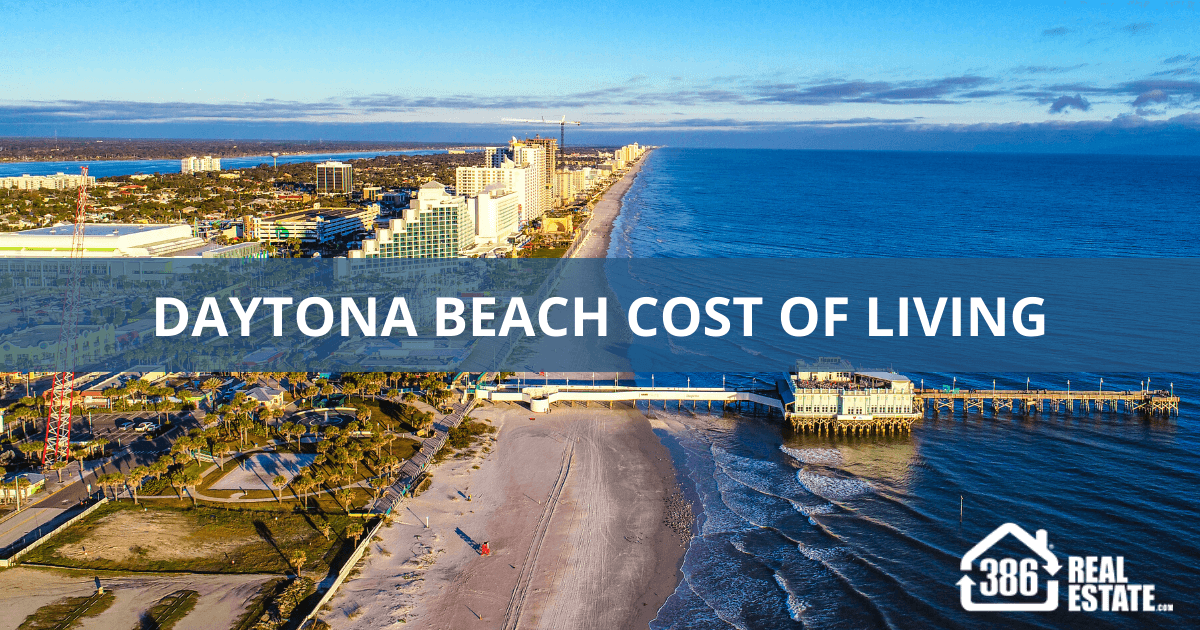 How Much Does it Cost to Live in Daytona Beach?
Daytona Beach is a unique location in the United States. It is home to the famous beach by the same name, where cars can drive on the packed sand, and the Daytona 500, the world's biggest stock car race. Close to 75,000 residents call this mid-sized coastal city home.
One of the best parts of living in the city of Daytona Beach is the relatively low cost of living compared to the rest of the United States. Daytona Beach's cost of living is roughly 6% lower than the national average. Keep reading for a closer look at the various factors that make up Daytona Beach's affordable cost of living.
Daytona Beach Housing Costs
Housing costs are the most significant factor when determining how the cost of living in Daytona Beach manages to be so affordable. On a scale where the average cost of housing in the United States is 100, Daytona Beach scores an accessible 64.1. This affordability is in stark contrast to other coastal areas nearby. Miami, for example, scores a whopping 142.7 on the same scale.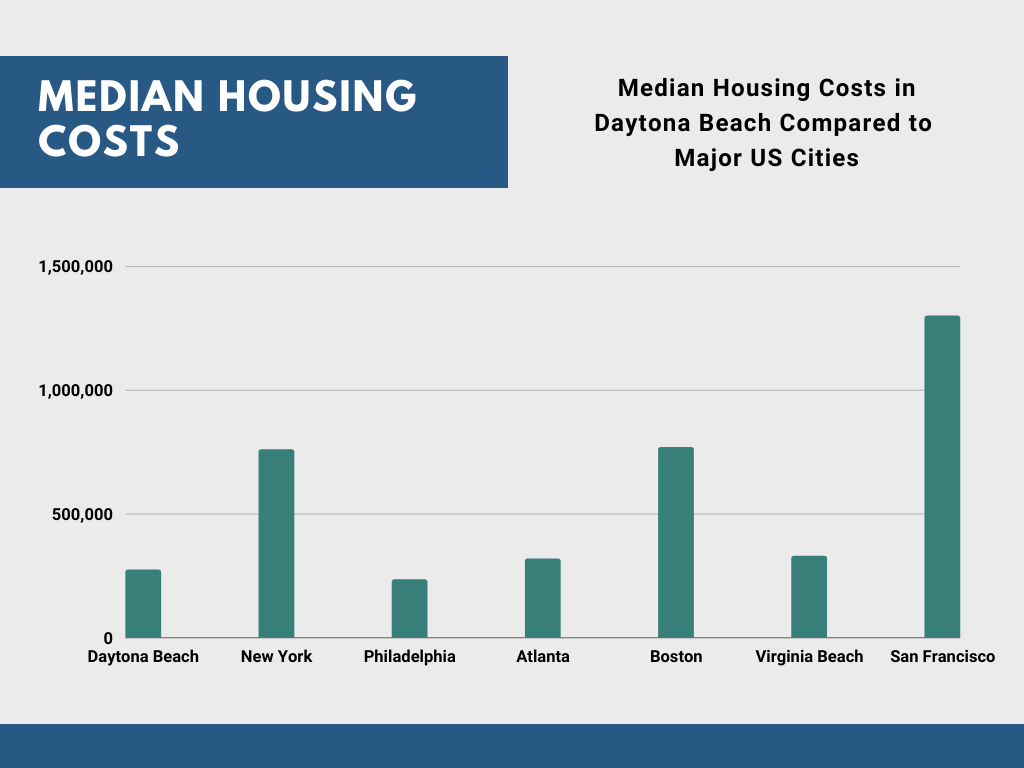 Median Home Price
The median home price for a property in Daytona Beach is just under $200,000. This number is close to $100,000 less than the national average. Purchasing property in Daytona Beach isn't just affordable — it's an excellent investment. Home appreciation in the area is up more than 15%.
However, it's not uncommon to see homes in Daytona Beach sell for $1,000,000 or more. These are typically luxury properties.
Most single-family properties in Daytona Beach sell for under $500,000. These relatively affordable prices keep Daytona Beach's best neighborhoods accessible for a wide range of budgets.
Median Rent
Like home prices, the cost of rent in Daytona Beach is affordable compared to the rest of the country. While the rental market is competitive—especially for oceanfront condos—the availability of apartments and area affordability make it manageable for renters.
Renters looking for a studio or one-bedroom apartment pay less than $900 monthly in rent. Even for those searching for two-, three-, or four-bedroom units, rent rarely rises above $1,500 per month. These costs are significantly below the state and national averages and are so close to Florida's beautiful coastline.
Utilities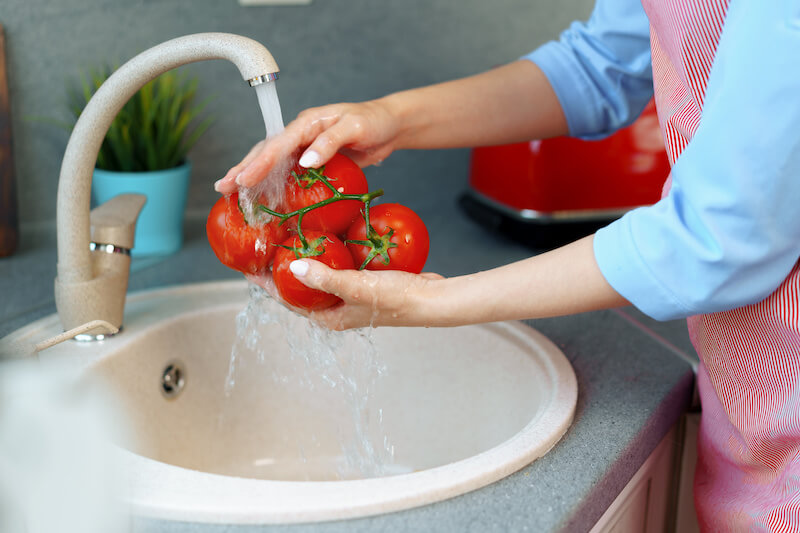 While Florida has one of the highest utility costs in the United States, Daytona Beach keeps costs low. The price for utilities here is 8% lower than the national average.
For one person, the average cost of electricity, heat, water, trash, and sewer comes to less than $100 per month. These costs are slightly higher for a household of four, at just under $150 per month. The warm Floridian climate certainly cuts down on heating costs.
The cost of other typical monthly expenses also manages to be below average in Daytona Beach. Cell phone plans in Daytona Beach start at just $35 per month, and the average monthly cost of Internet service is below $60. In contrast, the national average phone bill is over $100, and the average U.S. citizen pays more than $60 in internet charges.
Food Costs in Daytona Beach
The state of Florida is a mixed bag for food costs. The average price of food is greatly dependent on the area. For example, Pensacola's food costs are 4% lower than the national average, while the cost of groceries in Miami is up to 19% higher than in the rest of the country.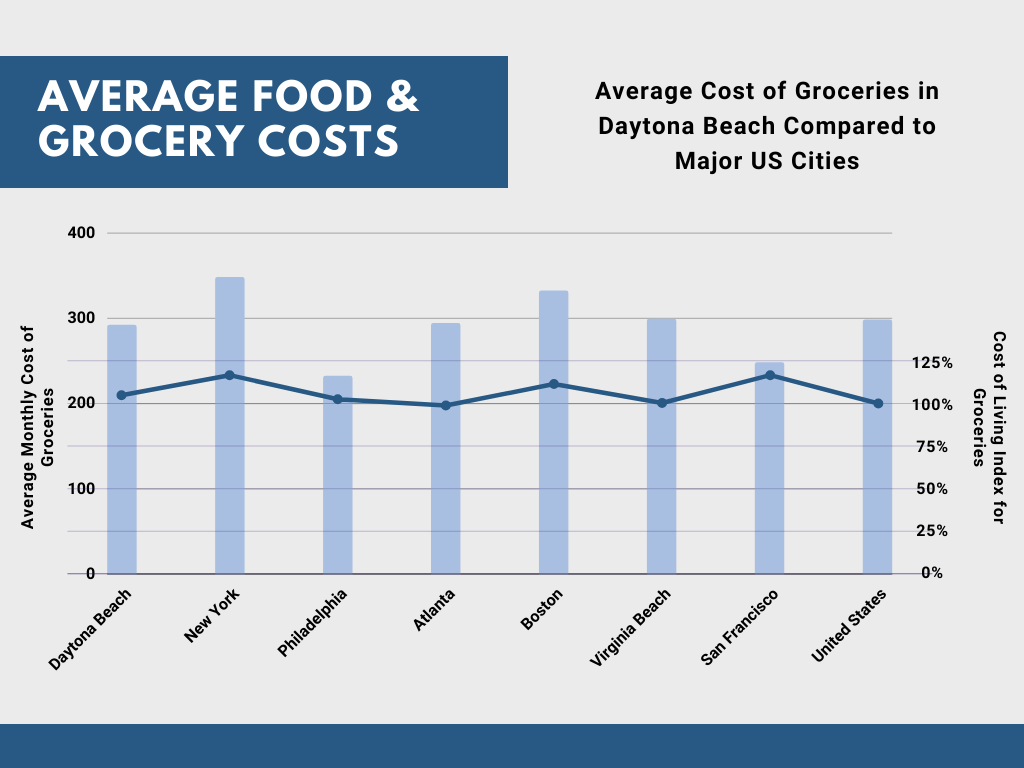 Daytona Beach falls somewhere in the middle. The cost of groceries and eating out is just below the national average. A typical Daytona Beach resident spends about $64 per day on food when eating out for all meals.
Groceries
For groceries, Daytona beach is also just under the national average cost, coming in at about 2% below average. The cost of groceries in Daytona Beach is on par with the rest of the country.
A quart of milk in the city is just under a dollar, while a loaf of bread, a bunch of bananas, and a dozen eggs are all $3 or less. The cost of a mid-level bottle of wine is less than $10. Everyday household items, like toothpaste and a four-pack of toilet paper, are typically under $5.
Some grocery stores have better prices than others. Grocery stores that carry the best deals in Daytona Beach include Key Food Supermarkets, Save A Lot, and Walmart Neighborhood Market.
Restaurants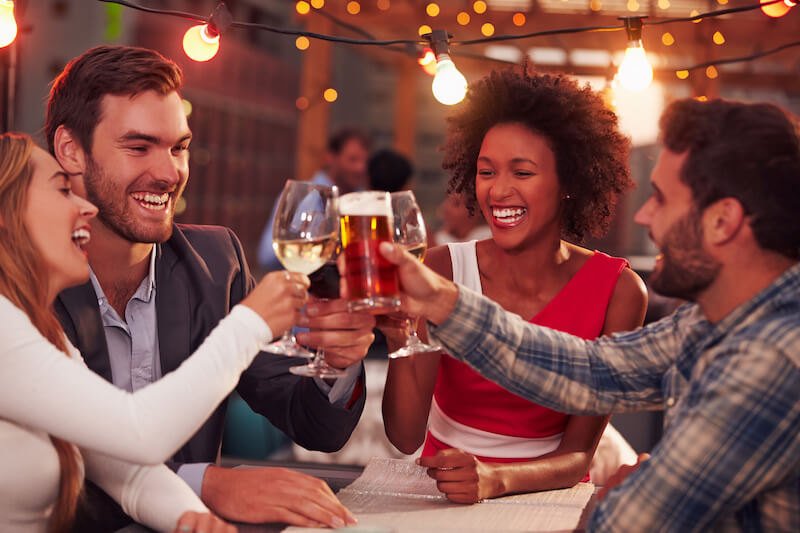 Restaurant prices in Daytona Beach vary widely. Breakfast is typically the most affordable meal at a restaurant. The cost of lunch in a counter-service eatery is a little under $15 per person. Dinner in a sit-down restaurant is around $30 per person, including a tip.
For those on the go, the average fast-food combo meal is under $10. A single beer at a bar is about $4, and a cappuccino is just under $5.
Transportation Costs in Daytona Beach
The cost of transportation in Daytona Beach is significantly lower than the national average. A typical resident spends less than $100 per month on car insurance in Daytona Beach. The rest of the country spends up to $120 or more per month on the same policy.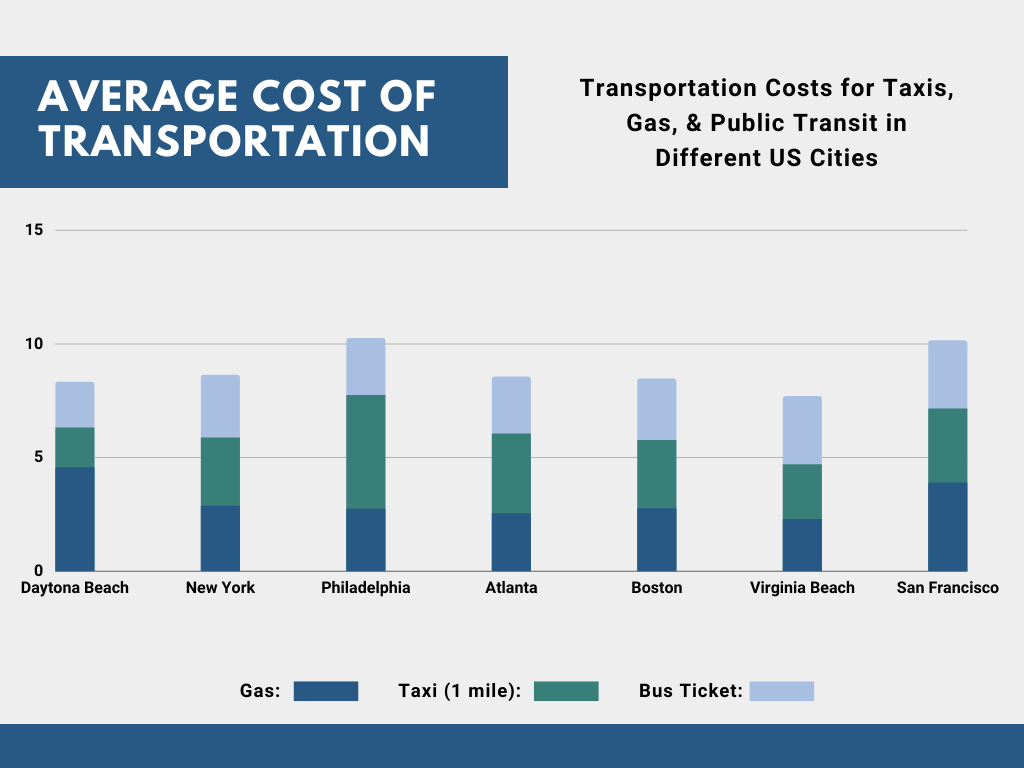 For those who prefer to be passengers, taxis and ride-sharing are options in Daytona Beach. The average five-mile taxi ride in the city is roughly $10. Standard ride share services, including Uber and Lyft, are also available in the area.
Public transportation is a staple for Daytona Beach residents. The local transportation system is Votran, which provides buses to Daytona Beach and its surrounding areas. The cost of a single ride for an adult is $1.75. Students, seniors, and those with disabilities pay a discounted rate of less than a dollar for a single ride. Children under seven years old ride for free.
The SunRail is also an affordable option for Daytona Beach residents to get to central Florida locations like Kissimmee and Orlando. The SunRail is an almost 50-mile commuter rail line that travels through Central Florida during the week. Riding the SunRail one-way is $2, and a roundtrip ticket costs $3.75. Discounts are available to seniors, students, children, and those with disabilities.
Health, Dental, & Veterinary Care Costs in Daytona Beach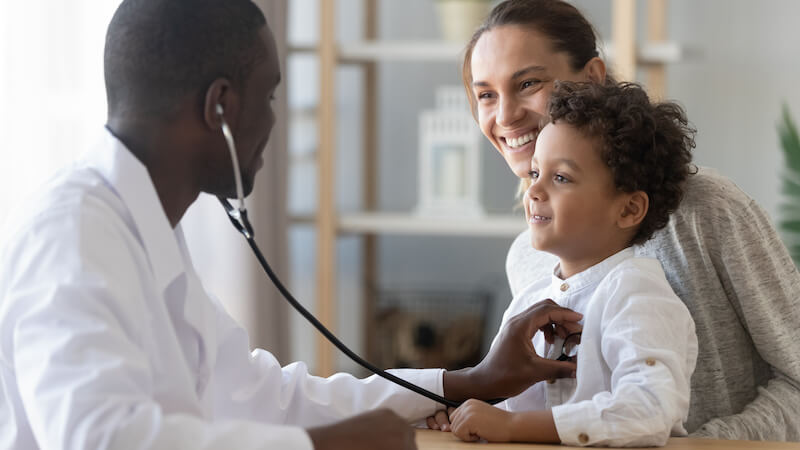 The cost of healthcare in Daytona Beach is about average. A typical doctor's visit costs just over $100. Dental and optometry visits are about the same, just under $100 on average.
Health insurance plans vary, but most Daytona Beach residents can expect to pay up to $500 per month for individual health care plans. Dental plans are significantly less expensive, costing just over $30 per month for a standard plan.
Daytona Beach residents can shop for the best healthcare plan for their individual needs. Health insurance providers serving Daytona Beach that are known for their affordable plans include:
Humans aren't the only ones in need of medical care. The cost to bring a furry friend to the vet is roughly $50 per visit. Low-cost vet clinics in Daytona Beach include the Halifax Humane Society and Redinger Low Cost Veterinary Clinic.
Daytona Beach Childcare Costs
Childcare in the United States is known for being a considerable expense. In some states, the cost of a year of childcare is more than a year of college tuition. It can cost anywhere between $500 and $700 per month to send a child to daycare full-time in Daytona Beach.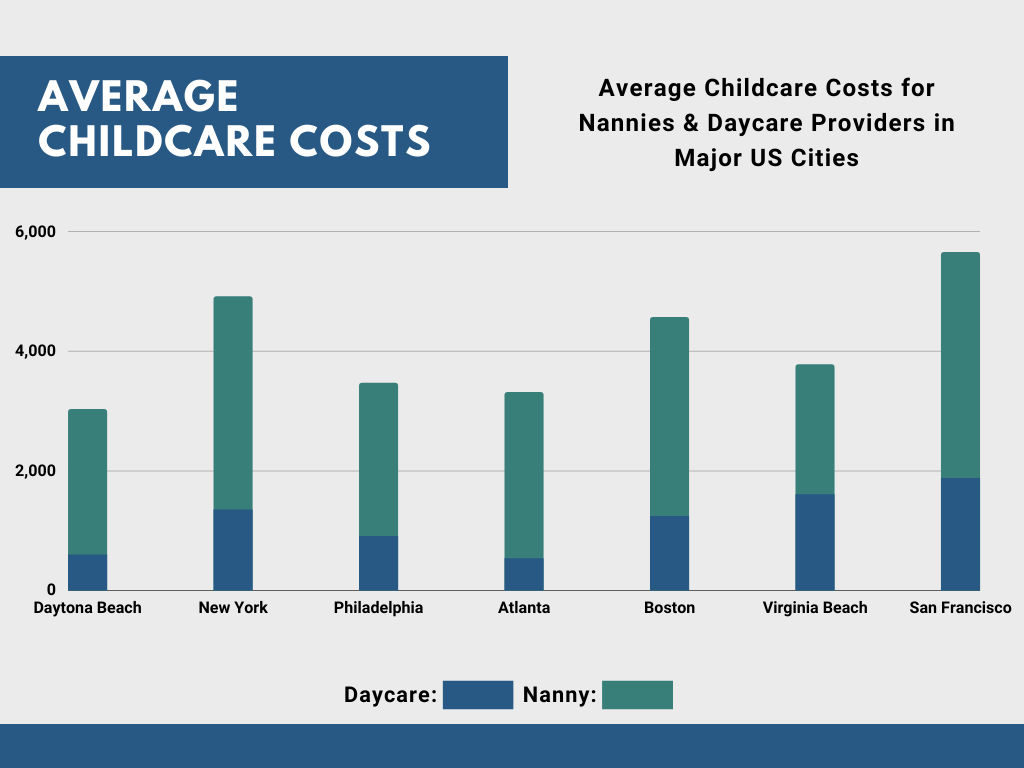 There are plenty of daycare options in the area. There are 85 daycares within the city limits, including daycare centers and in-home options.
Nannying is also a viable childcare option. The average cost of a full-time nanny in Daytona Beach is roughly $530 per week or just under $14 per hour. This hourly rate is subject to change based on the needs of the job.
For those looking to save on childcare where they can, a nanny share is also an option. In a nanny share, the nanny cares for more than one child at a time, and the parents or guardians split the cost of care. For example, if a nanny charges $15 per hour, parents may pay $11 per hour during 'share' hours. This arrangement greatly assists in cutting down the cost of regular childcare.
Daytona Beach Entertainment Costs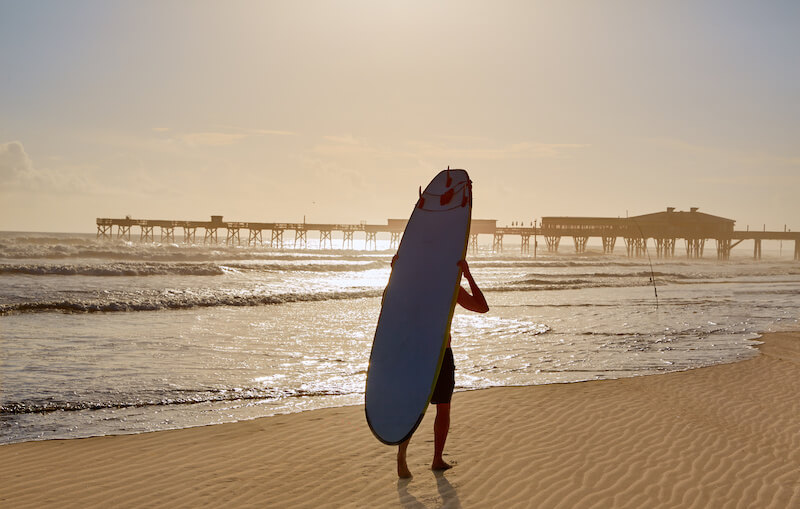 Daytona Beach is home to seemingly nonstop fun. With the never-ending stream of things to do in Daytona Beach, prospective residents may wonder how much it all costs.
There are plenty of popular nightlife spots to grab a drink or dance with friends or a date. Most nightclubs charge a cover fee anywhere from $10 to $20. Drinks are typically between $12 and $15 each.
Daytona Boardwalk Amusements is also a popular pastime for Daytona Beach residents. It's free to walk the boardwalk, and there is plenty of window-shopping and people-watching that can take up an entire afternoon. For the amusement portion, visitors can pay per ride or purchase wristbands, which can be for one hour ($22) or two hours ($29) and allow for unlimited rides on the various amusement part offerings.
Another area hotspot is Daytona Lagoon. In addition to the standard pools and waterslides found at the typical water park, Daytona Lagoon also offers go-karts, mini-golf, laser tag, a rock-climbing wall, and more. Admission for Florida residents is less than $30, and discounts are available for seniors and children.
Daytona Beach Salaries
The Daytona Beach economy offers a pleasant mix of job opportunities. Therefore, it's hard to pin down the average salary that a prospective resident can expect when accepting a job in the area.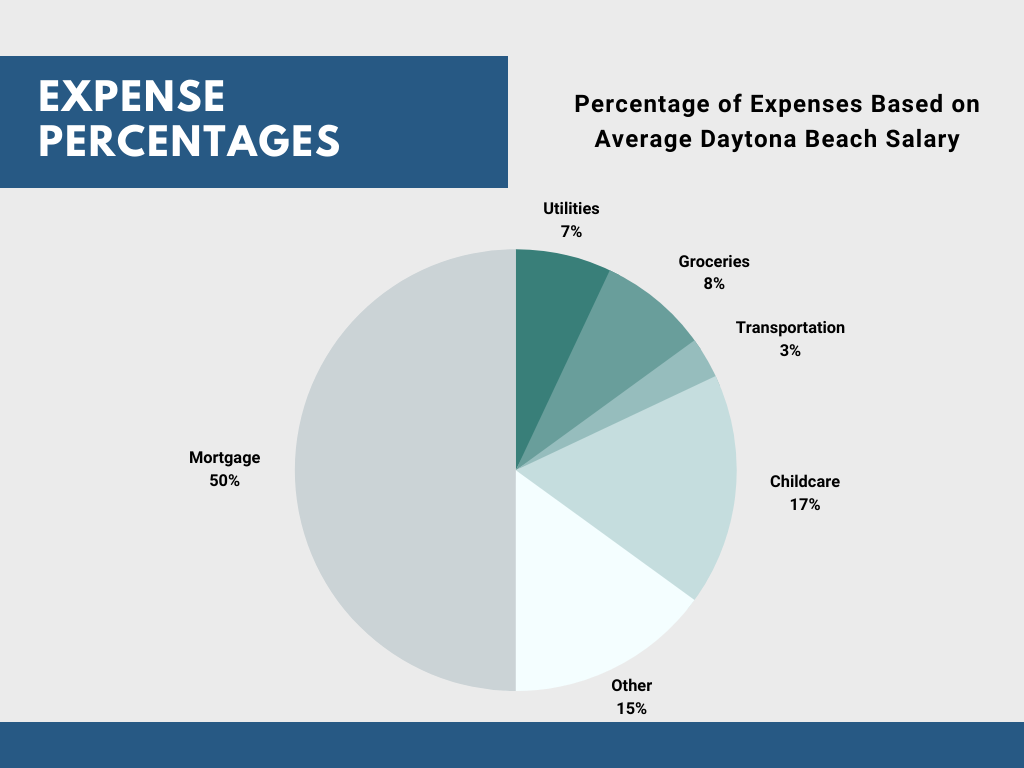 The average yearly salary for Daytona Beach residents is just under $42,000 per year, or $20 per hour. This annual income is slightly lower than the United States average, which is under $50,000 annually. However, it's essential to keep in mind that in Daytona Beach, the cost of things like housing, healthcare, utility bills, and groceries are significantly less expensive than they are across the rest of the country. The ample savings in those categories make up for the slightly lower salaries for most residents.
Another benefit of life in Daytona Beach is the availability of jobs in the city. According to various job boards, the job market in Daytona Beach is very active. Hundreds of full-time positions are posted daily in a variety of industries.
The average full-time salary in Daytona Beach is lower than the national average. However, the city's affordability and available jobs make the slight discrepancy more manageable.
Additional Considerations for the Cost of Living in Daytona Beach
While visitors may be dazzled by the area's sun, fun, and gorgeous beaches, it's essential for those interested in moving to Daytona Beach to consider the cost of living carefully. The cost of housing, healthcare, transportation, and other expenses is significant when determining whether to move to a new city.
It's impossible to know precisely how much life in a new city will cost. However, diligent research can help make an informed decision about the viability of a new city. For those considering Daytona Beach, the area is sure to impress with its affordable cost of living and bustling coastal atmosphere.