Daytona Beach Jobs: 2023 Economic Guide & Work Opportunities
Posted by Kevin Kling on Friday, December 23, 2022 at 9:10 AM
By Kevin Kling / December 23, 2022
Comment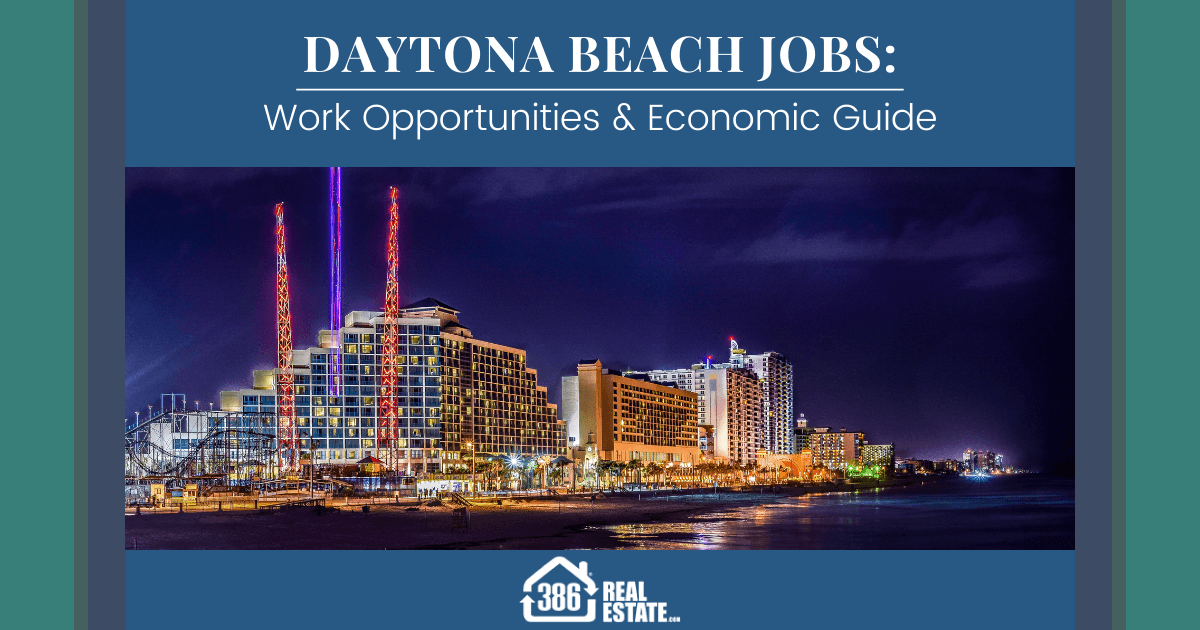 Daytona Beach is a community with a reputation larger than its borders. The city has about 72,600 residents, giving it a laid-back feeling. However, the entire metro area has just under 610,000, making it the 8th largest region in the state.
Daytona Beach is a world-famous destination. The sand on the beach is uniquely suited for motorsports, leading to more than 50 years of racing contests. Today, the community is known internationally as the Daytona International Speedway and NASCAR location.
While the area is a well-known destination for vacations and popular events, the Daytona Beach real estate market welcomes many new permanent residents arrive each year. Between 2010 and 2020, the community's population rose almost 20%, making it one of the fastest-growing cities in the country. However, before new residents start building oceanfront homes or condos, it is best to consider the region's economic landscape. Understanding more about the industries, careers, and opportunities available may be the best way to help new residents predict how much they will enjoy their new homes. Keep reading to learn about the economy in Daytona Beach, Florida.
Top Employers in Daytona Beach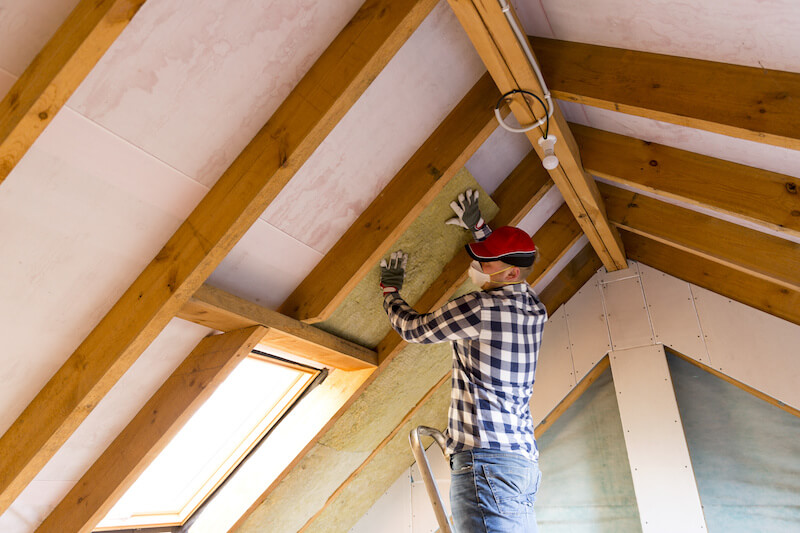 One of the best ways to research a potential new community is by looking at the top employers. The largest paycheck sources in the area can have huge impacts on the city's character. Company leaders are often involved in local politics and civic activities, and their employees can spread the organization's culture. Despite its medium size, Daytona Beach has several large and popular employers.
Founded in 2015, TopBuild Corp is one of the largest distributors and installers of insulation products. With a headquarters in Florida, they have more than 10,000 employees around the country and $2.6 billion in revenues. At more than $2.4 billion in annual revenues, Brown & Brown, Inc is the sixth-largest insurance brokerage in the US. Since their start in 1939, they have amassed a considerable risk management empire with nearly 10,000 staff.
Future pilots may be excited to learn about Embry-Riddle Aeronautical University. With 7,500 employees, the school prepares professionals to work in aviation and aerospace. Embry-Riddle is one of the oldest aviation schools in the country and is headquartered right in Daytona Beach. Daytona State College is another important educational center in the area. The two-year public institution employs about 1,300 people who help educate more than 24,000 students.
Racing fans moving to Daytona Beach will be able to do more than watch the excitement. The city is home to two major employers in the speed industry. Both NASCAR and the International Speedway have headquarters in town. NASCAR has about 1,866 employees, and the International Speedway has just over 1,000.
Additional Large Companies in Daytona Beach
American National Services
Atlantic Medical Center Daytona
Metra Electronics
Florida Health Care Plans
ICI Homes
Maycom Communications
City of Daytona Beach
Daytona Beach Economy Facts & Figures
There are several lenses through which to view average earnings in the area. The median individual income of Daytona Beach residents is a little over $24,000, whereas the median household income is about $38,000. The per capita personal income has been steadily increasing since 2013. It's estimated that about half of all residents make more than the US average. Florida's lack of state income tax and the low Daytona Beach cost of living mean employees can keep more of their gross earnings.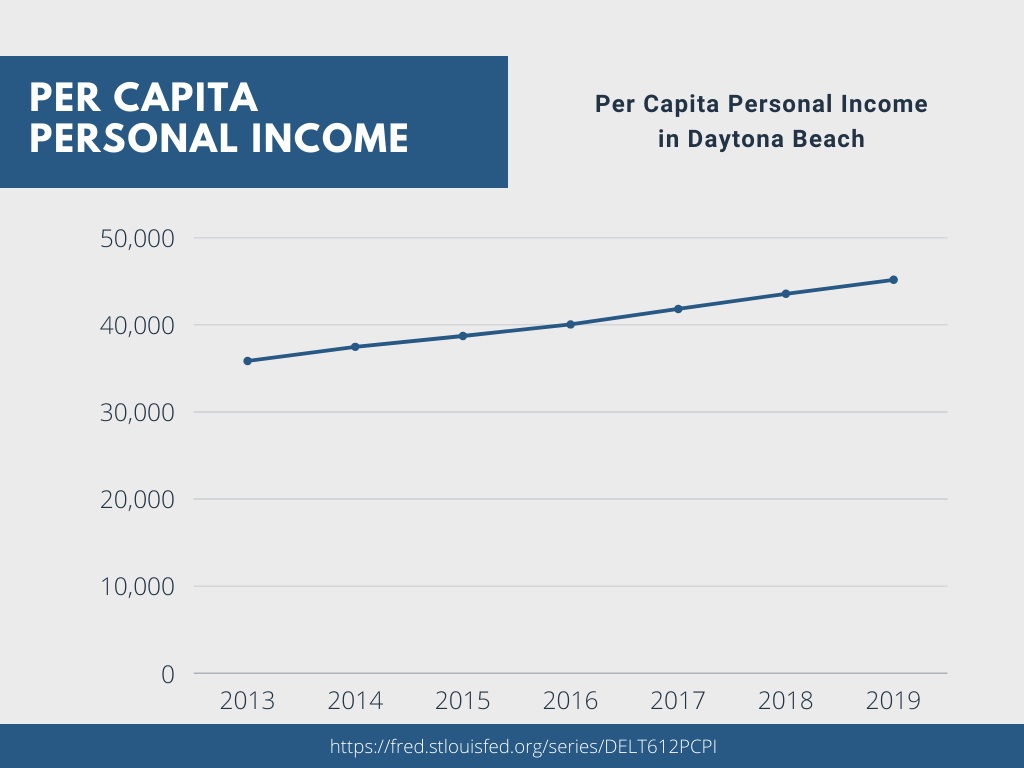 Speaking of taxes, Daytona Beach's combined sales tax rate is favorable at 6.5%, compared to the national average of 7.3%.
Florida also offers many financial advantages for people looking to start a small business. Only businesses registered as corporations are required to pay state income tax. Therefore, small enterprises, including S corps and LLCs, can operate without paying income tax. Corporations pay taxes on 5.5% of their income, but numerous exemptions are available.
The region's unemployment rate is slightly higher than the US at 7.1% versus 6%. However, future job growth is projected to reach 43.3%, almost ten points higher than the US average of 33.5%.
Daytona Beach Industries
Another thing to consider in any research into a new community is the industrial background. From entertainment havens to technology centers, understanding the major industries in a town can forecast economic opportunities. Daytona Beach has a reputation as a vacation and event town, but that is not the complete picture.
The Daytona Beach workforce is broken down by the percentage of adults in each industry. Just over 16% of the local population works within the retail field. Healthcare is a very close second largest group with 15.9%. As expected for a vacation town, the hospitality industry has a strong presence at 13.4%. Rounding out the top five in the single digits are education (8.9%) and construction (6.6%).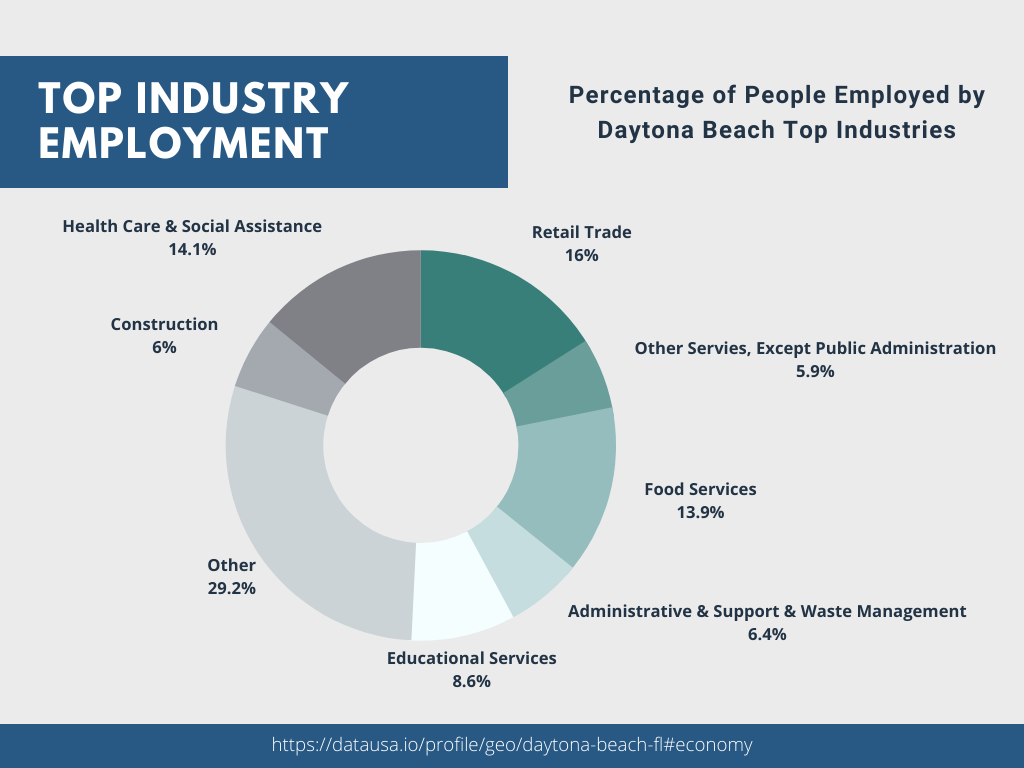 Of these five, only the construction percentage matches the state's equivalent. Compared to Florida, the hospitality, retail, healthcare, and education industries are significantly more common career choices in Daytona Beach. Also expected, several employment groups have significant part-time or seasonal workers. Around half of those laboring in hospitality, service, and retail industries work less than full-time.
Retail workers in the community can expect to make about $28,000 annually. Healthcare workers can earn above $31,000 each year. Hospitality-related positions make approximately $26,000. The highest average salaries within the region are in the utilities ($51,000), transportation ($40,000), and education industries ($40,000).
Top Industries in Daytona Beach
Retail Trade
Health Care & Social Assistance
Accommodation & Food Services
Educational Services
Administrative & Support & Waste Management
Construction
Other Services, Except Public Administration
Spend Days In Daytona Beach
More than any other community, understanding the economic picture in Daytona Beach is just part of the picture. The area is legendary for its beaches, warm weather, and fun things to do. Racing fans will also love the close access to some of the country's most popular racing and sports events. Daytona Beach is a city with a lot to offer.