4 Daytona Beach High-Rise Condos with Unbelievable Ocean Views
Posted by Kevin Kling on Tuesday, November 9, 2021 at 2:25 PM
By Kevin Kling / November 9, 2021
Comment
There's a lot to love about calling Daytona Beach home. Whether you live in a high-rise or a low-rise property, homes here are close to everything, including the famous beach, numerous restaurants, and outstanding parks. There is also something special about the sun here. Quite often, there are vibrant sunrises and sunsets, creating a sense of awe for those who can capture that experience each and every day. For those thinking about moving into one of Daytona Beach's high-rise condos along the waterfront or downtown areas, the views can be one of the biggest attractions. Here are a few high-rise communities with unbelievable views of the skyline in Daytona Beach.
Halifax Landing
Halifax Landing condos sit on the Halifax River, creating incredible waterfront views. A resort-style community, those who live in this high-rise complex typically enjoy a low-maintenance lifestyle with all of the city's numerous amenities nearby. When it comes to what residents can see out their windows, this condo development has views of the Intracoastal Waterway, Halifax River, the barrier islands, as well as the Atlantic Ocean in the distance. That creates fantastic sunrises and sunsets most days. Along with those views of the sun rising and setting comes the potential to see manatees and dolphins in the area.
The amenities at Halifax Landing are impressive as well. There is a community game room with various activities throughout the week. A grand hall is also available with a full kitchen and bar area for those who need to entertain a larger number of people. The community sauna and pool overlook the waterfront as well, and, as a heated pool, it can be enjoyed even when the beach gets a bit chilly.
As for the condos themselves, Halifax Landing offers 2 and 3 bedroom condos with about 1,400–2,100 square feet of living space. All condos also have a balcony to allow residents to take in the surroundings with ease.
Ocean Walk
Ocean Walk condos are a combination of hotel and rental property. Homebuyers looking to use their condos as rental properties to generate income may wish to look into Ocean Walk and other condotels in Daytona Beach. Its stunning views help bring in more renters and visitors, making it an attractive rental property. Even still, Ocean Walk is a contender for those looking for a second home or their permanent residence as well. One of its best benefits, outside of the beautiful views of the Atlantic Ocean, is that it has direct beach access, which can be harder to find in some areas.
This community has elegantly appointed condos, many of which come fully furnished. A heated indoor pool, heated outdoor pool, a Jacuzzi, a fitness center, and a golf training center are all located on the property. There is also a 300-foot lazy river for those who want to lounge and enjoy the view. Off the property, Ocean Walk is close to area golf courses, the Daytona International Speedway, and all of the amenities in central Florida, including being a short drive from Disney World and Universal Studios.
Each of the condo rooms offers its own look and feel. Some feature larger living areas and dining spaces and up to 3 bedrooms. Not all properties here are oceanfront, though most offer lovely views of the city's skyline as well.
Bayshore
Another fantastic Daytona Beach high rise condo complex is Bayshore. These condos are located on the Halifax River and boast some gorgeous views of the waterfront. Bayshore condos are within a short walk to the beach itself, but each of the condos here—all 212 of them!—have balconies facing the ocean or the river. It's easy to see the boats coming in, the dolphins, and the beach life from most of those balconies.
The community has much to offer, including a party room, game room, fitness area, and tennis courts. There's also a fishing pier for those who want to fish right at sunrise or sunset. Bayshore has a heated riverside swimming pool with ample space for sunbathing. It also boasts many community events throughout the year, allowing residents to enjoy their homes.
The Bayshore community offers 1, 2, and 3-bedroom condos to select from, with both sales and leasing opportunities available. Most are well-appointed with updates. The community provides ample storage for kayaks and bikes, a full movie library, and chairs and umbrellas for those who want to sit and watch the sunset.
Ocean Ritz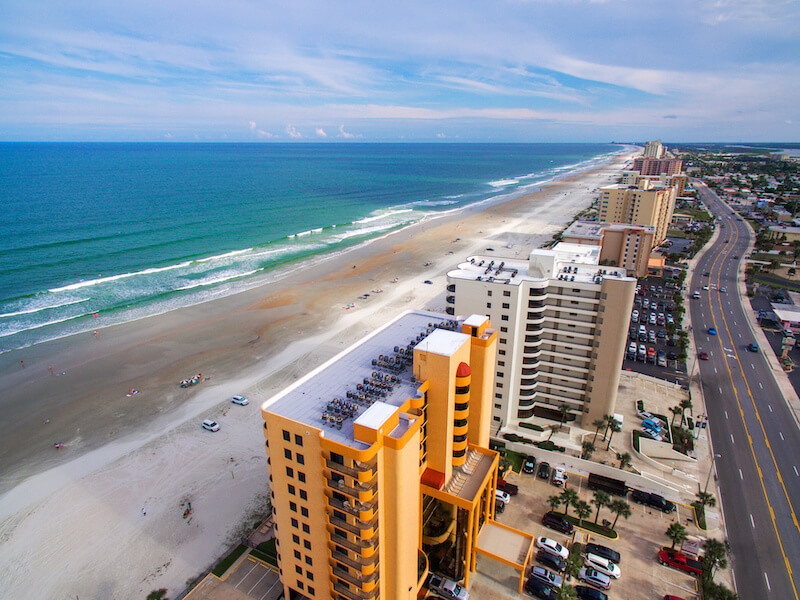 The Ocean Ritz high rise comes with expansive views. This oceanfront residential condominium in the northern area of the city has 21 floors with a total of 121 units. It has impressive ocean views from most of the units here. Forty units are fully oceanfront, which means there are unobstructed views of the water throughout the condo. Ocean Ritz works to make the most of this by offering floor-to-ceiling windows throughout. Many units also have wrap-around balconies to provide additional living space right outside. The condos are all 2 bedroom and 2 bathroom with between 1,275 and 1,360 square feet of living space.
The community offers a front desk area, laundry rooms on each floor, and a large oceanfront pool deck. There, residents will find a large heated pool, tables and chairs, and a grilling area. The community also has direct access to an uncrowded beach area for residents, which could be well worth the investment for beach lovers. There is also underground parking here, making it easy for residents to take full advantage of the restaurants and retailers nearby.
Explore More Than the View When Finding a New Home
For those looking for a second home or a rental property, these condos in Daytona Beach could be a solid buy. After moving into a condo, there is nothing quite like the tranquility of watching the birds fly across the sunrise or unwinding after a long day right on a balcony overlooking the sunset and ocean. For those looking for a higher quality of life, this area has lots to offer.