Daytona Beach Sand, It's The Best!
Posted by Kevin Kling on Monday, May 23, 2022 at 12:59 PM
By Kevin Kling / May 23, 2022
Comment
Most would agree that no matter where you live, at some point, you begin to take the most desirable aspects of your hometown for granted. This is not to say that you completely forget the unique and appealing attributes of your area, but rather that a lack of parity creates a veiled look at life in your city. While the name Daytona Beach is very recognizable, it often elicits an array of associations. From its stock car racing roots, to motorcycle madness twice a year, to a fabled Spring Break past, Daytona Beach has made memories for millions over the years. But one of the most overlooked yet alluring aspects of life in Daytona Beach is found along the Atlantic coastline, where the commodity of coastal Florida beach life finds an uncommon counterpart. With the largest coastline in the contiguous United States, and nearly 700 miles of beaches, Florida is often a top destination for vacationers, retirees and all those in seek of sun and sand. But not all beaches in Florida are created equal, with varying types of sand, varying widths of beach, and of course, a broad dichotomy between beaches on the Atlantic Ocean and those along the Gulf of Mexico (Our waves aren't big but at least we have them!). Residents in the panhandle boast of their powdery white sand beaches while the overcrowded and expensive beaches around Miami are narrow and also feature the soft sand found most places in Florida. While some may enjoy these soft sanded beaches for lounging on lazy afternoons, the sands of Daytona Beach offer residents and visitors this laid-back lifestyle and much more.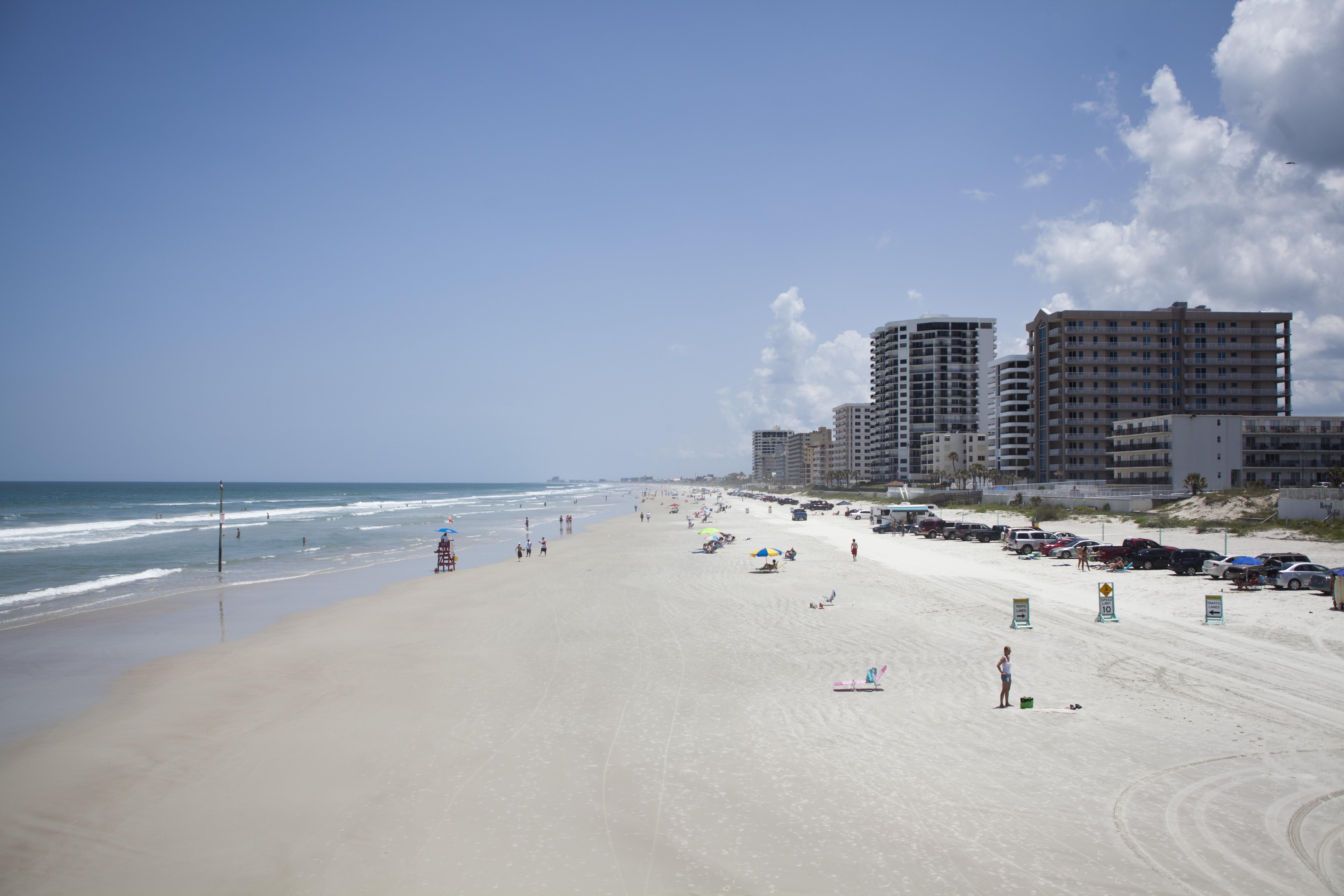 Comprised of quartz crystals, limestone, compacted shell fragments and coral, the sand of Daytona Beach provides a truly unique lifestyle. These ingredients along with the rolling tidal waters create a compactness that is rarely seen in other beaches around the state and even country. Early racing pioneers saw the value of the highly compacted sands along Daytona Beach as they created a culture of beach driving here that is still lauded today. Daytona Beach permits vehicle traffic for an 18 mile stretch of beach, and while some prefer to remain in traffic-free areas of beach, the benefits of Daytona's compact sands can be enjoyed for several miles north through Ormond Beach, and south through Ponce Inlet, where the beach driving is not permitted.
The "cement sand" of Daytona Beach, which stretches up to 500 feet wide at low tide, is perfect for vehicle traffic as well as an array of outdoor fitness activities such as biking, running or jogging, and other recreational activities. Many beach-goers enjoy throwing a Frisbee or even playing a pickup football game. For active and fitness minded individuals there truly is no better beachside lifestyle than the one found along the World's Most Famous Beach. The roar of waves motivates workouts like a personal trainer while the Atlantic sea breeze provides the resistance needed to push you to higher fitness levels. The compact sand also prevents injuries that may occur while trying to run or jog in the ankle-twisting soft sand found in places like the panhandle.

The larger beach area, combined with a mix of compact sand and the more common soft sand, provides residents and visitors of Daytona Beach with many options when it comes to enjoying a day at the beach. Oceanfront condo and homeowners enjoy instant access to their personal fitness area, where the brilliant sights, tranquil sounds and warm Florida sun can provide not only relaxation but also a little added motivation to a daily exercise routine. While the beaches here afford, and even promote, a healthy and active lifestyle, we can't blame those who simply prefer barefoot, sunset strolls along the Atlantic coastline, rolling up pant-legs and walking at the waters edge. However you choose to enjoy Daytona area beaches, make it your own, and discover that our beautiful beach is truly like no other.