Condo Decorating Ideas: 6 Ways to Incorporate Luxury Condo Interior Design
Posted by Kevin Kling on Monday, July 18, 2022 at 9:14 AM
By Kevin Kling / July 18, 2022
Comment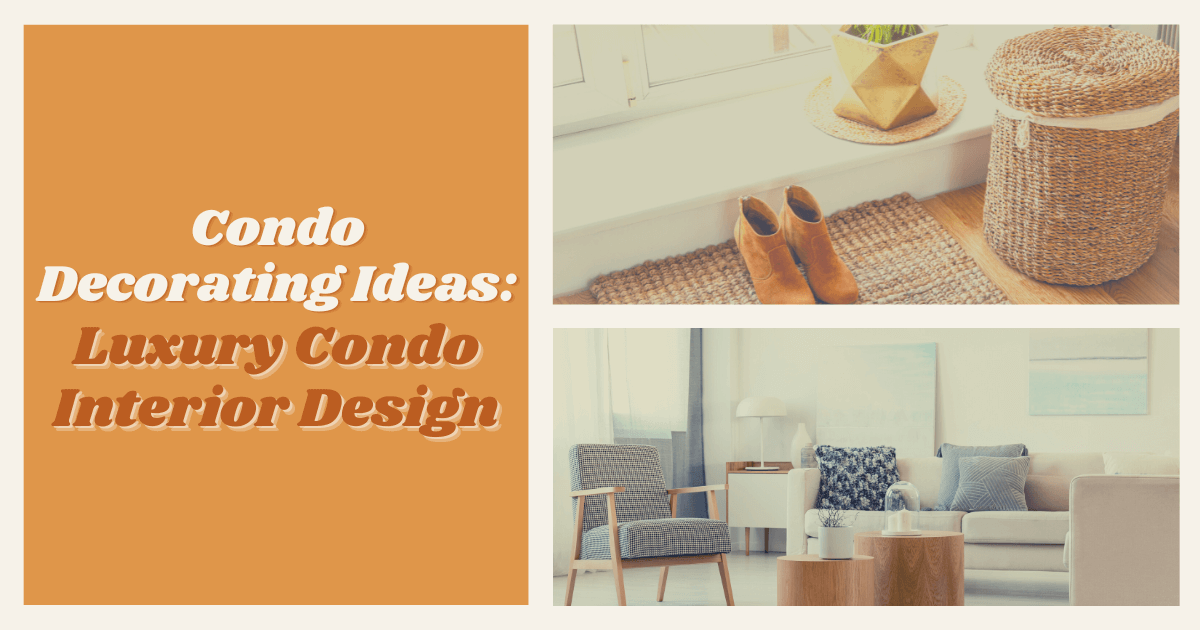 Luxury condos in popular destinations are solid purchases for those seeking a home or looking to invest in property. In addition to incredible amenities, decorating and furnishing these unique spaces to create a luxurious atmosphere will add to the condo's appeal. Keep reading to discover fantastic luxury condo decorating ideas.
Display Artwork in Important Rooms
While there is no strict determination concerning which rooms are the most important for homeowners, having a nice art display can increase a condo's value and appeal. Central to decorating any luxury condo, adding original art and metal works alongside personal photos personalizes and adds a welcoming touch to the most visible rooms.
The living room, dining room, entranceways, and hallways are ideal places to hang an installation that draws in guests' eyes, creating possible discussions that can fuel conversations going much deeper than the artwork itself. Many people who own luxury condos hire a professional design expert to advise which pieces will best complement their current or future decor.
Decorate the Walls with Mirrors
Mirrors are known for connecting beauty and appearance, and they are a practical element for any luxury condominium. They provide a sophisticated and clean look to just about any space, especially within small rooms, hallways, and darker areas in the home.
Mirrors are an easy way to add light. They offer an optical illusion of larger space to many rooms, especially when taking their size, placement, and shape into consideration. For maximum effect, place mirrors at eye level, keep smaller ones together, and consider installing them in unique patterns to establish focal points.
Create a Coastal Look for Your Luxury Beach Condo
Embracing the coastal style of interior design is all about bringing the outside in and celebrating nature. It's a lifestyle and a feeling reminiscent of those lazy days at the beach soaking in the sun under blue skies.
Achieving a coastal look in a luxury condo requires the consideration of specific design concepts. These involve the inclusion of elements like:
Soft grays, blues, and yellows
Seagrass and wicker baskets
Worn or chippy furniture with whitewashed exteriors
Adirondack chairs
Crisp white linens and upholstery
Jute rugs
Driftwood pieces and shells
Condo owners can take the coastal look to greater heights by installing Cape Cod-style shiplap horizontal or vertical planks along the walls for an added touch of casual coastal simplicity.
Incorporate Neutral Colors
If you don't want to go for a coastal look for your luxury condominium, it's good practice to focus on a neutral color palette instead. White, gray, and beige are all examples of neutral colors that can help to create a modern look. These colors can be used throughout the home, from the walls to the flooring.
Neutral colors can also be used to accentuate other design elements, such as art and furniture. By incorporating these colors into your condo design, you can create a sophisticated and luxurious look that will be sure to impress your guests.
Mix Textures & Patterns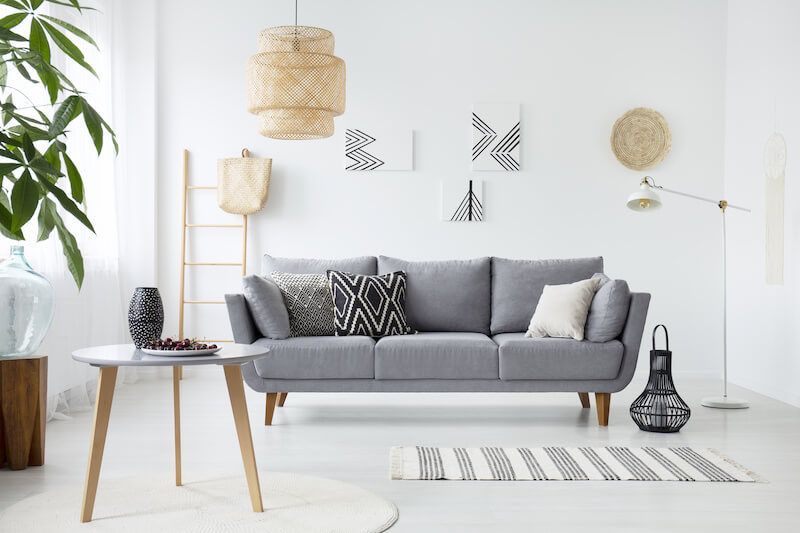 In the design world, one must think of each room in layers to create a greater depth in the overall look. The key to success is establishing a pleasant contrast of textures and patterns, starting with the color of the flooring and larger pieces of furniture present in each room.
For example, a dark wall can be accented with a lighter sofa or a sizeable contrasting artwork. Light flooring installations can have a pop of color with a vibrant rug. The possibilities are unlimited, especially when adding small touches with varying textures and geometric patterns, such as end tables and pillows. Try and use a variety of:
Large geometric patterns
Medium patterns
Small-sized patterns
Solid colors
Textures such as linen, sheepskins, velvet, and woven materials
Paint is an easy and fast way to establish focal points in a luxury condo, and many designers will paint a single wall in a vibrant or contrasting hue to set off the entire room.
Use Unique Lighting Fixtures
While most condos have a good bit of lighting—especially in high-rises with great views—there are bound to be inward rooms that lack windows or natural light. However, the unique and well-planned placement of lighting elements can make or break a space in a luxury unit.
Opt for eye-catching ceiling fixtures that make a bold statement and direct visitors' attention up into the open space. This illumination can add drama and force the eye into thinking that smaller rooms are larger than they are. Secondary sources can also enhance ceiling lights.
Consider sconces that complement overhead lighting. These small wall lamps are available in many shapes and sizes to bring balance and establish an open and inviting space. Incandescent lighting can be more than decorative. These energy-efficient installations can make a big difference in the level of light that results from other elements, such as lamps, sconces, and overhead sources.
Luxury Condo Designs Don't Have to Break the Budget
Luxury does not necessarily call for owners to have a specific style. Instead, luxury is a characteristic provided through a particular combination of elements in their final state. One can have a minimalist design in their condo while incorporating a sense of luxury with high-quality branded furnishings and art that establishes a perfectly balanced look. With these tips, you can display your condo investment luxuriously.