Is Daytona Beach Dog Friendly? Best Pet-Friendly Places
Posted by Kevin Kling on Thursday, December 22, 2022 at 11:57:19 AM
By Kevin Kling / December 22, 2022
Comment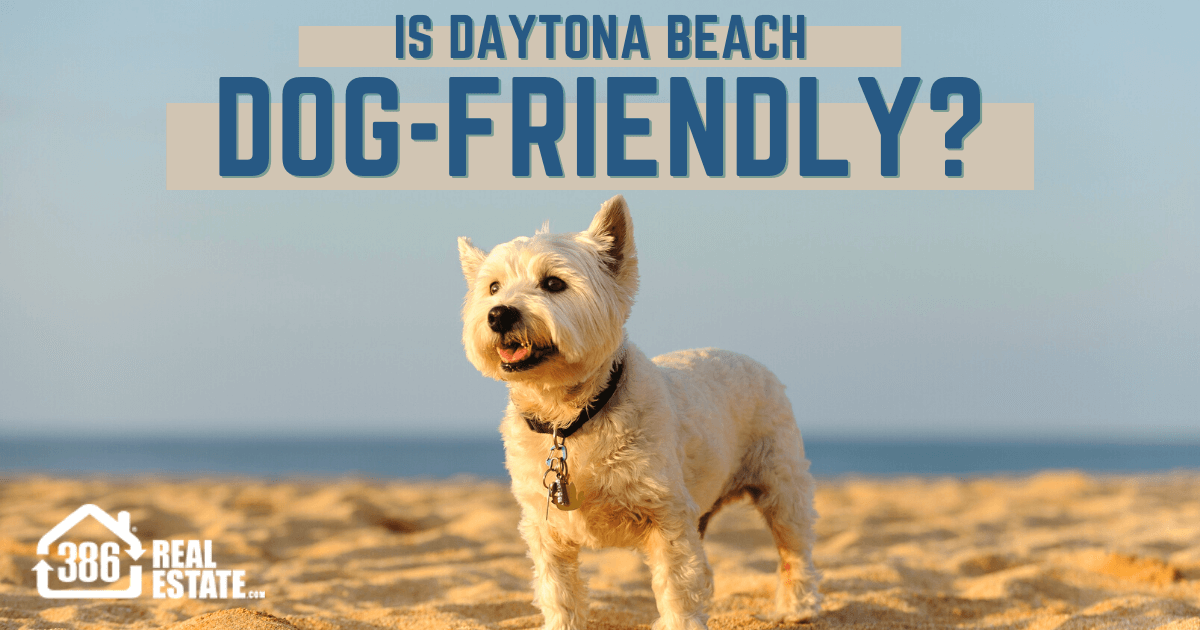 Daytona Beach is famous for its speedway racing and hard-packed sand beaches, but for pet owners moving to Daytona Beach, a key concern is whether or not the city is dog-friendly. Read on to learn about the best dog-friendly activities, restaurants, shops, and hotels in and around Daytona Beach.
Dog-Friendly Activities in Daytona Beach
In Daytona Beach, dogs can participate in fun outdoor activities like paddleboarding and going to the beach.
Paddleboarding at Three Brothers Boards
Three Brothers Boards offers dog-friendly stand-up paddleboarding tours throughout the Daytona Beach area. Each tour starts with a short lesson and some practice time. Guests are welcome to switch to a kayak if uncomfortable on the paddleboard. Once the tour begins, it's time to see Florida's wildlife up close! Look out for dolphins, manatees, and bald eagles.
Three Brothers Boards provides all the safety gear necessary, and guests can bring snacks, beverages, and a camera for their trip. Tours are available seven days a week with a one-day advance notice and cost $55 per person. Dogs ride for free.
Dog-Friendly Beaches
The Daytona Beach area has several beaches where dogs can play or swim. In addition to dog parks like Lighthouse Point Park and Smyrna Dunes Park, where dogs can swim in the Ponce Inlet, Michael Crotty Bicentennial Park offers a 4-acre beachside dog park and several dog-friendly trails neighboring homes in Ormond Beach.
The dog park has separate areas for large and small dogs to play off-leash. Both sides offer shaded benches, and the small side has a pavilion. Most of the large side is sand, perfect for dogs that like to dig. Numerous water stations around the park help dogs stay cool and hydrated.
Leashed dogs are welcome on the park's mulched trails. These hilly paths lead through a shaded forest to the Halifax River, which features a fishing dock and gazebos.
Dog-Friendly Restaurants in Daytona Beach
Daytona Beach has several dog-friendly restaurants serving American cuisine and all sorts of drinks.
Landshark Bar & Grill
Dogs can join the party at Landshark Bar & Grill, which offers seafood and margaritas in a laid-back oceanfront setting. Try classic seafood dishes, like coconut shrimp and crab cakes, or Landshark's signature double-stacked burgers. Sip on a delightful array of margaritas or sample Jimmy Buffett's Landshark Lager. Dogs can enjoy a water bowl and some treats.
Dogs can sit indoors or outdoors at Landshark, but it's well worth sitting outside at this restaurant. Outdoor tables are available on a shaded patio or right on the beach! Look for Landshark Bar & Grill at 471 South Atlantic Avenue.
Rock Bottom Restaurant & Brewery
Dogs are welcome outdoors at Rock Bottom Restaurant & Brewery, a three-story eatery known for craft brews and comfort food. Enjoy American classics like mac and cheese, shrimp and grits, and pizza alongside craft brews made on-site. Flights are available for those who would like to sample multiple beers.
Rock Bottom's dog-friendly outside patio faces the Daytona International Speedway's Victory Circle, giving guests a view of the racetrack's festivities. Rock Bottom Restaurant & Brewery is across the street from the Speedway at 1864 Victory Circle.
Oasis Tiki Bar & Grill
Enjoy classic American fare and tiki drinks at the oceanfront Oasis Tiki Bar & Grill. Oasis serves a diverse menu with burgers, wraps, sandwiches, seafood, wings, and pizza. Extensive dog-friendly outdoor seating offers impressive views of the Atlantic Ocean.
Diners can enjoy live music from a DJ every day at 1:00 p.m. or from local musicians on weekend evenings. Find Oasis Tiki Bar & Grill at the Fountain Beach Resort at 313 South Atlantic Avenue.
Dog-Friendly Shopping in Daytona Beach
The Daytona Beach area offers several great shops open to dogs, from pet supply stores to open-air farmers' markets.
Daytona Beach has locations for many well-known pet supply chains, including Petco, PetSmart, and Pet Supermarket, but there are also several local stores.
Woof Gang Bakery & Grooming specializes in nutritious, high-quality pet foods free from artificial colors, flavors, and preservatives. It also has a dog bakery with all-natural dog treats and jerky.
Pet Caress features natural skin care products for pets, including shampoos, balms, and gels. The creators of Pevonia Botanica Natural Skincare used their skills and research to craft a line of products tailored to meet pets' specific skin care needs.
Silly Willie's in New Smyrna Beach offers pet food, gourmet treats, toys, and hard-to-find pet supplies. This boutique boasts the largest selection of collars, leashes, and harnesses in Volusia County.
The New Smyrna Beach Farmers Market welcomes leashed pets while it is open on Saturdays from 7 a.m. to 12 p.m. Stroll between booths showcasing all sorts of locally grown and produced goods, from heirloom produce and farm-fresh eggs to local artwork and handmade soaps.
Save the Animals Store is a non-profit thrift and consignment shop that helps pay for veterinarian bills. The store, located in the city of Port Orange, offers an ever-changing selection of items and occasionally hosts events promoting animal welfare in the community.
Pet-Friendly Lodging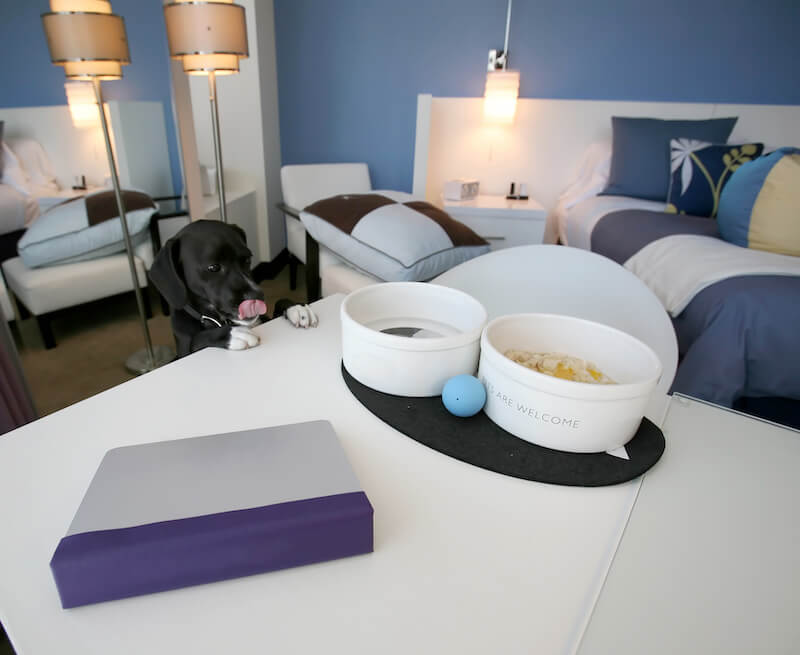 Pet-friendly resorts and hotels near Daytona Beach offer impressive ocean views and amenities like pools, fitness centers, and on-site restaurants.
The Shores Resort & Spa
The Shores Resort & Spa is a luxury boutique-style resort adjacent to homes in Daytona Beach Shores. Relax next to the heated pool in a private cabana, drink at the beachside tiki bar, or enjoy the resort's famous "Shores S'mores" made at an oceanside fire pit. The resort also features a fitness center and spa.
Each room can accommodate up to two cats or dogs under 50 pounds. Pet-friendly rooms include a cozy pet bed, treats, and food and water bowls.
Hilton Daytona Beach Oceanfront Resort
Set directly on the beach in the heart of Ocean Walk Village, Hilton Daytona Beach Oceanfront Resort is just a short walk from the dog-friendly Daytona Beach Boardwalk. The resort features ocean- and sunset-view rooms and suites with pantry-style kitchens. Pet-friendly rooms can accommodate up to two pets under 75 pounds.
Guests can enjoy seven on-site restaurants and lounges, a fitness center, and a life-size checkerboard. Relax in the resort's heated pools, kiddie pools, and hot tub, available on both the lobby level and the fifth-floor deck.
Residence Inn by Marriott Daytona Beach Oceanfront
Located in Daytona Beach Shores, the Residence Inn by Marriott Daytona Beach Oceanfront aims to provide all the comforts of home, including pets. Rooms at the Residence Inn feature separate dining and living areas, fully-equipped kitchens, and stunning views of the Atlantic Ocean. Up to two pets under 50 pounds can stay in each room.
Guests can enjoy a 24-hour fitness center, outdoor pool, and whirlpool hot tub. Each guest receives a complimentary hot breakfast, while the inn's oceanfront bar and grille serve lunch and dinner.
Dog-Friendly Daytona Beach
Living in one of Daytona Beach's oceanfront homes or condos makes it easy to experience the area's numerous dog-friendly adventures. With excellent dog-friendly activities, restaurants, shops, and hotels, Daytona Beach offers plenty of fun things to do with a dog.