Learn Pickleball & Where to Play Near Daytona Beach | Pictona & More
Posted by Kevin Kling on Wednesday, December 7, 2022 at 1:30 PM
By Kevin Kling / December 7, 2022
Comment
One of the fastest growing and most popular sports on the planet isn't America's pastime, soccer or the NFL, but rather a simple game that can be enjoyed by all ages: Pickleball.
All-time sports greats like Tom Brady and Lebron James, are even investing in this easy to learn sport as interest grows across the United States and around the globe. Pickleball combines elements of tennis, badminton and ping-pong and can be played indoors or outdoors. And the most exciting news is that Daytona Beach is home to one of the newest, largest and most innovative Pickleball facilities in the country, Pictona. Below you will learn more about Pickleball, the Pictona facility and other opportunities to play this fun sport across our Central Florida coast.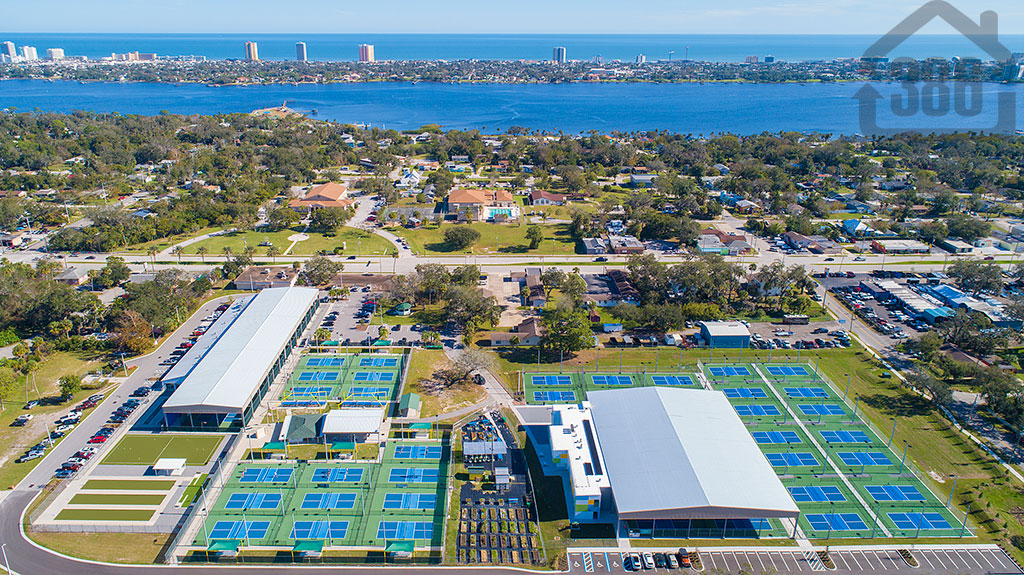 What is Pickleball and how do you play?
Invented more than 50 years ago on Bainbridge Island, a small city that is connected by ferry ride to Seattle, Washington, pickleball came to be like many sports, out of pure boredom. Three dads – Joel Pritchard, Bill Bell, and Barney McCallum - created the game as a new and interesting activity to entertain their children over a long summer. While the original sport had simple rules and handmade equipment, these days the sport has grown internationally with an array of specialized equipment, custom facilities and a dedicated following. But how do you play pickleball?
Pickleball is a paddle-sport and is played on what looks like a miniature tennis court or the equivalent of a doubles badminton court, measuring 20×44 feet, with two sides divided by a net. You can play as singles or doubles, but doubles is most common. The game plays much like tennis, however the serve must be done cross-court, underhand and the pickleball must bounce both on the serve and on the return serve, called the two-bounce rule. From here a bounce is not required and the volley continues from both sides until there is a fault: the pickleball goes out of bounds, hits the net, bounces twice or hits a player anywhere above their paddle side wrist.
The one other major rule to consider when learning pickleball is to stay out of the "kitchen", a 14-feet non-volley zone that extends 7 feet from each side of the net. In the "kitchen", players are not allowed to volley at all, including having your toes over the line or even having momentum of a volley take you into the kitchen. If this happens, it is a fault. This brings us to scoring which is similar to tennis or volleyball scoring, but in most cases a game is played to 11 and you must win by two. It's also important to note that within the rules structure, serves are rotated between players and sides of the court so that service does not always begin by the same person to their strongest side.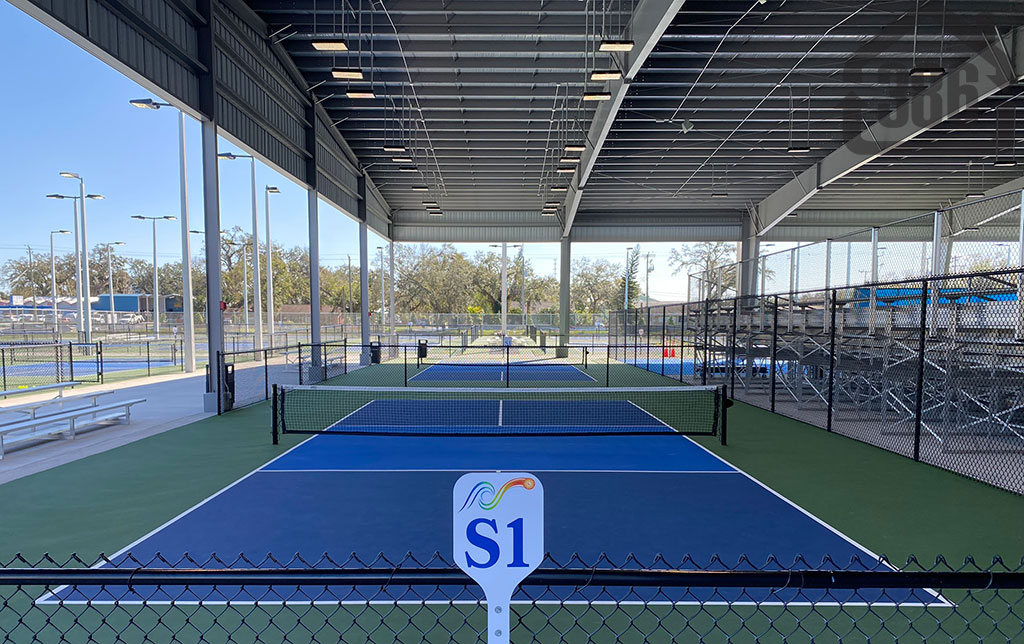 Pictona Pickleball Club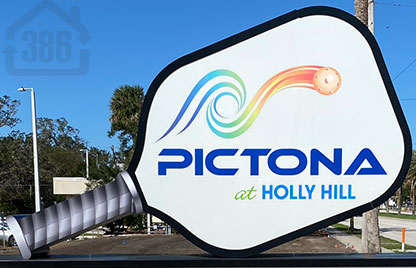 One of the best pickleball facilities in the country is right here in our own backyard - Pictona at Holly Hill. This centrally located pickleball palace is easily accessible from all cities around the Daytona Beach area and is just minutes from interstate access. Many people are moving to the Daytona Beach, Ormond Beach and Port Orange area exclusively to access Pictona and enjoy this fun sport. Pictona is also very close to popular neighborhoods like Latitude Margaritaville Daytona Beach, LPGA, and Mosaic. But what makes Pictona so special?
Pictona is a massively large and massively fun facility with 49 courts, 13 of which are covered, plenty of open seating and viewing areas, and even their own restaurant, affectionately named "The Kitchen". In fact, there's even a Championship Court with seating for up to 1,200 spectators! Located in the city of Holly Hill, Pictona is open to the public and is enjoyed by all ages, with other activities on site including table tennis, cornhole, shuffleboard, croquet, bocce ball, and horseshoes. Pictona has major tournaments for competitive play but also is a place for novice and recreational play, where lessons are available and more. At Pictona there are several affordable membership options for individuals and families, as well as daily rates, making this one of the most exciting things to do in the Daytona Beach area.
More Pickleball around Daytona Beach
While Pictona is the pickleball capital of our Central Florida coast, there are still several other opportunities around town to play pickleball.
In Daytona Beach Shores you will find public courts for free use at McElroy Park. Here there are 10 pickleball courts with lighting, and you will often find these courts busy with residents from local condos. These pickleball courts are just steps from many homes and condos in Daytona Beach Shores, and are a welcome addition to a leisurely and walkable lifestyle that includes beach and river access, par-3 golf, tennis and more.
In New Smyrna Beach you can find pickleball fun at the indoor Babe James Community Center or outdoor parks such as Detwiler Park and Pettis Park.
Ormond Beach has pickleball options too, including four courts in the prestigious, gated golf community, Plantation Bay.
More fun and free pickleball can be found in Port Orange at the Adult Activity Center which caters to our local residents 55+. These outdoor courts are often filled with players of all skill levels.
Play Pickleball Near Daytona Beach!
As you can see, the approachable game of pickleball already has quite a following and is growing in popularity by the day. We welcome all of those moving to Daytona Beach for pickleball and maybe we will see you on the courts. Please call us at (386) 999-3977 if you have questions about real estate near your favorite pickleball court.
More Pictures From Pictona Pickleball Club