What is a High Rise Apartment? Comparing High Rise vs Low Rise vs Mid Rise
Posted by Kevin Kling on Friday, June 24, 2022 at 9:12 AM
By Kevin Kling / June 24, 2022
Comment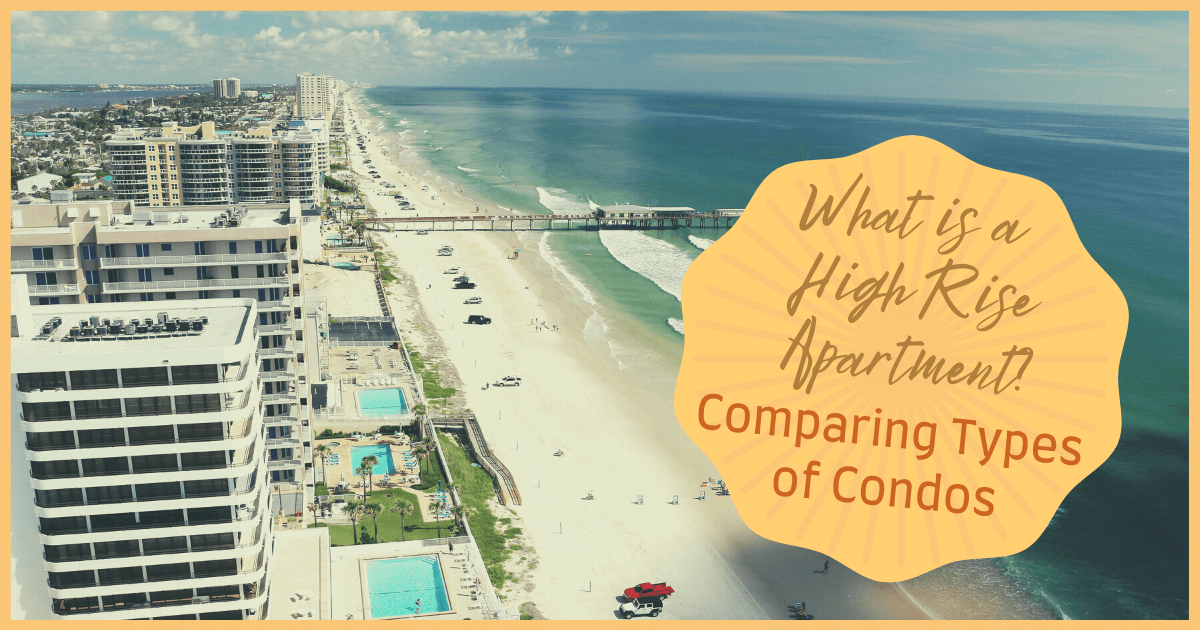 Many people don't know, but the condo experience can be drastically different depending upon the type of building they're integrated into and how individual units are designed. Homebuyers considering purchasing a high-rise condo will need to consider the kind of lifestyle they seek. Condominiums are segregated into different categories determined by the building's height and the number of units on each floor. Classifications are also determined by city, county, and state building codes. Before bidding on a unit, prospective buyers need to understand the differences and decide whether to choose a high rise, low rise, or mid rise condo for their dream real estate.
Sizes: Low Rise vs High Rise vs Mid Rise
Defining a high-rise versus a low-rise condo is pretty straightforward. Low-rise condos are defined by units located in buildings one to three stories high and found in suburban and other residential areas. Parking is usually separate from the building and residents park in open lots, carports, or detached garages. Then what is a high rise apartment? High-rise condos are generally units that are located in buildings 10 or more stories tall. Usually found in downtown and urban areas, high-rises are also becoming increasingly popular in coastal cities due to the incredible views they offer. They typically have elevators and other conveniences located inside of the building. But what about the buildings that fall between these heights? Those would be called mid-rises.
Individuals looking to choose the type of condo that is compatible with their lifestyle should thoroughly understand the differences between high-rise and low-rise condos.
Advantages of Low Rise Condos
Choosing to buy a low-rise condo comes with many advantages. For instance, these units are usually more affordable than towering high-rise units and offer lower-density living. Other perks can include:
Lower monthly or annual maintenance fees.
Most low-rise buildings typically have just 6–18 units per building.
A quieter environment due to smaller and/or more spread-out buildings.
Better chances of buying brighter and airier units, including corner units, since buildings are smaller.
An intimate atmosphere where people know their neighbors or have more privacy.
Dwellings are typically closer to the street, making it easier to come and go—and easier to move into the condo.
Additionally, low-rise condos are more likely to have more green spaces. For instance, residents are more likely to have access to landscaped grounds, outside benches and seating areas, flower gardens, trees, bike paths, walking trails, and sometimes a pond or lake.
Benefits of High Rise Condo Living
High-rise condo living also comes with many benefits. One of the biggest draws to buying this type of real estate is the incredible view from high-rises, either of the beaches and water or of the city skylines. Other plusses include:
Maintenance requests are typically easier since there is usually someone always on-site.
Due to how units are constructed, residents enjoy more natural light and privacy.
Insects are usually not a problem in high-rise units, since residencies are on the higher floors while amenities are established on the lower floors.
Security is typically strong since most high-rise buildings have a doorman and/or other security.
High-rises can be counted on to have one or more elevators, offering residents a good level of convenience.
A larger number of amenities, including indoor and outdoor pools, Jacuzzis, cafes, fitness rooms, conference centers, meeting rooms, business centers, and other desirable features are often found in high-rises.
Many high-rise condo buildings offer a vacation lifestyle due to resort-like amenities.
Additionally, since high-rises are usually located in denser, urban areas, commutes and public transportation are also usually more accessible than you'd find in other neighborhoods.
What is a Mid Rise Condo?
As the name suggests, mid-rise apartments are located in height between low-rise and high-rise buildings. These buildings typically have between four and 10 stories, although the exact number may vary depending on the location. Mid-rise condos offer the benefits of both low-rise and high-rise buildings.
Mid Rise vs High Rise
Mid-rise condos are more convenient to city amenities than high-rise condos. Mid-rises will also have fewer tenants than high-rises, which means shorter waits at elevators. Speaking of elevators, residents will also have the option to take the stairs, which they would be unlikely to do if they lived at the top of a high rise.
Mid Rise vs Low Rise
Thanks to their additional stories, people in upper mid-rise units will tend to have better views than those in upper low-rise units. In addition, mid-rise buildings often have more amenities than low-rise buildings, such as on-site parking, fitness centers, and swimming pools.
Mid-rise apartments offer a happy medium for renters who are looking for an affordable, comfortable place to call home.
What Type of Condos You're Likely to Find in Daytona Beach
Most of the iconic condominium developments found in Daytona Beach are high-rises, but buyers will find plenty of low-rise condo properties as well.
The Ocean Ritz high-rise condominiums are located on the shore at the northern end of Daytona Beach. With 21 floors with 6 units per floor, every unit has balconies, along with views of the Atlantic; 40 units offer full oceanfront views. This complex offers all the amenities of what people expect in a home, along with desirable resort-like features.
Daytona Inn Beach Resort condos reside in a former hotel that has been converted to low-rise condos. The community is located near International Speedway Boulevard, steps away from the Boardwalk and Ocean Center. Offering a quiet, low-rise condo lifestyle, buyers can choose from 152 residential units. Sixty percent of the units are studios and 40 percent are suites; some are oceanfront, others offer city views.
Halifax Landing high-rise condos offer waterfront views right on the Halifax River. Offering three different floor plans for buyers to choose from, units range from 1,400 to 2,100 square feet, and each one comes with a private balcony to maximize the view from the condo.
The River House Condominiums low-rise condo complex is located steps away from Marina Point and the Halifax River Yacht Club. Buyers will find four garden-style, L-shaped, three-story buildings offering 190 total units that offer water views of the Intracoastal and lagoon, along with numerous desirable resort amenities. Found in a highly walkable area just south of downtown Daytona Beach, residents enjoy easy access to additional local amenities.
Enjoy a Beach Lifestyle from a High-Rise Condo
Beaches and coastlines are highly desirable areas where people seek out both low-rise and high-rise condo options, along with the occasional mid-rise. Buyers will find a variety of both types of lifestyles. Regardless of the type of building or community chosen, buying near a beach is often a good investment, since these properties comprise high-in-demand communities that offer the incredible amenities people seek.