8 Affordable Daytona Beach Shores Condos: Where to Get the Best Bang For Your Buck
Posted by Kevin Kling on Tuesday, January 11, 2022 at 8:36 AM
By Kevin Kling / January 11, 2022
Comment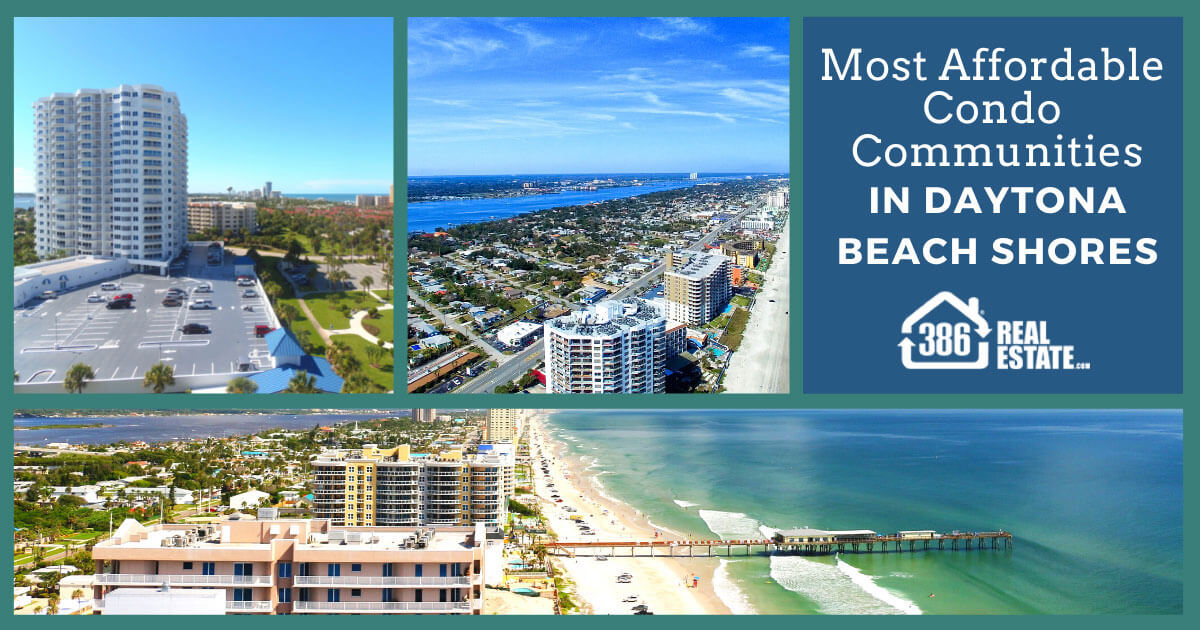 Many people love the warm weather, sun, and sand of the Florida East Coast, especially during the summer months. This has prompted many to move to Daytona Beach Shores to take advantage of all that the area has to offer year-round. Located on one of Florida's barrier islands, Daytona Beach Shores' eastern side faces the Atlantic Ocean while its western side faces the Intercoastal Waterway, which runs along the length of Florida's East Coast, resulting in plenty of beaches and ocean views to enjoy.
Thanks to their premium location, Daytona Beach Shores homes often come with a high price tag, especially in its glitzy upscale condo communities. But there are plenty of affordable ways to own a piece of this beach city paradise. Keep reading to discover some of the most affordable condo communities in Daytona Beach Shores.
Sunglow Resort Condos
Sunglow Resort Amenities
Underground parking
Heated pool and hot tub
Sun deck
BBQ area
Sunglow Resort Condos is located in the southern part of Daytona Beach Shores near the Sunglow Fishing Pier. Sunglow Resort is also near the iconic Daytona Beach and Crabby Joe's, located on the pier. Built in 1986, this L-shaped building is nine stories high on its eastern front and has 64 units. The ocean-facing side has an additional 10th story that houses three penthouse units.
The units range from 600 square-foot 1-bedroom condos to 1,159 square-foot 2-bedroom units. Prices for units at Sunglow Resort Condos are typically in the high $100s, making them a steal. Residents of Sunglow Resort Condos are within close walking distance of Daytona Beach and have walkout balconies for great views of the Atlantic Ocean, the Halifax River, or both. The great prices are just one of many reasons they're considered to be some of the best condos in Daytona Beach Shores.
In addition to its proximity to the Sunglow Fishing Pier, Sunglow Resort Condos lies near the Daytona Beach Boardwalk and Pier, which features various rides and other fun activities, and the Ponce Inlet Lighthouse, a national landmark constructed in 1887.
La Vista Del Sol
La Vista Del Sol Amenities
Assigned parking in the gated first-floor garage
Community pool
In-unit washer and dryer hookups
Private elevator
The two-building La Vista Del Sol is a condo complex located directly to the south of Dunlawton Avenue, giving residents quick access to the nearby city of Port Orange. While not directly on the ocean, the units at La Vista Del Sol have a great view of the ocean, which is only one street over.
Each building of the La Vista Del Sol complex is five stories high and has eight units each, for a total of 16. Units within the building generally cost between $275,000 and $300,000. All La Vista Del Sol condos have 2 bedrooms and 2 baths and are a little over 1,600 square feet in size. Each condo unit in this European-style building has views of both the Atlantic Ocean and the Halifax River from the wraparound balcony. La Vista Del Sol residents can have up to two pets living with them, each weighing 30 pounds or less.
Nearby hotspots include the Sunglow Fishing Pier, Maddog Surf Shop, and YaYa's Beachside Bar. Residents of La Vista Del Sol are literally minutes away from Port Orange, Florida, to the west via the Dunlawton Bridge, where they can find additional opportunities for dining and shopping.
Oceans Atrium One Condominiums
Oceans Atrium One Amenities
Underground parking
Onsite gym
Social room
Outdoor oceanfront pool
Built in 1987, Oceans Atrium One is one of two buildings, the other being the Oceans Atrium condos next door. Developed by the Bellemead Corporation, Oceans Atrium One Condominiums is made up of 77 units on 12 floors.
Unit sizes for Oceans Atrium One condos range from small 1-bedroom, 1.5-bath condos to larger 2-bedroom, 2-bath units. Units usually range in price between $217,000 and $300,000. Like many condominium complexes in the Daytona Beach Shores area, units at Oceans Atrium One Condominiums have gorgeous ocean views, as well as views of the Halifax River to the west, from the fourth floor up.
Nearby restaurants include Mike's Galley, a diner-type location specializing in breakfast and lunch; Pat's Riverfront Café, which serves a selection of breakfast and lunch items and remarkable views of the sunrise; and High Tide Kitchen, a family-owned breakfast and lunch café located conveniently on the beach. Other area attractions near Oceans Atrium One include Fornari Park, a local park that has a playground, picnic area, and a dune walkover for easier access to the beach; Port Orange Causeway Park, which has fishing piers, boat ramps, and a picnic area; and Frank Rendon Park, a popular handicapped-accessible beachfront park that has scenic ocean views, as well as many amenities.
Oceans Two Condominiums
Oceans Two Amenities
Assigned underground parking
Social room
Outdoor oceanfront pool
Indoor pool
Oceans Two Condominiums is another condominium complex in the Oceans family of condos located in the Daytona Beach Shores area. Built in 1974, the building has 20 floors with around six units per floor, with a total of 108 units. Condos come in two sizes; 2 bedrooms, 2 baths, and 3 bedrooms, 2 baths.
Prices for Oceans Two condos generally range from $220,000 to $370,000, and units are typically slightly larger than those found at other Oceans complexes. The condos at Oceans Two Condominiums also provide fantastic views of the Atlantic Ocean and the Halifax River starting on the fourth floor.
The neighborhood around Oceans Two Condominiums has many hotspots for residents to enjoy. Some of these include Vittoria's Italian Coffee & Pastry, a local bakery, coffee shop, and wine bar; Surfside Tavern, operating in the Daytona Beach Shores area for 10 years; and Metz Liquors and Lounge, a local family-owned business. For Oceans Two Condominiums residents who like hitting the links, the location is also near Oceans Golf Club, a 13-hole, par-3-course open to the public.
Cloverleaf North Condos
Cloverleaf North Amenities
Assigned parking
Clubroom
Gym
Outdoor and indoor pools
While not located directly on the ocean, Cloverleaf North Condos has remarkable views of both the Atlantic Ocean and the nearby Intercoastal Waterway. In addition, residents of Cloverleaf North Condos have an amazing view of the par 3 Oceans Golf Club course, which surrounds the complex.
The uniquely designed Cloverleaf North Condos building has four wings anchored to a circular garage in the middle. With two 7-story and two 8-story buildings, Cloverleaf North Condos has a total of 218 units. Best of all, parking is a breeze as residents can simply drive up to their floor and park in the assigned spot near their home. Units at Cloverleaf North Condos come in two sizes; 2 and 3 bedrooms. Prices for units typically start at around $300,000 and go up to about $425,000. Amenities within each unit include private balconies, a walk-in shower, and large walk-in closets, among others.
Nearby attractions include the Ocean Walk Movie Theater, a combination retail center and entertainment zone, as well as the Daytona International Speedway, home of NASCAR's Daytona 500 race. Cloverleaf North Condos are within a 20-minute drive of Daytona International Airport for travel abroad.
Sandpoint Condominiums
Sandpoint Amenities
Oceanfront heated pool
Sauna
Exercise room
Assigned underground parking
Sandpoint Condominiums, an 8-story condominium complex, has a total of 68 units. Located in the northern part of Daytona Beach Shores, Sandpoint condos sit on Daytona Beach looking out over the Atlantic Ocean. Condos at the location come in various sizes, including 1- and 2-bedroom units.
Starting at around $185,000, prices for the oceanfront condos at Sandpoint may run up to about $400,000. Located on the drive portion of Daytona Beach, residents can make their way down to the shoreline and park their vehicles on the beach for easy access to the sun and sand. Onsite amenities available for use by all residents include a cabana, brick BBQ grill, penthouse clubroom, and assigned storage. The location also has ample parking on the ground level if needed. Sandpoint Condominiums are also pet-friendly, allowing residents to have up to two pets weighing up to 20 pounds each.
Nearby hotspots include Tres Leches Café, which serves a variety of Cuban and Puerto Rican dishes; Fratelli's Pizza, offering pizza, gyros, burgers, and more; and the Salty Pint, a local pub that serves a variety of bar food and sandwiches.
Sand Dollar Condominiums
Sand Dollar Amenities
Heated outdoor pool
Saunas
Clubroom
Assigned underground parking
Sand Dollar Condominiums, located close to Dunlawton Avenue in Daytona Beach Shores, is a 12-story complex made up of 57 units. The 2-bedroom, 2-bath units range in size from about 940 to 970 square feet and generally start at about $250,000, going up to around $390,000.
Sand Dollar condos sit right on Daytona Beach, giving those living there a fantastic view of the Atlantic Ocean to the east. These scenic vistas can be enjoyed from the extra-large private balconies of each unit. Each condo includes the latest amenities, including top-of-the-line appliances and a full-sized washer and dryer within each unit. Onsite amenities include a full fitness center, a lighted tennis court, and access to the beach via the location's private boardwalk.
In addition, Sand Dollar Condominiums are located close to various local hotspots, including eateries, shopping, and nightlife. Some of these include the local Red Lobster, a seafood chain that serves lobster, shrimp, and other seafood favorites; Aunt Catfish's On the River in nearby Port Orange; and the Daytona Beach Oceanfront Bandshell, site of live music from bands in a variety of genres.
Oceans Five Condominium
Oceans Five Amenities
Outdoor pool
Fitness room
Social room
Underground reserved parking
One of 11 sister buildings in the Daytona Beach Shores area, Oceans Five condos were built in 1975 during the heyday of condo construction in Daytona Beach. Today, it is a modest high-rise condo complex sitting on the beach.
Condos within the 21-story, 113-unit Oceans Five Condominium usually range from $339,000 to $435,000. Unit sizes average from a little over 1,000 square feet to 1,120 square feet. Each domicile has two bedrooms and two baths, and their zig-zag design allows each unit to look out over the Atlantic Ocean to the east and the Intercoastal Waterway to the west.
Located on over a mile-long stretch of beachfront property with other Oceans' properties, Oceans Five Condominium gives residents quick access to a variety of local hotspots, all within easy walking distance. Some of these include Porto-Fino Restaurant, which serves pizza and Italian classics within a relaxed atmosphere; Van Avenue Park, a small seaside park with a picnic area, fire pit, and easy access to Daytona Beach; and Oceans Golf Club.
Enjoy All That Daytona Beach Shores Has to Offer at an Affordable Price
You don't have to move to the most expensive condos in Daytona Beach Shores to enjoy a luxury lifestyle. By checking into affordable condo options, potential residents can enjoy living along the beach on the east Florida coast while taking advantage of all that the area has to offer for a very reasonable price.
With views of the ocean to the east and the Intercoastal Waterway to the west, residents can take in the gorgeous sunrise and sunsets from the private balconies that these Daytona Beach Shores condos offer. Occupants can also take advantage of area restaurants, shopping, and other fun locations.
If Daytona Beach Shores is your next home destination, contact Kevin Kling of 386 Real Estate at (386) 527-8577 to get started finding your Daytona Beach Shores dream home today.