8 Most Expensive Daytona Beach Shores Condos: Luxury Oceanfront Living
Posted by Kevin Kling on Wednesday, January 5, 2022 at 8:48 AM
By Kevin Kling / January 5, 2022
Comment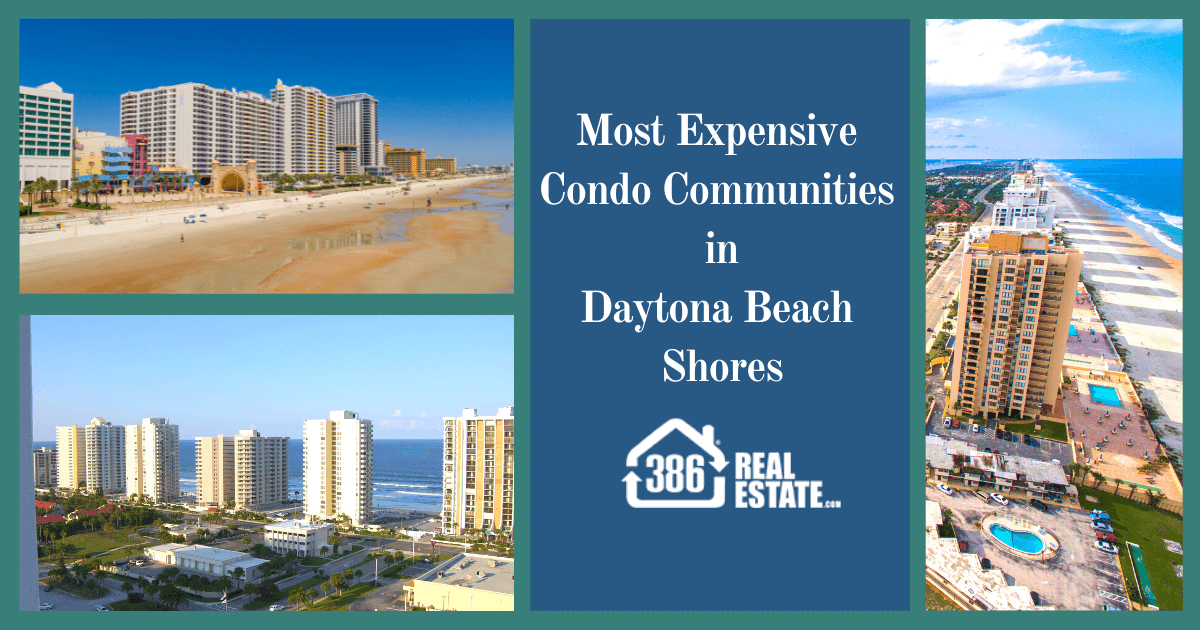 Located in Volusia County, Florida, Daytona Beach Shores is known for its sun-filled beaches and great Florida weather. Considered a resort community, homes in Daytona Beach Shores are located on a barrier island along Florida's East Coast, with the east side of the island facing the Atlantic Ocean and the west side facing the Halifax River Lagoon. This prime location results in premium views, and the best condos in Daytona Beach Shores know how to capitalize on it. Looking to experience some luxury? Keep reading to discover the most expensive condo communities in Daytona Beach Shores.
Ocean Vistas
Ocean Vistas Amenities
Onsite fitness center
Clubroom
Underground assigned parking
Owner storage
Ocean Vistas is a beautiful community. Built in 2007, Ocean Vistas is an 11-story condominium complex filled with 107 luxury condo units, offering both ocean and Intracoastal views. In addition to being considered one of the nicest condominiums in the area, Ocean Vistas condos give residents easy access to area dining and shopping.
Coming in a variety of sizes, units range from smaller two-bedroom, two-bath units to larger three-bedroom condos with three-and-a-half baths. The prices of the luxury condos in the complex usually range from $995,000 to $1.2 million. In addition, all of the units have double door entries, nine-foot ceilings, and a split bedroom floor plan. The condos contain crown molding throughout, an expansive balcony, and concrete walls between units for maximum privacy. Residents can also keep two pets at the condominium, weighing up to 60 pounds each, making it a perfect home for those with furry friends.
The common area of the condominium complex features luxurious amenities like terraces and gardens, a beachside pool and spa, and a water fountain. All of this, combined with each unit's gourmet kitchen, large master bath, and gas fireplace in the living room, makes Ocean Vistas very appealing to those considering moving to Daytona Beach Shores.
Peck Plaza
Peck Plaza Amenities
100-foot heated outdoor pool
Assigned parking
Exercise room
Library
Built in 1974 by visionary Edwin Peck, Peck Plaza is the tallest building in Daytona Beach Shores. At 29 stories, the condominium high-rise complex dominates the surrounding area and gives residents unprecedented views of the Atlantic Ocean on east-facing condos, as well as the Halifax River Lagoon to the west.
Easily recognizable from a distance, Peck Plaza is a circular high-rise oceanfront condo complex that has 100 units ranging in size from smaller, 850-square-foot one-bedroom units to larger, 1,700-square-foot three-bedroom condos. Prices for condos at Peck Plaza typically run from $445,000 to $1.35 million, with the price climbing higher the better the view gets. On the top floor, residents can find the Top of Daytona restaurant, which has its own dedicated elevator and a 360-degree panorama of the Daytona area coastline. The complex also has a sundeck and tennis, handball, and other sports areas.
Building residents are within easy walking distance of area restaurants and are within driving distance of a variety of retailers. One local attraction that those staying at the condominium complex can enjoy is the world-famous Daytona Boardwalk and Pier to the north.
Ocean Villas
Ocean Villas Amenities
Assigned underground parking
Heated community pool
Clubroom
Onsite gym
With their beautiful views, Ocean Villas condos have a lot to offer beach lovers. Built in 2006, Ocean Villas has 76 units in its 11 stories, ranging in size from two-bedroom, two-bath condos to three-bedroom, three-bath condominium units. Prices for these upscale units generally range from $830,000 to $1.2 million.
The building gives residents quick and easy access to the nearby Sunglow Pier, a site of world-class fishing, and it's considered by some to be one of the most beautiful luxury condo buildings in the Daytona Beach Shores area. The units themselves have high ceilings with floor-to-ceiling windows, built-in electric grills on the balcony, a gourmet kitchen, and a standard wine cooler. Residents can also bring their pets with them when moving to Ocean Villas, which allows up to two pets, each of which must weigh 60 pounds or less.
Located within the heart of Daytona Beach Shores, Ocean Villas is surrounded by the best amenities that the area has to offer. When residents feel like getting out, they have quick access to area dining and shopping, and the nearby beach is only a short walk away.
Palma Bella
Palma Bella Amenities
100-foot-long heated oceanfront pool
Exercise room
Jacuzzi
Private underground parking
With its beautiful Mediterranean-style units, Palma Bella is a premier luxury condo complex in the Daytona Beach Shores area. At 11 stories, Palma Bella offers 80 residential units in a variety of configurations, including spacious 2,200-square-foot, 3-bedroom, 3-bath units, as well as slightly larger 2,564-square-foot, 3-bedroom, 3-bath condos.
With a price range usually between $750,000 and $1.05 million, each unit has 9-foot, 4-inch-high ceilings, double-door entries, crown molding throughout, a fireplace, and a balcony with a built-in electric grill. A part of the Costa Bella Collection of condominiums, Palma Bella condos are considered by many to be the top of the line, along with its sister buildings, Marbella Condos and Bella Vista Condos. The entrance lobby of the building is something else entirely, with few buildings in the area matching its grandeur and art gallery-style feel. Featuring beautiful paintings that condominium owners can buy, the composition of the artwork changes from time to time.
With gorgeous views of the Atlantic Ocean and Intercoastal Waterway, Palma Bella has a lot to offer residents when it comes to access to nearby restaurants and shopping, as well as private access to the nearby beach. Like many other luxury condominiums in the area, Palma Bella also allows residents to have up to two pets, each weighing 60 pounds or less.
Ashley Condominiums
Ashley Condominiums Amenities
Onsite gym
Swimming pool and saunas
Underground parking
Outdoor lounge
Ashley Condominiums features 125 units within a 20-story building situated within a 15-minute drive of Interstate 95, giving residents quick access to area attractions. In addition, Ashely Condominiums is within 10 minutes of Ponce Inlet, which is the southern tip of the barrier island that provides shelter for Daytona Beach Shores from the ocean.
Ashley condo sizes include smaller two-bedroom, two-bath units, all the way up to large four-bedroom, four-bath units. Offering stunning views of the ocean to the east and the Intercoastal Waterway to the west, prices for units within the building can run from as little as $490,000 to as high as $1.7 million. At the lower end, these luxurious units are priced competitively with the most affordable condos in Daytona Beach Shores. The three-story glass atrium lobby has three elevators maintained by onsite management. The central elevator is made of glass and can take residents to the penthouse clubroom found on the top floor for one of the best views in Daytona Beach Shores. Ashley Condominiums allows owners to keep pets of up to 20 pounds.
Area hotspots that are close to Ashley Condominiums include Sunglow Pier, along with Crabby Joe's, Daytona's Ocean Walk Village, and pet-friendly Lighthouse Point Park. Ashley Condominiums also gives residents unprecedented access to nearby Daytona Beach, including the no-drive section offering private walks.
Aruba Condominiums
Aruba Condominiums Amenities
Underground parking
Heated oceanfront pool
State-of-the-art fitness center
Onsite storage
Located at the southern end of Daytona Beach Shores, Aruba Condominiums has 12 floors with 84 units, 60 of those with ocean frontage, while the other 24 offer ocean views from the units' large wraparound balconies. Prices for the units usually range from $720,000 to $845,000, and you get what you pay for. Aruba condo sizes range from three-bedroom, two-bath to four-bedroom, three-bath condos. Along with the great views, units also give residents ceramic floor tile in the entryway, kitchen, baths, and balcony; a luxury shower in the master bath; gourmet kitchen; and knockdown textured ceilings.
Ranging in size from around 1,400 to 1,800 square feet, the condo units give owners easy access to area food, shopping, and activities, including the nearby Daytona Beach, Daytona International Speedway, and other local attractions. Also in the vicinity of Aruba Condominiums is Sunglow Pier and the non-driving section of Daytona Beach.
Newer than some of the other area condos, Aruba Condominiums is only an hour away from locations such as Disney World, SeaWorld, and Universal Studios. In addition, Aruba Condominiums is within about 20 minutes of Daytona International Airport and One Daytona, a mixed-use development that has almost 200-acres of restaurants, office space, and retail space.
Tuscany Shores
Tuscany Shores Amenities
Fitness center
Ocean-front heated pool
Underground parking
Controlled access
Completed in 2005, Tuscany Shores is a condominium complex comprised of 11 stories and 33 units. All of the units in this distinct Spanish- and Mediterranean-styled building contain three bedrooms and three baths. Averaging around 2,500 square feet, condos in Tuscany Shores offer a variety of amenities, including spacious balconies overlooking the nearby beach and ocean, nine-foot-high ceilings, a gourmet kitchen, and a glass-enclosed shower within the master bath.
Tuscany Shores is considered a boutique luxury condo complex due to the small number of units, typically priced between $795,000 and $800,000. Tuscany Shores has a common area that includes a billiards table, a home theater for group gatherings, and a kitchen for private events. Rooms on higher floors also offer clear views of either the adjacent Atlantic Ocean or Intercoastal Waterway, from every room.
This condo complex is within close proximity to many nearby hotspots, including Stroud's BBQ, which serves a selection of slow-smoked BBQ items; Azure Oceanfront Dining, which offers gourmet seafood served on a seaside terrace; and Surfside Tavern, where diners can get some drinks and enjoy the ocean air.
DiMucci Twin Towers
DiMucci Twin Towers Amenities
Underground garage
Clubroom
Gym
Pool and hot tub
The DiMucci Twin Towers complex is made up of two 19-story condominium buildings, each housing 68 units for a total of 136 condos. All of the units within the DiMucci Twin Towers complex have both Intercoastal Waterway and Atlantic Ocean views. Unit sizes include 2-bedroom and 3-bedroom units.
Unit prices typically run from around $660,000 for smaller units to $790,000 for larger ones, with square footage for the smaller DiMucci Twin Towers condos being around 1,600 square feet and floor space on the larger units between about 2,000 square feet and 2,200 square feet. Within the units, residents can find a variety of special features, especially in the South Tower, which received several upgrades. These include upgraded carpeting, tiles, and countertops, as well as crown molding in the living room and master bedroom.
The DiMucci Twin Towers are close to many nearby hotspots, including restaurants, shopping, and area attractions. The condominiums are also close to Dunlawton Avenue, which gives residents easy access to nearby Port Orange, Florida, and Daytona International Airport.
Daytona Beach Shores' Condos Have a Lot to Offer
Daytona Beach Shores has a lot to offer when it comes to luxury condo living. In addition, the area has a lot to offer to people from all walks of life. Residents who love the water are within easy access to Daytona Beach and the Atlantic Ocean. Meanwhile, community members who enjoy all of the adventurous locations in the region are within driving distance of many area attractions.
The condominiums themselves have a lot to offer residents, including a variety of amenities onsite and within the units. Almost all of these condos give owners unprecedented and gorgeous views of the ocean or the Intercoastal Waterway right next door.
If Daytona Beach Shores is your next home destination, contact Kevin Kling of 386 Real Estate at (386) 527-8577 to get started finding your Daytona Beach Shores dream home today.