Moving to DeLand: 11 Things to Know About Living in DeLand [2023]
Posted by Kevin Kling on Wednesday, January 11, 2023 at 2:53:15 PM
By Kevin Kling / January 11, 2023
Comment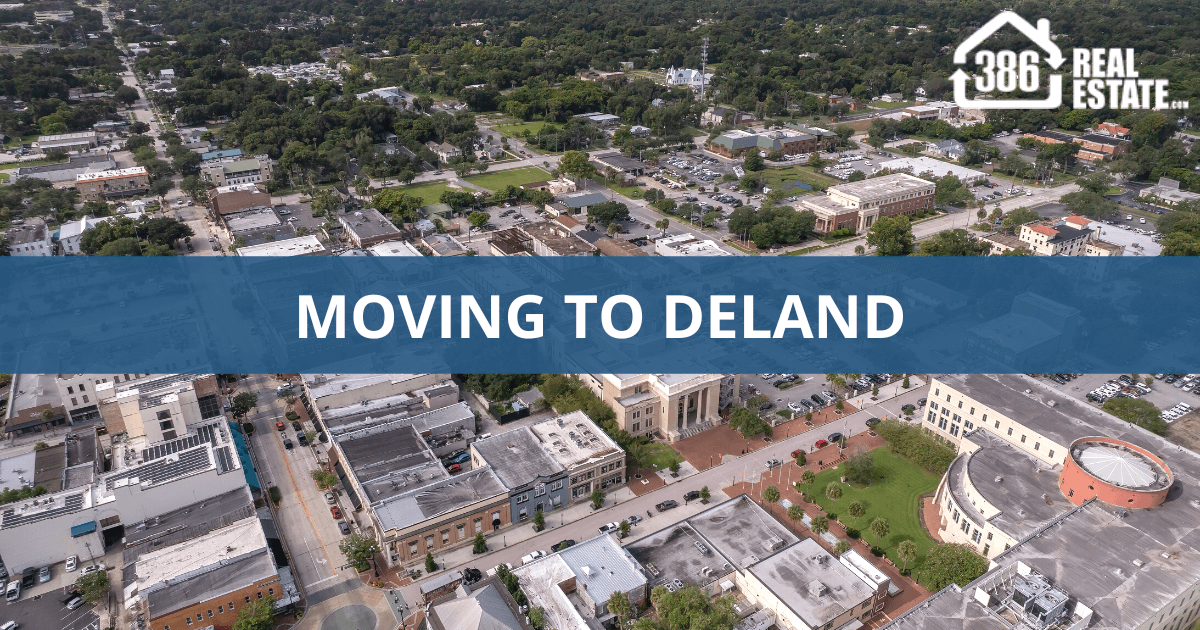 DeLand, FL, has been growing in recent years as people seek a central Florida lifestyle without the crowds and faster pace of Orlando or Gainesville. The economy, jobs, and population have all been on a rising trend lately, and DeLand's downtown is recognized state-wide. DeLand is a beautiful place to live because of its year-round climate, and it's not unusual to buy a home with an orange or lemon tree in the backyard.
With a nice mixture of outdoor activities, local attractions, and restaurants, DeLand has most of the amenities that can be found in a much larger city. Here is a closer look at the cost of living, things to do, schools, traffic, and other things that are good to know when moving to DeLand, FL.
Cost of Living in DeLand
The cost of living in DeLand is lower than the Florida average and slightly lower than the national average in many areas. Housing, in particular, is about 9% lower than the Florida average. The median price of homes for sale in DeLand is about $383,000, compared to the Florida average of $407,000. The average cost to rent an apartment in DeLand is about $1,350 per month, compared to about $1,900 monthly in Orlando.
Groceries and transportation costs in DeLand are also slightly lower than the average in Florida. Healthcare in DeLand is about 7% lower than the national average. Utilities are one area where the cost of living in DeLand is slightly higher than the Florida average. People pay an average of $279 per month for electricity in DeLand. This is about 50% higher than the national average for electricity. Monthly residential water usage is around $80. Broadband internet costs are on par with the national average, with plans starting around $50 per month from most provider companies.
DeLand Job Market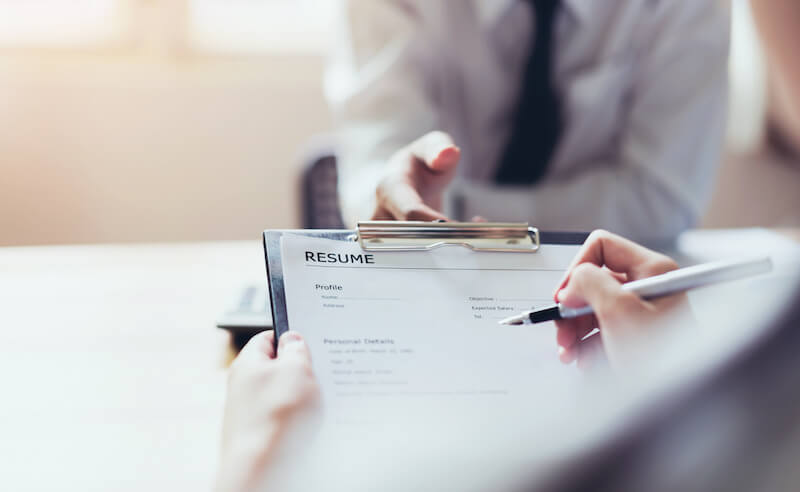 With new companies expanding in central Florida, the job market in DeLand is expected to grow by more than 47% over the next decade, much higher than the national average of 33%. The unemployment rate in DeLand is on par with the national average, hovering around 6 percent.
Here are a few of the largest employers in DeLand and the number of workers they employ:
Volusia County Schools: 7,800
Stetson University: 1,500
Sykes Communication: 800
Medtronic: 525
Frontier Communications: 500
City of DeLand; 350
Davita Labs: 300
The Duvall Home: 250
Performance Designs, Inc.: 230
Battery Tender: 200
Kingspan Insulated Panels: 150
Popular Industries in the Area
Many companies choose to set up their headquarters or R&D facilities in DeLand because of the favorable cost of living and tax climate here. Kingspan, for example, was founded in Ireland and has more than 1,500 employees worldwide, and its US headquarters is in DeLand. The city has a sales tax of 6.5%, but Florida has no state income tax. The lack of an income tax is a massive factor in the cost of living compared to most other states.
DeLand also offers a high quality of life, making it attractive for companies looking to build a workforce. The coast of Florida is just minutes away to the east, and the rivers to its west make DeLand a very water-privileged community. The warm year-round climate also makes it attractive for employers and workers.
Things to Do in DeLand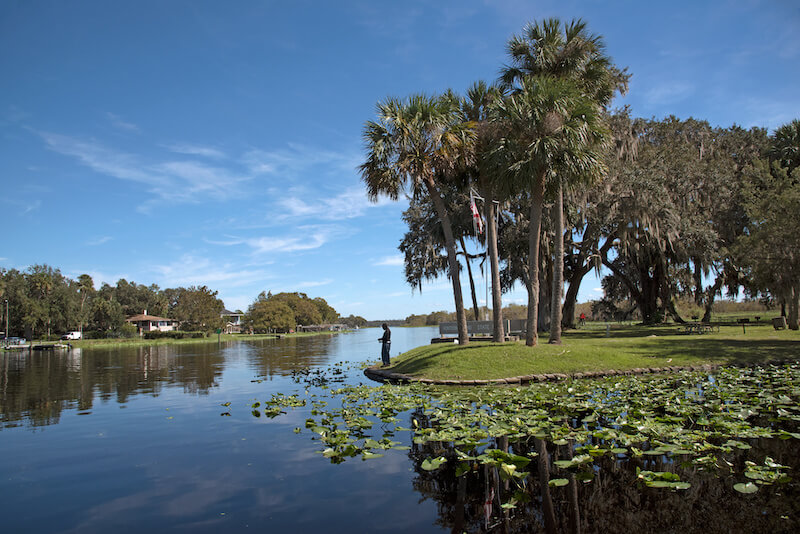 State and local parks encompass thousands of acres in and around DeLand. There's abundant wildlife and exciting places to go camping and explore. The city also has multiple historical sites and museums for history buffs to enjoy. The city's thriving restaurant scene and nightlife, not to mention many additional local attractions, mean that there's always something fun to do in DeLand.
Outdoor Activities
Blue Heron River Tours is a great way to explore the St. Johns River west of DeLand. Visitors usually see manatees in the winter and alligators, turtles, and wading birds during the summer months.
Hontoon Island State Park is located on a massive 1,648-acre island in the St. John River. There's no road leading to the park. Visitors can take their private boat and dock there or ride a ferry from the state park station just north of the island. There is no fee to enter and explore the park. However, there are fees for renting a boat slip, primitive campsite, or cabin.
Dog owners will love spending time at the Barkley Square Dog Park on N. Ridgewood Avenue in DeLand. This is a 14-acre fenced-in park where off-leash dogs can exercise and play. There are separate areas for small and large dogs, training sessions, and time-out stations. The large dog section of the park has a lovely pond.
Local Attractions
J.B. Stetson—the inventor of the cowboy hat—was Florida's first "snowbird." The historic Stetson Mansion in DeLand is considered the only mansion from the Gilded Age in Florida. It is still a privately owned estate, but people can book and attend tours of the opulent home year-round and for special events. Photography is prohibited inside the mansion!
The Reptile Discovery Center in Deland is an amazing indoor/outdoor venue for seeing more of Florida's wildlife up close. Some reptiles from different parts of the world tend to thrive in Florida's warm, humid climate. The outdoor walking trail offers the chance to see alligators, tortoises, and other reptiles. Indoors, there are many species of snakes and lizards. They have a 13-foot-long king cobra and a 14-foot-long Burmese python.
Restaurants & Nightlife
Restaurants in DeLand include traditional American fare and some eateries with an international flair. The Saigon Bistro serves traditional Vietnamese food with some American dishes. Forno Bello serves woodfired pizza and Italian cuisine. The Table is a restaurant, bakery, pantry, bar, and home store all rolled into one location.
Persimmon Hollow is the premier brewery in DeLand, with pub food and more than a dozen craft brews at any time. Cafe Da Vinci is just across the street from the brewery, and they have live music and drinks. The Elusive Grape is the perfect spot for a romantic night out, serving gourmet food and more than 40 wines by the glass.
Climate in DeLand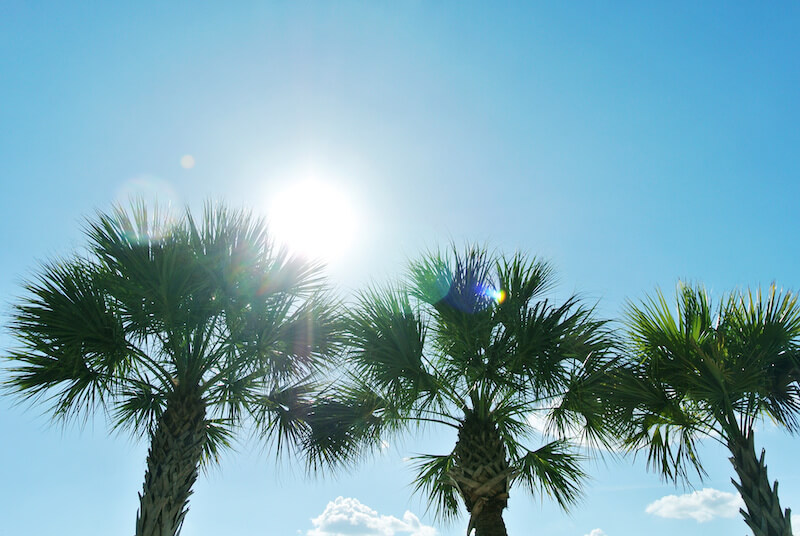 The hottest time of year in DeLand is from late May until the end of September. The average daily high during those months is 87 degrees, although it usually climbs into the low 90s in August. Late May through September is also the rainy season in DeLand. It rains a little bit almost every day through the summer, averaging just over seven inches of precipitation each month. DeLand's cool season runs from December through the end of February, with highs averaging about 73° and lows averaging 48°.
Weather-wise, the best times of year to visit DeLand are from March through May in the spring and October and November in the fall. Temperatures are perfect around this time! Daytime highs are in the 70s to low 80s, with nighttime lows staying in the 50s and 60s.
DeLand Traffic
Traffic in DeLand is very manageable. Although there is a morning rush each weekday from about 6:30–8:30 a.m., the average commute in DeLand is still about 22 minutes. That's about five minutes less than the national average.
Some important roads in the area include Interstate 4, Highway 17 (Woodland Blvd.), and State Road 44 (New York Ave.). Interstate 4 bypasses DeLand on the east side of town, leading to homes in Daytona Beach to the northeast and Orlando to the south. State Highway 17 is a north-south road running through the center of DeLand. It leads to De Leon Springs to the northwest and down to Orlando. New York Avenue is the east-west road through the center of DeLand, connecting Pine Lakes and Seminole Spring to the southwest and homes for sale in New Smyrna Beach to the east.
Parking is strictly enforced in the business district in DeLand. This district's borders are Wisconsin Avenue and Howry Avenue in the north and south and Amelia Avenue and Clara Avenue in the east and west, respectively. Paid parking is required, and overnight parking is prohibited in this district. Parking permits are sold for $480 per vehicle per year. Vehicles with permits are allowed to park in municipal lots in DeLand.
Alternative Routes
The interchange where State Road 44 crosses I-4 tends to get congested during the morning rush. Taking State Highway 17 southbound until it intersects with I-4 might be a better alternative for some commuters. The fastest route to the coast will usually be State Highway 92, which leads into Daytona Beach to the northeast. Traffic in the business district can get a bit congested during the morning rush, but there's no way to avoid it if a person works there.
Public Transportation in DeLand
Volusia County has a public bus system known as Votran. Service in DeLand is limited, but some routes connect to other cities and then continue from there. It's possible to piece together a course from DeLand to many places in the county using the Maps and Schedules page at Votran.
There are two Votran routes in DeLand: Routes 60 and 20. Route 60, which follows State Highway 92 between DeLand and Daytona Beach, is the East-West Connector route. Route 20 is the DeLand Deltona route, which generally runs north and south along State Highway 17.
Votran Bus Fares:
Adults: $1.75 single ride
Seniors & Youths: $0.85
10 Full Fare Tokens: $16.50
10 Senior & Youth Tokens: $7.50
Kids under 7 ride free with a parent or adult
Amtrak is the only rail service in DeLand currently. The train runs between Miami in the south and New York in the north before continuing to Montreal, Canada.
Multiple taxicab companies in DeLand all follow the same rate schedule. Uber rideshare is another option for getting from point A to point B. Cab fare in DeLand within the 3–9 miles distance ranges from about $10 to $22. Taking a taxi from DeLand to Orlando International Airport costs about $108. Uber service in DeLand charges a $1.62 base fare, a $2.55 booking fee, and $1.70 per mile after that.
DeLand Schools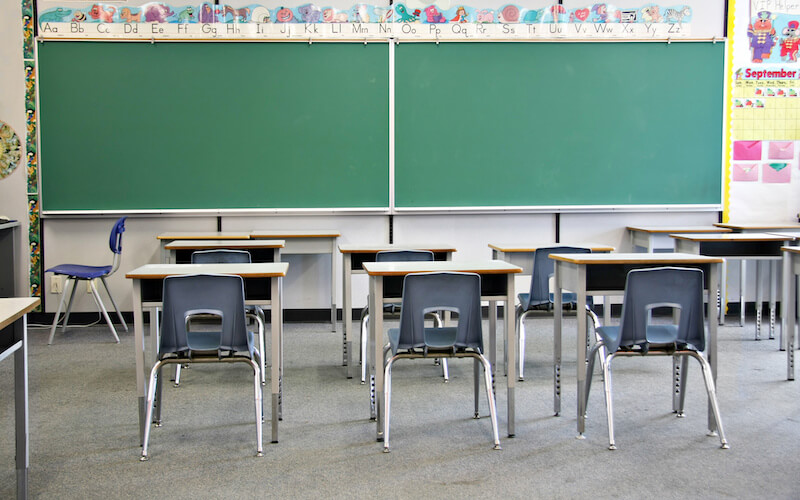 Volusia County Schools serve DeLand residents. There are ten elementary schools, four middle schools, and one high school in DeLand. The district also operates eight charter schools in the county. Although none of the charter schools are in DeLand, most are within a 45-minute drive from the city. Using the district's interactive map, finding attendance boundaries for elementary and middle schools in DeLand is easy.
Stetson University has its main campus located in DeLand. It's a private school with about 3,000 undergraduates, and 1,200 post-graduates enrolled each year. Stetson competes in NCAA Division I sports. It's best known for its School of Business, the College of Arts and Sciences, and the Stetson University School of Law. The DeLand campus is highly recognizable because it has been used as a set for many movies and television shows.
Florida Technical College has six campuses in Florida, including one in DeLand. It offers associate's and bachelor's degrees in Business, Construction Trades, Healthcare, and Information Technology.
Making a Move to DeLand, FL
DeLand, FL, has a favorable business climate, great weather, a stable job market, and stunning natural beauty in the central Florida area. The fact that the traditional homes for sale in DeLand are less than an hour from the white sand beaches on the Florida coast is just icing on the cake. DeLand is only 45 minutes from Orlando for anyone who wants to head to a bigger city to work or play. People should spend some time exploring the beautiful neighborhoods in DeLand if they're considering moving here.