Jobs in Port Orange: 2023 Economy & Business Guide
Posted by Kevin Kling on Tuesday, December 13, 2022 at 12:46 PM
By Kevin Kling / December 13, 2022
Comment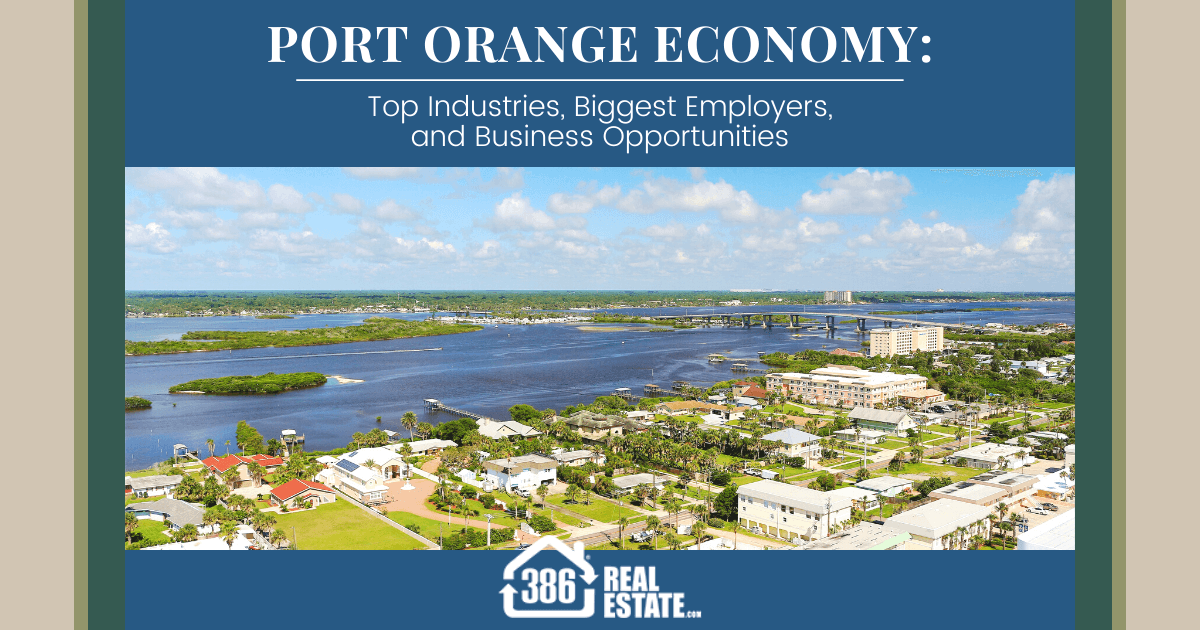 For those thinking about purchasing one of the sleek condos or waterfront homes in Port Orange, FL, it helps to get to know the area. Often, that means considering the community's amenities and schools, but there is more to research before moving to Port Orange. It is also important to learn about the city's economy and the overall economic conditions in the area. These may impact where a person works or the employment opportunities in the city. The Port Orange community offers a diversified economy with a number of different companies located within it. Read on to take a closer look at the Port Orange economy.
Port Orange Industries
A number of industries are represented in Port Orange. In 2019, the city's businesses employed 27,800 people, many of them living in Port Orange itself. Some of the largest industries in Port Orange include the following:
Health Care and Social Assistance Industry: This industry, which includes numerous health care management companies and medical providers, accounts for about 3,700 jobs in Port Orange.
Retail Trade Industry: The retail industry is large in Port Orange, thanks to the numerous shopping areas within the city's limits. The retail industry in Port Orange provides over 3,400 jobs here.
Accommodations and Food Services Industry: The city's location on the waterfront is one of the biggest contributing factors to its large hotel industry. However, there's also a plethora of restaurants, bars, and breweries located nearby as well that fuel this industry. It accounts for almost 2,900 jobs in Port Orange.
Educational Services Industry: With a large school system as well as supportive services available, many people living in Port Orange work in the educational field. This accounts for about 2,600 jobs in the city.
Construction Industry: There is a lot of growth in Port Orange, as well as ongoing roadway improvements and repair services. The construction industry is the fifth-largest industry in Port Orange, accounting for about 2,300 jobs.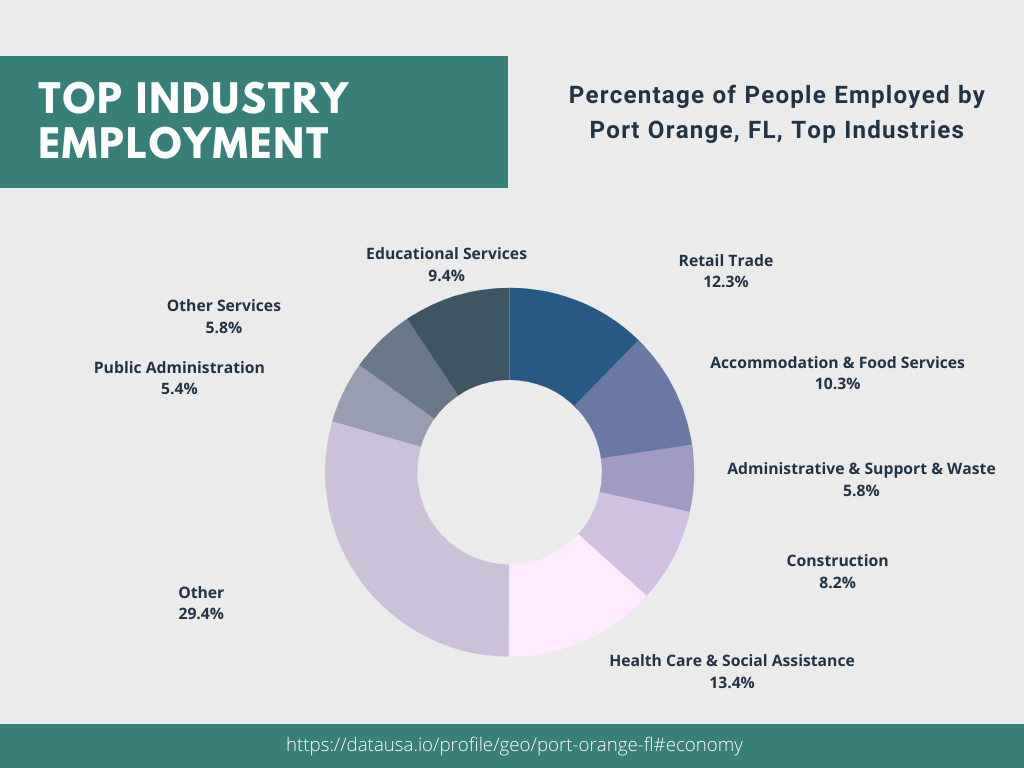 The Sunshine State as a whole has other large industries that many people living in Port Orange may work in as well. Tourism is a large part of the area, and support positions within it, such as in the parks and on the beaches, may account for some of the positions people hold in the city. There are some agricultural positions here, too, though much of the area has been developed into residential and commercial properties over the years. Financial services, life sciences, and international trade are also industries represented in the city.
Top Industries in Port Orange
Health Care & Social Assistance
Retail Trade
Accommodations and Food Services
Educational Services
Construction
Administrative & Support & Waste Management
Other Services, Except Public Administration
Top Employers in Port Orange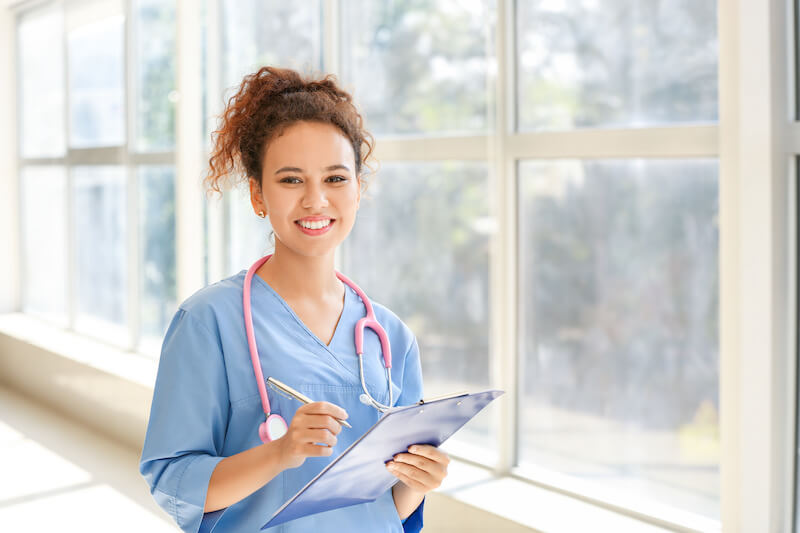 As a vibrant city that has a wide range of features to offer to support business, Port Orange is home to many companies. Some of them include:
Don Bell Signs: This is one of the largest sign companies in the state of Florida. They create business signs. This company has an annual revenue of around $8.5 million. It employs about 75 people and has been headquartered in Port Orange since 1946.
Volusia County Public Schools: This is the largest public school provider in the city of Port Orange. As a result, it is a large employer here with about 30 employees. It has an annual revenue of about $1.6 million.
CountrySide Lakes: CountrySide Lakes is an assisted living community located in Port Orange. It is used by people of all ages who need a bit more support. It has an annual revenue of about $1.6 million. This private company employs about 30 people.
These are the largest companies with headquarters in the city. However, there are other companies that have offices within the community that also contribute to the city's employment options. Those include:
Acadia Healthcare: A multi-national behavioral healthcare provider. This company has over 40,000 employees around the world. It was founded in 2005 and has an annual revenue of about $2.8 billion.
US Foods: This company is a foodservice distributor for the U.S. It has been in business since 1853 and has revenue of about $24.2 billion. It has 25,000 employees, with a small office located in Port Orange.
Stock Yards Packing: This is another food service provider serving most of the U.S. The company is a part of US Foods. It has about 16,960 employees located across the country.
Port Orange is also home to a large number of family-owned businesses and startups.
Additional Large Companies in Port Orange
Covelli Enterprises
Brady
Synovus
Florida Cancer Specialists & Research Institute
United Community Bank
Port Orange Economy Facts and Figures
Port Orange is a unique and diversified economy with a wide range of opportunities for individuals. Though there are many small businesses here, there's a range of opportunities located throughout the county and in the region itself. Consider some important facts and figures based on 2019 economic data.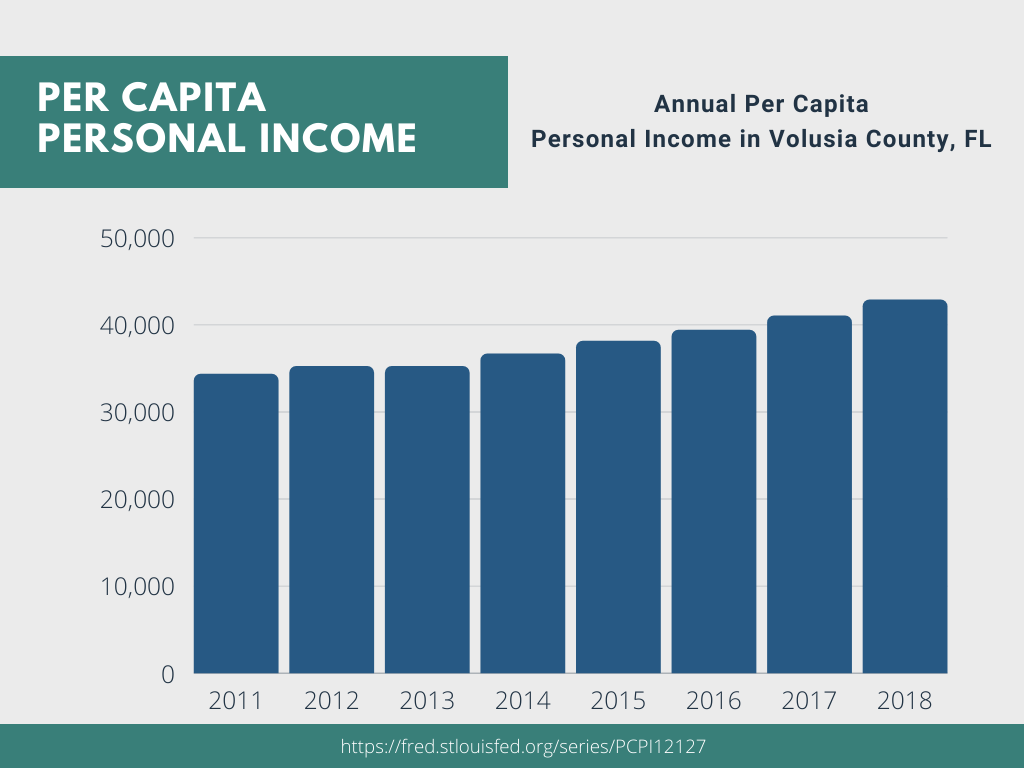 The Port Orange job market has grown year-over-year from 2018 to 2019 by about 2%. What is more important, though, is that there is an expected growth rate of as much as 43% over the next 10 years, based on available data. The current unemployment rate in Port Orange (which changes often) is 4.2%. That is lower than the national average in the U.S. of 6%.
Taxes are another big part of the community and the lives of those living here.
There is no income tax rate in Port Orange.
The sales tax rate for the city is 6.5%. This is below the national average of 7.3%.
When it comes to income, the average resident in the city earns around $26,000 per year. That is below the national average of $28,555 per year. The median household income within this community is $44,98. That is significantly below the $53,482 national average. However, since there is no income tax, Port Orange residents can enjoy their salaries to the fullest, and the cost of living in Port Orange is also slightly below the national average.
When it comes to determining where those earnings come from, about 63% of residents in the city earn them through wages at a job of some type. There is also a large number of people who invest. Investments and retirement contribute to the household income of about 18.8% of people in the city—and Port Orange doesn't tax pensions or retirement income, either. About 13.5% of people receive Social Security benefits in the city as well.
Making a Decision on Buying a Home in Port Orange
There are so many factors to think about when buying a home, especially in a community like Port Orange. Though it is a smaller community, it is close to many area amenities which also offer job opportunities. Still, for those dreaming of buying a luxurious Port Orange home, it helps to know what to expect from the local economy as a whole. These data points may provide a bit more information that can help a person make a decision about where to buy a home that meets all of their needs.