Port Orange Public Transit: How to Get Around
Posted by Kevin Kling on Monday, September 13, 2021 at 1:34 PM
By Kevin Kling / September 13, 2021
Comment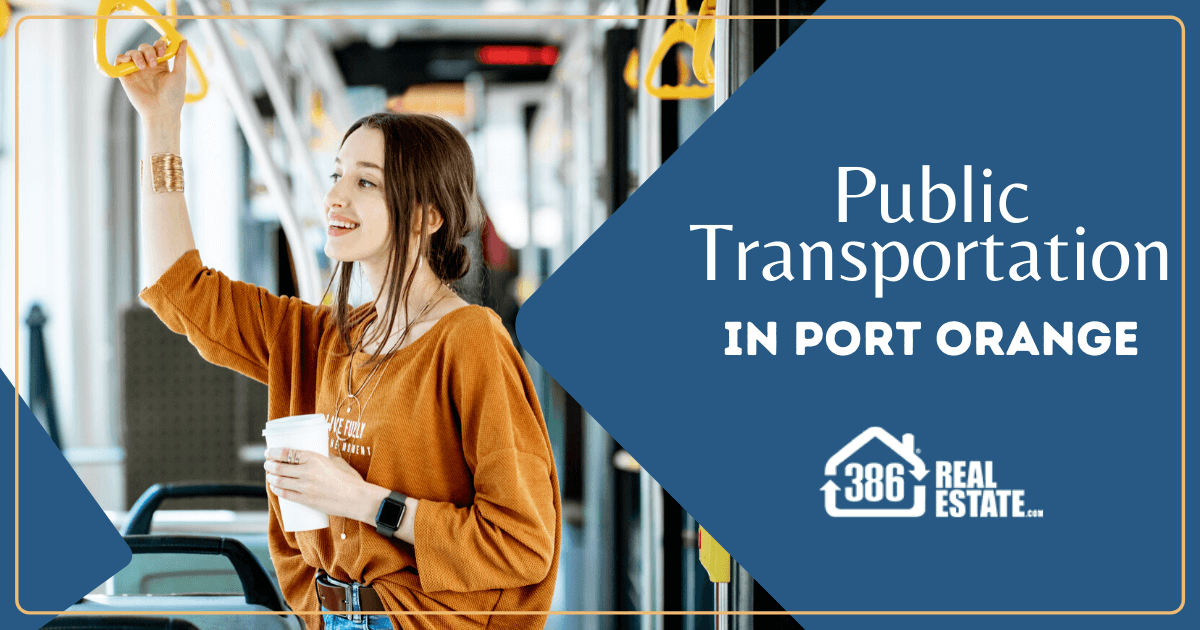 In a community of nearly 65,000 people, having access to public transportation can be very important. The city of Port Orange, Florida, offers several options to help people get around the city for recreational needs, tourism, or commuting to and from work. This idyllic Volusia County city has several transportation options close to local condo complexes and townhome communities. When moving to Port Orange, it's important to remember that proximity to transit can improve the value of a property. Ready to get moving? Read on to learn about public transportation in Port Orange.
The Votran Bus Connects Volusia County
Perhaps the most common method of getting around Port Orange is by bus, outside of private vehicle use. Votran is the public transit system located in Volusia County. It was first built in 1975 and, while modernized and more efficient, it remains an affordable way to get around the area using bus service. Votran operates in both the urban and rural portions of the county using 82 route buses and 76 paratransit vehicles, ideal for those who need accessible transit options.
Bus route 40 provides support for those in Port Orange. This route provides stops at:
Julia Sams Blvd
U.S. 1 and Industrial Parkway
NOVA – U.S.1
NOVA – Dunlawton
Swallowtail Village Trail
Routes include stops at the Y.M.C.A., Port Orange City Hall, and the Urgent Care Halifax Medical Center. Routes change based on the day of the week, holidays, and construction. Those who need to use the bus can contact Votran directly to learn about specific stops and times. Most often, this bus service is reliable and has been a long-running, established option for those who need to get around in the city.
It is possible to purchase passes for the bus online at the website. In addition to this, it is also possible to purchase them at the Volusia County Council on Aging, the public library, the Votran Administration Offices, and the Votran Transfer Plaza. The businesses themselves do not take payment.
Bus fares are dependent on multiple factors. However, a single ride fee is $1.75 using Votran. Seniors over the age of 65 can pay $.85 for a ride, and children younger than seven can ride for free. The low price of bus tickets contributes to the affordable cost of living in Port Orange.
Votran Bus Ticket Costs
Single Ride: $1.75 / Reduced: $0.85
All-day Pass: $3.75 / Reduced: $1.85
7-day Pass: $13.00 / Reduced: $6.50
31-day Pass: $46.00 / Reduced: $23.00
Taxi and Rideshare in Port Orange
Using a taxi or rideshare service is another reliable alternative to driving in Port Orange. For those who are looking for rideshare options, both Uber and Lyft operate in Port Orange. Users can download the app for either of these rideshare companies, input their destination, and set up their services.
An option for longer trips is to use a charter coach. BusTickets.com offers options for Port Orange. This includes booking motor coaches for long trips with a group of friends. Minibus options are also available, providing transportation to sporting events, weddings, or other special events for a smaller group of people. It is also possible to rent a party business or school bus for needs using the company.
For taxi service, it is possible to use Yellow Cab Co. in Port Orange. These cabs service all of the Daytona Beach area, including to and from the airport, the oceanfront, and most of the attractions in the area.
A secondary option for a taxi service is the Smyrna Beach Taxi Cab & Shuttle. These slightly larger vehicles allow users to schedule pickups and drop-offs throughout the city, including the airport, beaches, and other amenities. It is possible to book trips in advance or use them for immediate service.
For each of these provides, request a quote for pricing. Prices are dependent on:
Location and destination
Time of the day
Type of vehicle
Day of the week (holidays are extra)
Type of service (drop off or longer needs)
Bike Around Port Orange
Bike rentals are available in Port Orange. For those that need to get around the beach or in the downtown area, it is possible to use one of several services to do so.
Daytona Electric Bikes is one of the most promising options. It is available all through Daytona Beach. Rates start at $25 per hour. Book in advance to secure a bike, pick it up, and then bring it back.
It is also possible to book a bike rental through other organizations in the Port Orange area. Many of these are near Daytona Beach. Costs vary based on the time of the year and type of rental selected (e-bikes, standard bikes, and other options are available).
Blue Coast Shop (options for surfing and paddle boarding are available here, too)
The Hub Cycling offers moderate pricing on rentals and bike repair services.
Bob's Bike Shop sells and rents bikes in the area at various prices.
Flaunt Electric Bicycles rents bikes for about $50 a day, depending on the day, time, and type.
Salty Rentals offers bike and golf cart rentals in the New Smyrna Beach community.
Public Transit Makes it Easy to Navigate Port Orange
Thanks to the many options for transportation, getting around Port Orange is easy. With a range of options available in the area, residents are sure to find a solution that fits their specific needs. Many of those visiting Daytona Beach will find it easier to get around than most big cities, especially in communities like Port Orange, with numerous rideshare and bus service options available.