Things to Do in Port Orange, FL: A Full Guide to Weekend Fun
Posted by Kevin Kling on Friday, October 22, 2021 at 12:16 PM
By Kevin Kling / October 22, 2021
Comment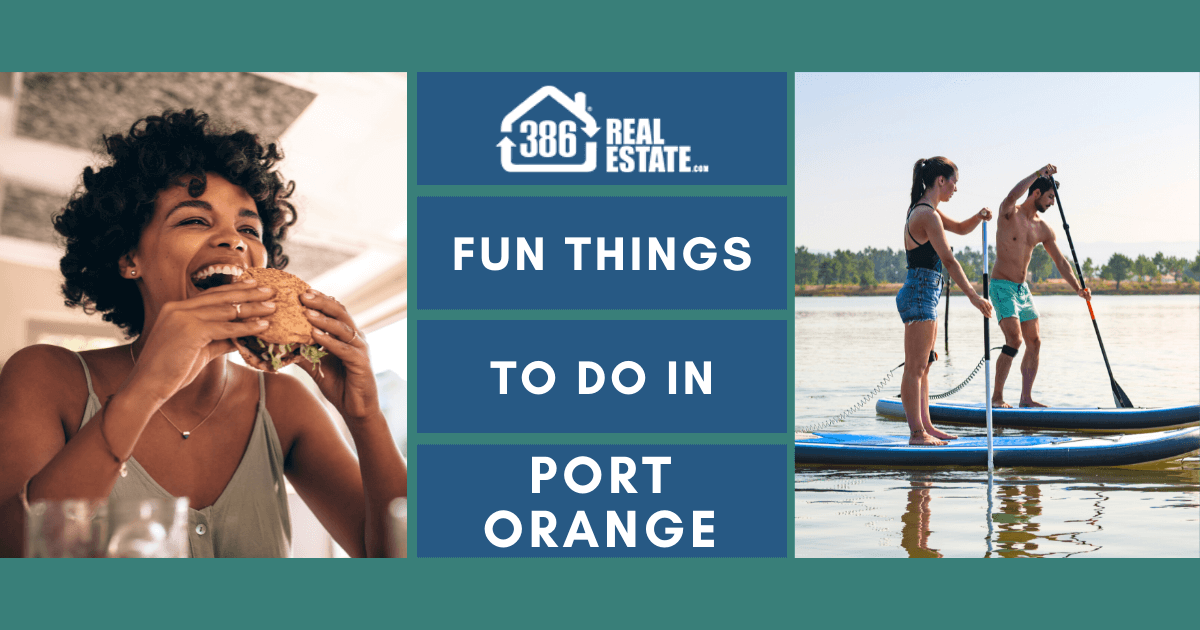 When it comes to tourist hotspots, Florida has some of the most famous destinations in the United States. When looking for Florida fun, the town of Port Orange has everything from accessible beaches to upscale shopping areas. Located in Volusia County, Port Orange has a population of just under 65,000 residents and is only 15 minutes from Daytona Beach. People moving to Port Orange do so for the convenient proximity to the beach and the plethora of exciting things to do. It's no wonder that people are flocking here to take advantage of the many beautiful homes for sale in Port Orange. Ready for some fun? Keep reading to learn about the best things to do in Port Orange, Florida.
Port Orange Outdoor Adventures
One of the biggest draws of Port Orange, Florida, is its abundance of outdoor recreational activities for residents and visitors alike. Whether it's thrill-seeking activities such as go-kart racing and ziplining, or more leisurely activities such as golfing or birdwatching, there's something for virtually everyone to enjoy.
Port Orange Parks
Popular Port Orange Parks
Dunlawton Sugar Mill Gardens
All Children's Park
Seemore Memorial Dog Park
Longleaf Pine Preserve
Port Orange Causeway Park
Spruce Creek Park
Smyrna Dunes Park
There are numerous great parks in Port Orange. Perhaps one of the area's most iconic parks is the Dunlawton Sugar Mill Gardens. Established in the 1800s, Dunlawton Sugar Mill Gardens was originally a sugar mill controlled by the Spanish Empire. Today, it's a beautiful, 1000-acre park containing lush gardens, historical exhibits, and mill ruins throughout the grounds.
Along with lush gardens, Port Orange has parks for all family members, including All Children's Park and Seemore Memorial Dog Park. For nature lovers, the area also has Longleaf Pine Preserve, Port Orange Causeway Park, Spruce Creek Park, and Smyrna Dunes Park.
Water Recreation in Port Orange
Port Orange Water Recreation Destinations
Rose Bay
Cracker Creek
Smyrna Dunes Park
Spruce Creek
Daytona Beach
Blue Spring State Park
Because it's so close to the Atlantic Ocean, people who buy homes in Volusia County are often found out on the water, taking advantage of everything this Florida community has to offer. Port Orange water activities include kayaking, paddleboarding, canoeing, and boating.
Along with water sports, Port Orange offers some of the best marine activities. Marine Discovery Center offers eco-tours, where visitors can learn more about the local plant and wildlife. For visitors looking for a more immersive experience, Discover Diving Dive Center offers deepsea diving. There, divers can get up close and personal with Florida's diverse ocean life, like brightly colored fish, dolphins, or even sharks.
Hiking & Biking Trails in Port Orange
Popular Port Orange Trails
Tiger Bay State Forest
Spruce Creek Preserve
Black Bear Wilderness Preserve Trail
Flagler Trail
Barr Street Trailhead
St. Francis Trailhead
While water sports are Florida's claim to fame, they're not the only way residents stay active. The Port Orange area has tons of hiking, biking, and even horseback riding trails for visitors to enjoy. Tiger Bay State Forest, located just 7 miles west of Daytona Beach, is a sweeping swampland with over 20 miles of hiking, biking, and horseback riding trails. Tiger Bay State Forest has various paths, from paved roads to boardwalks, suiting hikers of all skill levels.
Port Orange Restaurants
Popular Port Orange Restaurants
Aunt Catfish's On the River
Chucherias Hondurenas
Malibu Beach Grill
The Half Wall
Along with great shopping options, Port Orange has quite an array of dining options. From seafood to Mexican to Japanese sushi restaurants and everything between, residents and visitors will find near-endless possibilities. And while most Port Orange restaurants are excellent, one of the best-kept secrets in Port Orange is Aunt Catfish's On the River. While it's known for its American cuisine and seafood options, Aunt Catfish's On the River, interestingly enough, is most famous for its cinnamon rolls. Other restaurants in the area worth checking out are Chucherias Hondurenas, Malibu Beach Grill, and The Half Wall.
While Port Orange is considered a small town, it has many amenities that residents and visitors will feel like they're in a larger city. Port Orange is full of surprises, from its parks and recreational activities to its abundant shopping and dining options.
Port Orange Shopping
Port Orange Shopping Destinations
The Pavilion at Port Orange
All Aboard Flea & Farmers Market
Classy Consignments
The Fashion Safari
Daytona Flea & Farmers Market
Even though Port Orange has an abundance of outdoor activities, it has many of the amenities enjoyed in bigger cities, including fantastic shopping options. From flea markets to upscale stores, Port Orange has it all. For shopaholics looking for everything in one place, The Pavilion at Port Orange hits the mark. The Pavilion has popular chain stores, boutiques, and upscale retail options. For shoppers looking for a unique experience, Volusia County has flea markets and consignment stores, such as All Aboard Flea & Farmers Market, Classy Consignments, The Fashion Safari, and Daytona Flea & Farmers Market.
Arts & Culture in Port Orange
While Port Orange is most widely known for its outdoor activities, visitors are often astonished by the town's cultural scene. Along with Daytona Beach and other surrounding towns, Port Orange has many types of museums, galleries, and live entertainment options one would find in much larger cities rather than a Florida beach town.
Museums in Port Orange
Popular Port Orange Museums
Deland's Stetson Mansion
Freemanville Historic Site
Ponce de Leon Inlet Lighthouse and Museum
Daytona Arcade Museum
Gamble Place Historic District
Living Legends of Auto Racing
Even though Florida did not achieve statehood until 1845, its colonial heritage dates back to the 16th century. As such, many of Florida's towns have historical significance, including Port Orange. One of the area's historic sites is Deland's Stetson Mansion, built in the 1880s. Another local attraction is the Freemanville Historic Site, a Civil War museum.
Another top-rated museum in the area is the Ponce de Leon Inlet Lighthouse and Museum. This museum offers stunning ocean views and provides valuable insight into the history of Florida's lighthouses.
Art Galleries in Port Orange
Popular Port Orange Art Galleries
Museum of Art
ArtHaus
Museum of Arts & Sciences
Atlantic Center for the Arts
Along with an eclectic blend of modern and historical museums, Port Orange offers plenty of art galleries for visitors interested in the visual arts. The neighboring Deland real estate market offers upscale amenities like the Museum of Art, a visual arts museum with many rotating exhibits and educational programs. In Port Orange, there's the ArtHaus, an art museum that offers art classes for children and adults. The Museum of Arts & Sciences is also located in Daytona Beach, and the Atlantic Center for the Arts, a contemporary art museum located in New Smyrna.
Dance & Theatre in Port Orange
Port Orange Dance & Theatre Opportunities
Polynesian Fire Productions
Athens Theater
Orbit Performing Arts & Academy
One of the most underrated aspects of Port Orange's cultural scene is its theatre scene. Not only does Port Orange have world-class museums, but it also offers a wide variety of live performances. For many visitors and residents, one of Port Orange's best performances comes from Polynesian Fire Productions, a live music show celebrating Polynesian heritage through fire and dance. Along with Polynesian Fire Productions, theatre enthusiasts can see live shows at the Athens Theater and the Orbit Performing Arts & Academy. At the Athens Theater, guests can see a wide variety of live shows, from rock concerts to Broadway musicals. The Orbit Performing Arts & Academy hosts many dance performances.
Port Orange is never short on entertainment options for its residents and visitors, from historic museums to eclectic art galleries and live performances. Port Orange strikes a delicate balance between partaking in outdoor activities while celebrating the arts, all within this vibrant community.
Port Orange Nightlife
Port Orange Nightlife Destinations
Tomoka Brewing Co.
Half Wall Port Orange
McKenna's
The Pint Size Pub
The Last Resort
McKay's Village Tavern
The Boat Bar
Doghouse Bar & Grill
Ya Ya's Beachside Bar
For Port Orange residents, celebrating the city doesn't end at restaurants and theaters. Port Orange has a vibrant nightlife scene that competes with many Florida cities. Residents and visitors alike can find tons of nightlife options, from live music and karaoke bars to breweries--even biker bars! Port Orange has a vibrant nightlife scene that deserves to be explored.
When it comes to breweries, Port Orange punches well above its weight class. Like with many small cities, more and more locally-owned microbreweries have been popping up. One of the most well-known microbreweries in Port Orange is Tomoka Brewing Co., a modern microbrewery known for its craft beers and bar cuisine. Other popular breweries and taverns are Half Wall Port Orange, McKenna's, and The Pint Size Pub. While some are looking for a brewery experience, others are looking for an edgier experience. The Last Resort is a ticket for bikers or those more comfortable at a biker bar. Other excellent options for fun during an affordable night on the town are McKay's Village Tavern and The Boat Bar. From there, head to Doghouse Bar & Grill for live music. For those who love karaoke, Ya Ya's Beachside Bar has karaoke nights every weekend.
Finding Fun in Port Orange Is Easy
From its naturally beautiful parks and charming shopping centers to its lively theatre scene and nightlife, Port Orange has a wide range of exciting activities. While Port Orange has tons of entertainment options for all ages, its proximity to Daytona Beach and the Atlantic Ocean makes it easy to keep the good times going. Port Orange is an ideal destination for those interested in buying a Daytona Beach home but are also looking for a more affordable cost of living and just as many fun things to do.