Pros & Cons of Swimming Pool Screened Enclosures
Posted by Kevin Kling on Thursday, September 21, 2023 at 1:38 PM
By Kevin Kling / September 21, 2023
Comment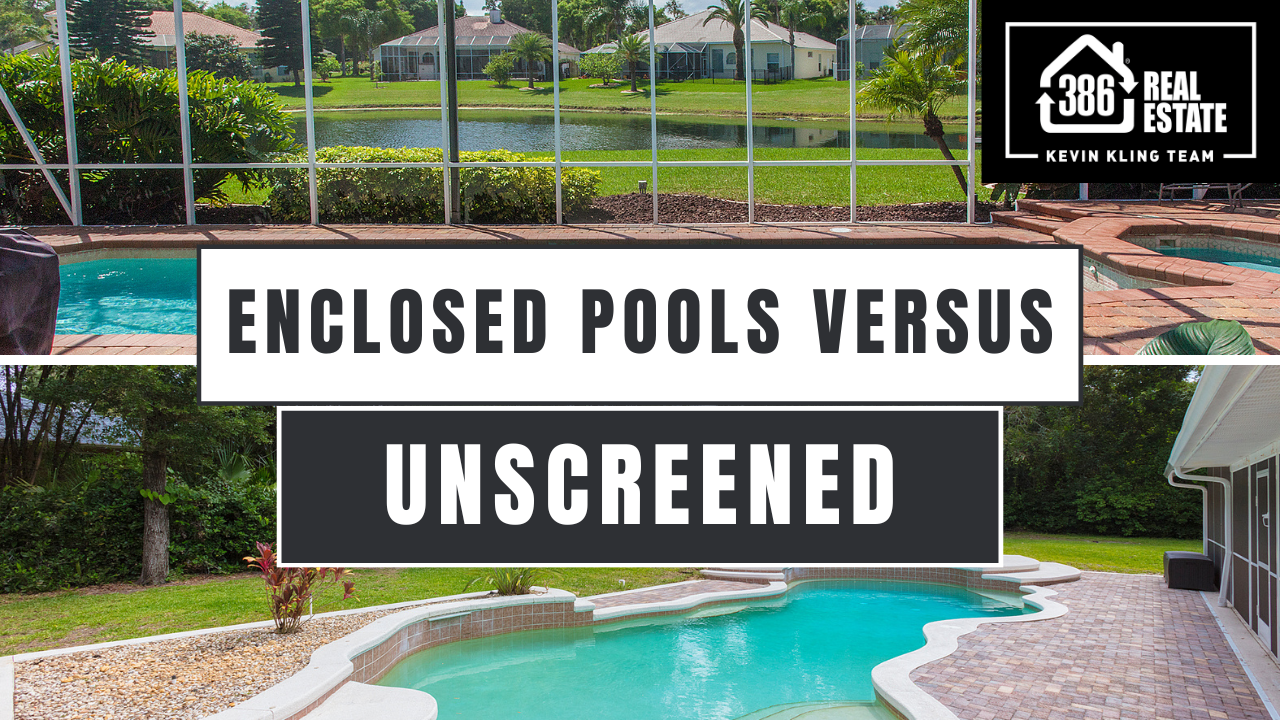 With swimming pool weather nearly year-round, our Central Florida coast is home to a wide range of real estate options with swimming pools. There are many neighborhoods with community swimming pools, oceanfront pools at condos, indoor swimming pools, heated pools, and private pools of all sizes at homes across the Daytona Beach area. And if you are building your own swimming pool or upgrading an existing pool, then there are many decisions to be made. But one question about pool living that is often asked doesn't even have anything to do with the swimming pool itself: should I screen my swimming pool area? What are the benefits of having a pool "cage" with screen versus a non-screened swimming pool? Let's take a closer look at the pros and cons of pool deck enclosures.
Pros of Screening / Enclosing a Florida Swimming Pool
Maintenance is a Breeze
If you have many trees or have a lawn that goes near the edge of your unscreened pool, you may have a large amount of yard debris drifting into the water. One of the top reasons to enclose a swimming pool is to keep the pool cleaner, requiring less scooping of leaves on the surface or vacuuming of the pool floor.
Protection from the Sun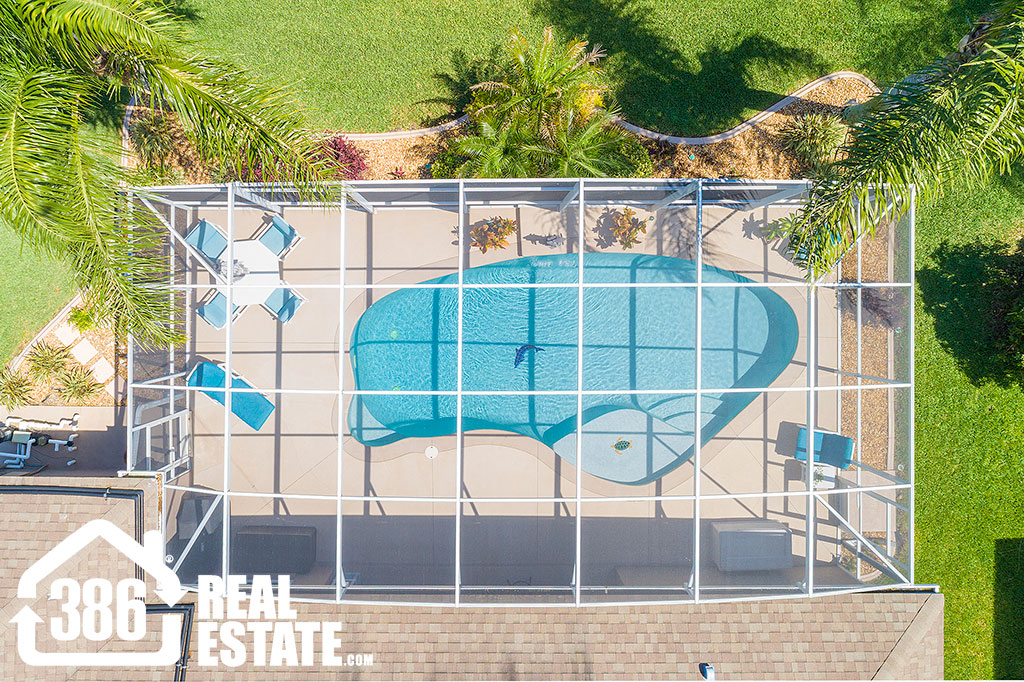 When selecting the screen for a pool enclosure, there are different types and tints that can block UV rays and other damaging effects of the sun. Having a screened pool through the sunny summer will provide some relief from the rays so you can spend more time enjoying your outdoor oasis.
Security
Screened swimming pools keep not only debris but also unwanted guests from entering the pool. Wildlife such as birds, squirrels, dogs and cats, and even the potential for an alligator are less likely to make it into your swimming pool if it is enclosed. Also, if your backyard is unfenced, a screened pool area provides a secondary barrier to entry at the rear of your home.
Cons for Screened Pools in Florida
Cumbersome - Limiting Backyard Options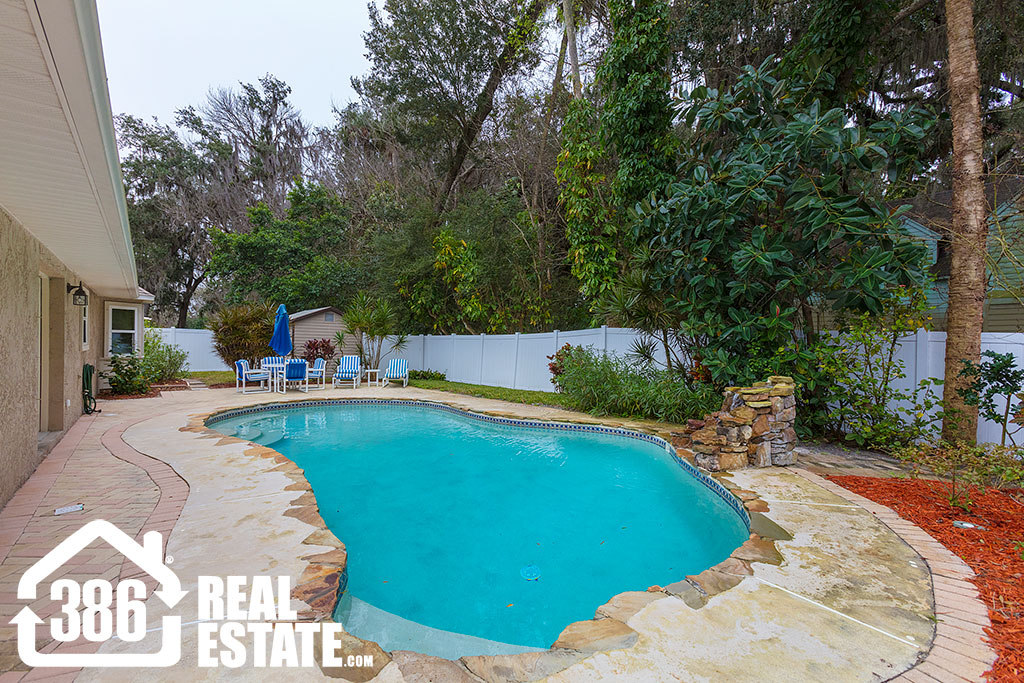 Many Florida backyards contain a swimming pool, and in many of those cases, the pool takes up the majority of the backyard space. Depending on the yard size, and the size of a potential pool, an added enclosure can really engulf the usable yard space around your property. In smaller yards where some grassy space for pets and kids to play is needed, a screened enclosure may not be the best option.
*Notice the fence line around the open pool above and the enclosed swimming pool below. Properties like this may have limited backyard space when the pool is screened.
Cooler Water
While less sun on your skin is a check in favor of screened enclosures, that limited sun access can also cause the pool water to be much cooler. This is not as relevant during the Summer in Florida, but in the Fall and Spring, the swimming pool water that is not enclosed will be warmer and more approachable for swimming.
Whether enclosed with a screen, or wide open and ready to jump in, there is no going wrong with a swimming pool home in Florida. Add a heater and enjoy truly year-round swimming pool fun. Contact us to learn more about swimming pool properties and ask about local contacts for your next swimming pool installation or renovation.