10 Reasons to Live in Daytona Beach Shores
Posted by Kevin Kling on Thursday, June 10, 2021 at 9:56 AM
By Kevin Kling / June 10, 2021
Comment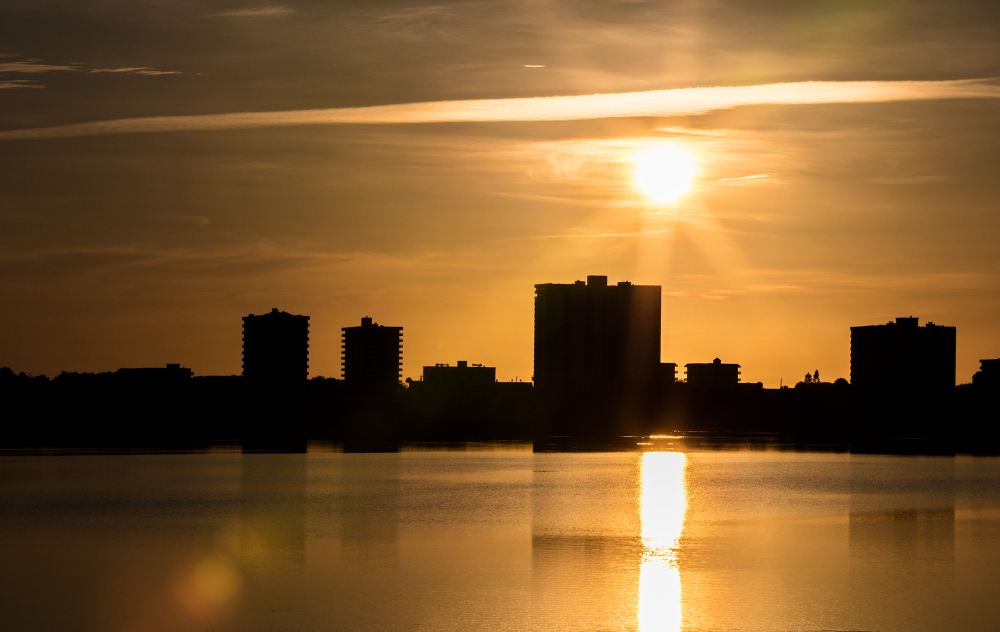 Daytona Beach Shores is a beautiful location with plenty of things to see and do. Discover all the reasons to live in Daytona Beach Shores by reading below!
1. 5.5 miles of Luxury
With dozens of lavish condominium buildings boasting thousands of amazing units packed into this 5.5 mile stretch of Atlantic coastline, there is a condo home available for buyers of any need. From the high-rises that offer sweeping luxury throughout the massive square footages, to a cascade of direct oceanfront options offering breathtaking views, there is never a lack of opportunity when it comes to raising the standard of your lifestyle.
Because prices and availability change often, it is important to call Kevin to fully discover the most awe-inspiring homes available on the market today, but below we will outline a few of the condo options that make Daytona Beach Shores among the best places to call home in Florida. We should first start with the condo row known as the "Oceans". This series of buildings was built in the '70s but most have been upgraded and modernized for the lavish demands of today's residents.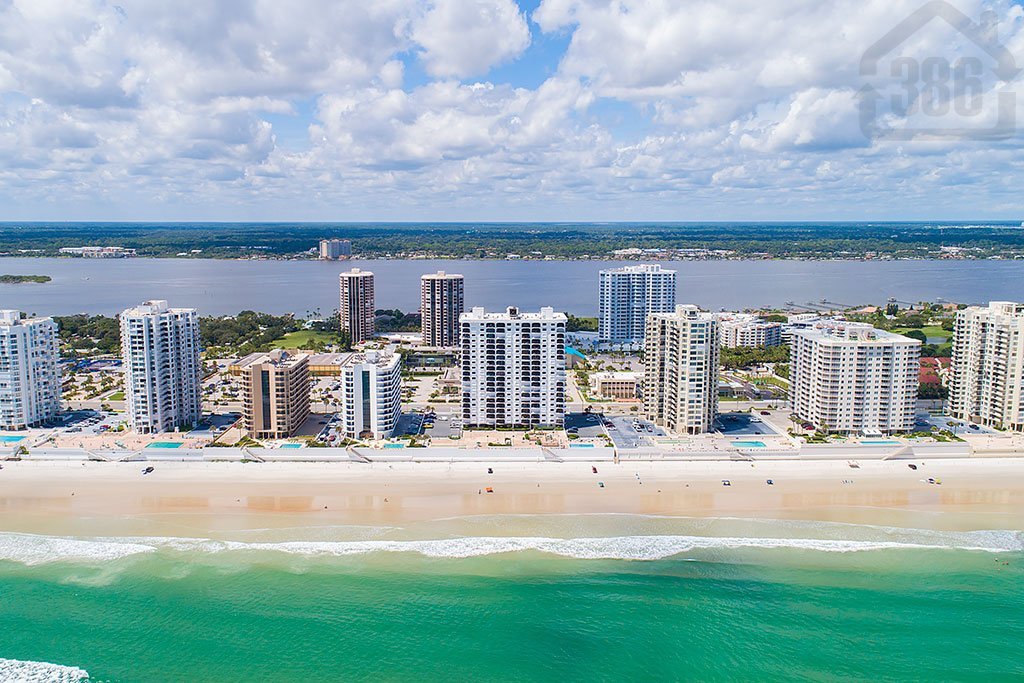 These buildings contain mostly 2 bedroom, 2 bath units but there are also larger floor-plans available, all of which include walkout balconies with stunning waterfront views. There are also the newer condos of Ocean Vistas which offer the highest standard in luxurious amenities in Daytona Beach Shore condos, all of which exceeding 2,000 square feet. For those that prefer a smaller building setting with private entrances, there are options like Kingston Towers which offer condos that occupy entire floors as they unfold in an array of amenities.
It is important to note that most of these luxury condos offer safety and security, both through storm-fortified structures and window fittings, as well as, privacy gates and private security personnel. With much of the Daytona Beach Shores condo availability, the sky is literally the limit as you begin to explore making Daytona Beach Shores, home.
2. Shopping Convenience
With Daytona Beach Shores encompassing only 9 square miles of Atlantic coastline, you are never far from many great conveniences. Publix Supermarket is centrally located in Daytona Beach Shores on the west side of Atlantic Ave and offers a clean, friendly shopping experience for local residents. At the Publix Supermarket in Daytona Beach Shores, you will find a great bakery and deli, as well as the freshest produce and all of your grocery needs.
There are also money services such as transfers, money orders, ATMs, and check cashing available. There are also convenient crosswalks along Atlantic Avenue, making small shopping trips reasonable to walk or bike to. No matter which luxurious condo you call home along the oceanfront of Daytona Beach Shores, you can rest assured that modern conveniences are right around the corner.
3. Fishing and Boating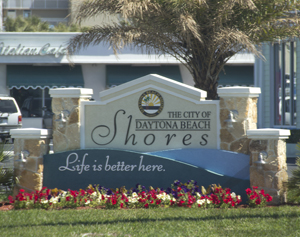 With the majority of Daytona Beach Shores homes located directly oceanfront or along the Intracoastal waterway, the city is an ideal place to live for anglers and boat enthusiasts alike. While many of the luxury condo options in Daytona Beach Shores offer boat slips or private docks for your direct convenience, there is really nowhere in the city that is not extremely accessible to all your boating and fishing needs.
There are boat ramp entry points in many areas along A1A as well as marinas for larger boat storage in nearby Ponce Inlet. Also, there is great fishing available at the Sunglow Pier which offers equipment rentals, along the Halifax River, or from many great charter boat options within a few miles. So whether you enjoy exploring the estuaries of the ICW in a jon boat, taking your 20-30 foot Sea Ray out on the open water, or just want to sit beneath the shade of a Florida palm and fish your troubles away, Daytona Beach Shores has what you are looking for and more.
4. Golf
Keeping with the laid-back lifestyle that Daytona Beach Shores offers, many residents enjoy the golfing opportunities that are within walking distance of most area condos. Of course, there are many great golf courses around the Daytona Beach area, but the most popular choice of local residents is the Oceans Golf Club which is a 13-hole, par-3 course that is designed with convenience and fun in mind. This course mirrors the city in its quaint appearance but plays with huge character.
The privately-owned course is open to the public and is well-maintained year-round. There are several leagues available with the opportunity for you to create your own. And with membership fees and daily fees being quite reasonable, this is a pastime that you could get used to from the convenience of your new Daytona Beach Shores condo. For more information or to view pictures of the course, visit Oceans Golf Club
5. Community Center / Senior Center
Daytona Beach Shores City Center takes great strides to keep its community active through the fun and affordable Community Center and Senior Center. For Daytona Beach Shores residents, the Community Center, centrally located at 2990 S. Atlantic Ave., offers many exciting classes, games, and activities to keep you active and entertained in your new Shores condo home.
Some ongoing events happening at the Community Center include yoga, pilates, Zumba, dominoes, mahjong, backgammon, and even line-dancing classes. Some of these activities include nominal fees on top of the membership, but the convenient location of the Center to any condo building in Daytona Beach Shores makes this a great idea for active residents and retirees.
For those Daytona Beach Shores that are 62 and older, and ready to live life to the fullest, the Senior Center offers an array of activities suited to your lifestyle. Also easily accessible to most Shores condos, the Senior Center works with the Community Center to offer many of the same exercise and game options as well as planning trips and participating in "silver sneaker" events. Membership is only $20 for the year and offers daily opportunities for fun and excitement as you enjoy beachside living in Daytona Beach Shores.
6. Parks
For such a small area, Daytona Beach Shores sure knows how to pack in the best of natural beauty and recreational facilities in its many local parks. Below is a list and description of the amenities found at some of these well-maintained, modern parks in Daytona Beach Shores. McElroy Park - This park has a new, modern playground that mirrors the buildings of the Daytona Beach Shores City Hall. Here you will find safe sidewalk areas for walking and biking as well as renovated restroom facilities and a parking area.
Frank Rendon Park - This park located beachside is a great area for picnics and to bring children and grandchildren. The park has picnic tables, outdoor showers, a playground, and a wooden beach walkway that overlooks the Atlantic coastline. This park has plenty of parking and is wheelchair accessible.
Max Samuely Park & Court of Flags- Located just to the North of the Senior Center, this garden-type park is well-manicured and offers pristine walking areas and a beautiful gazebo for relaxation. Also in this park is the Daytona Beach Shores "walk of fame" honoring the racing heritage of the area. The Court of Flags located in this park displays the American flag as well as the flags of several nations representing the diversity of the Daytona Beach Shores residents. Sunset Park - This small park is a local gem for those looking for beautiful views of the Intracoastal waterway. The park, which is considered "foot traffic" only, is an ideal fit for those living in the quaint perimeter of Daytona Beach Shores.
Fornari Park - Another great beachfront park, Fornari Park has beach access, a playground, and picnic areas to accommodate residents in their pursuit of recreation or relaxation. Beachcomber Park - This park offers large off-beach parking areas, a modern playground and fitness equipment, and a gazebo. Though this park does not have restroom facilities, it is still an appealing and convenient choice for those looking for some outdoor exercise.
7. Stay Involved with Local Clubs
There are many ways to stay involved and active while living in Daytona Beach Shores. The Oceans Racquet Club hosts several sports clubs weekly that include bocce, horseshoes, and pickleball. There are also other organizations to get involved with locally like the Shores Camera Club and the Swinging Eights Square Dance Club. Whatever club or organization you choose to join in Daytona Beach Shores, it will be located in convenient proximity to lush properties and you are sure to have a great time as you continue living life to the fullest.
8. Stay Active - Walking, Running and Biking
Daytona Beach Shores is a city that lends itself well to the active lifestyle. With the many great parks and recreation facilities available there is something for everyone. Of course, the most obvious place to run, walk, or bike is along the 5.5 miles of beautiful Atlantic coastline. Imagine the convenience of stepping outside your oceanfront condo and setting off with a brisk jog at sunrise or a casual stroll with a loved one at sunset. The aroma of ocean air and the sound of crashing waves will carry you as you enjoy outdoor exercise beneath the warmth of the Florida sun. It might just make the whole exercise thing a little more tolerable.
9. Small Community
As mentioned before, Daytona Beach Shores is only 9 square miles with 5.5 miles of beachfront living. Eighty percent of residents of Daytona Beach Shores live in the condos that line this pristine beachfront area. Also, in keeping with the small community feel, the residents took action in 1997 to place a 12-story height limit on any new condominiums built in Daytona Beach Shores. This provides for more spacious views and easier access to resident homes as well as limiting the number of tourists in the area.
With such a small area, the community has a chance to be much more insulated, and thus tight-knit. In Daytona Beach Shores you will find a friendly, active atmosphere where residents enjoy spending time together outdoors or in the clean, local facilities. There are also no schools or manufacturing industry in Daytona Beach Shores meaning less traffic and more serenity for its residents. If you are looking for a place that really feels like home, look no further than a Daytona Beach Shores condo. You can enjoy the relaxation of oceanfront living and choose to be as active as you like within this intimate community.
10. Dining - Eat well, Live well
One of the great things about a smaller city like Daytona Beach Shores is the prevalence of local, family-owned, or independent businesses and restaurants. Many big chains will not come to cities with lower populations thus allowing for the prosper of small businesses. Daytona Beach Shores has many great dining options from hole-in-the-wall breakfast joints, to delicious fresh seafood options, to high-end cuisine. These great local restaurants not only offer creative and original dishes but are also located in close proximity to any home in Daytona Beach Shores. Below I will showcase a few of the great dining options Daytona Beach Shores has to offer just to whet your appetite.
Cracked Egg Diner
This local favorite serves up some of the best breakfast and lunch available along A1A in Daytona Beach Shores. Cracked Egg has a traditional menu of breakfast foods, sandwiches, and burgers but it is their homemade apple fritters and corned beef hash that keep guests coming back for more. The portions and pricing are both quite reasonable making this diner a great option for Daytona Beach Shore residents.
Mike's Galley
This modern breakfast and lunch joint claims to have the " best breakfast in town", and while that is unconfirmed, they continually bring in guests for their homemade baked goods and delicious "mixes". Pricing and portions are also quite reasonable and there is a pleasant atmosphere and staff to greet all Daytona Beach Shore residents.
Genovese's Italian Cafe
Even living by the ocean in Daytona Beach Shores, you can't eat seafood every night. This little restaurant is more than just a pizza shop, offering many great pasta dishes, soups, and salads. They have healthy options that come without cheese or try their delicious vegetable pizza with whole wheat crust. Though they are close to most homes in Daytona Beach Shores, Genovese's also delivers making them a convenient and appetizing option.
Crabby Joe's Deck & Grill
This local seafood restaurant may be a little touristy, but who can pass up on the breathtaking, panoramic views of the Atlantic coastline from the Sunglow Pier. Enjoy the fresh catch, delicious sandwiches, and many other favorites like Crabby's crab cakes and buffalo "shark" ribs as you sit out over the water. You can also fish from the pier here and make a day of it while enjoying their fully-stocked bar.
Top of Daytona Restaurant
Another Daytona Beach Shores dining option with a spectacular view, Top of Daytona is an upscale restaurant that serves flavorful steaks and unique dishes. The pricing is more expensive than other options but the service and quality of food make up for it as this restaurant is perfect for special occasions or intimate evenings.
Cow Lick's Homemade Ice Cream
No dining list would be complete without a little "just deserts". While Cow Lick's does offer burgers and sandwiches, it is their array of homemade ice cream flavors and options that bring in tourists and locals alike. There is a fun atmosphere with an arcade area too if you have children or grandchildren.
Explore Daytona Beach Shores For Yourself Today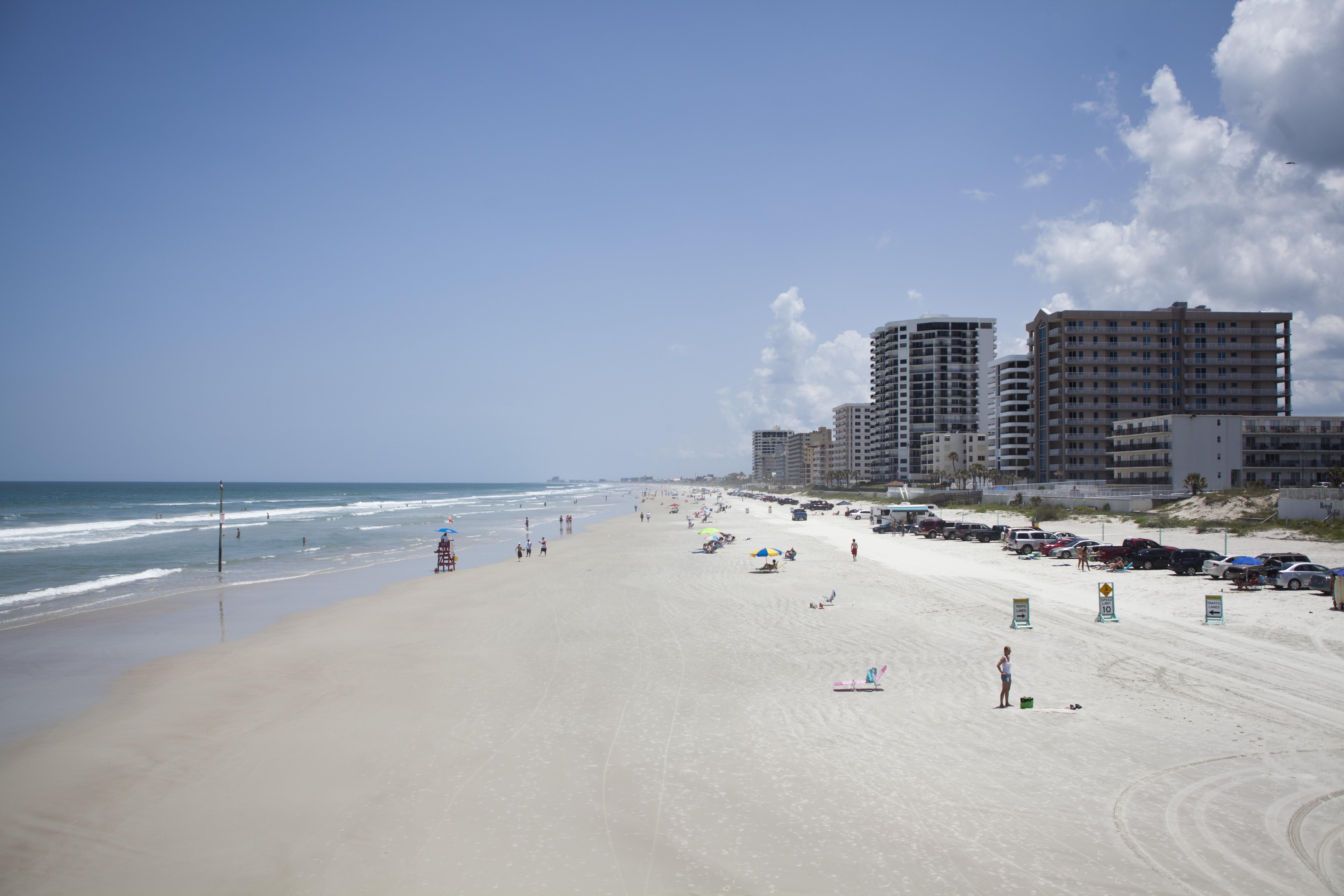 This list is by no means exhaustive and I encourage you to explore the many other excellent dining options in Daytona Beach Shores. Like the city itself, these small, comfortable, and convenient local businesses will be glad to welcome you as a new resident of Daytona Beach Shores.