Say What? Real Estate Words, Abbreviations and Lingo Defined
Posted by Kevin Kling on Thursday, October 22, 2020 at 1:32 PM
By Kevin Kling / October 22, 2020
Comment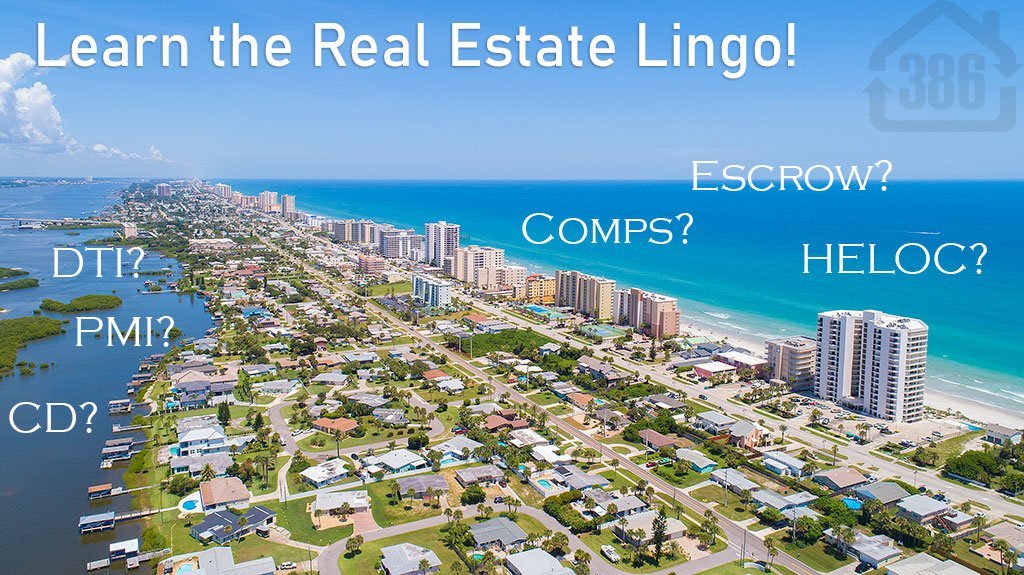 Have you ever been flustered over real estate phraseology or acrimonious over acronyms? When you work in real estate for as long as I have, the listing and selling lingo often becomes second nature, so it is important to make sure when assisting my customers that our conversation is not "lost in translation." As a Realtor® I am here to make the buying and selling process run smoothly, so I am providing this handy guide to some of the most commonly used jargon around the real estate world. Check out the list below and let us know if there are any additions you need!
Appraisal: A valuation of a property, done by a licensed and certified appraiser, in which a thoroughly documented analysis of the property is administered in-person and is based on data from comparable sold properties in the area.
Buyers market: When supply is higher than demand, there is a Buyers market. Properties tend to stay on market longer and sale prices decrease during this time.
Capacity: Also known as maximum budget, capacity is the amount of money a home buyer can afford to borrow.
Closing: Signing day! A meeting, often in-person, where ownership of a home or condo is transferred from the seller to the buyer. Typically, closings are handled at a lawyers office or title company and attended by the buyer, seller, the respective Realtors® and the lender if used.
Closing costs: Just like it sounds; the price of doing business. Closing costs are any fees associated with the purchase of a home or condo that are due at the end of the sales transaction. This may include the property inspection, an appraisal, a title search, a pest inspection and more. The responsibility of who pays closing costs can vary and can be negotiable. In general, buyers should budget for an amount that is 1% to 3% of the home's purchase price.
Closing disclosure (CD): Compact discs are nearly obsolete but the CD (closing disclosure) is ever-green. This important document is sent to the buyer three days before closing. This document displays all of the terms of the loan including the purchase / loan amount, the interest rate, the monthly payment, mortgage insurance, the monthly escrow amount and all closing costs. This will let the buyer know how much money they need to "bring to the table" or wire at closing.
CMA (Comparative market analysis): Prepared free of charge by your favorite Realtor®, Kevin Kling, a CMA is an in-depth analysis that determines an estimated value of a home or condo based on recently sold homes of similar size, features and age that are located in the same area. The CMA is not an appraisal but is generally based on the same data used by professional appraisers.
Comps: Short for comparable sales, comps are those properties sold within the previous six months which help inform a value for a CMA or appraisal.
Condo or contents insurance: Homeowners insurance that covers personal property and the interior of a condo unit should damage occur.
Contingencies: Think of contingencies as your safeguard, protecting you from unforeseen issues during the buying process. These contingencies are conditions written into a home or condo purchase contract that allow a buyer to cancel the contract and have their escrow returned if problems occur with financing, the home inspection, etc.
Conventional loan: A type of mortgage loan that is not guaranteed by a government agency, such as the FHA or the VA. This loan is backed by a private lender and can require private mortgage insurance (PMI) if the down payment percentage is not high enough.
Days on market (DOM): "How long has this one been on the market?" The literal definition of days on market is mostly self-explanatory, but what a high number can sometimes signify is that a property is priced above market value or there is low motivation on the seller side.
DTI (Debt-to-income ratio): A ratio that compares a home buyer's expenses to gross income.
Down payment: Unless you're using a VA loan, you are most likely going to need to bring some money to the table before getting the keys to that new home or condo. The day payment is a percentage of the purchase price that is required by a lender to secure a loan and can vary by loan type.
Earnest money / escrow: An agreed upon security deposit made by the buyer to assure the seller of his or her intent to purchase. This money is often held by a title company or attorney's office and applied to the purchase at closing or can be refunded if the contract is cancelled.
Escrow account: Like a "piggy-bank", the escrow account is an account required by a lender to hold funds from the mortgage payment to be distributed annually for property taxes and homeowners insurance
Escrow agent: Generally in our area a title company or real estate attorney, the escrow agent is a neutral third-party who manages paperwork and funding related to a real estate transaction until both parties fulfill their contractual obligations in the transfer of property ownership.
Equity: How much of your home do you own? Equity is a percentage of the value of a property and can be earned both through payment or increasing property values over time.
Federal Housing Administration (FHA): Free Houses Anyone? I wish! But FHA does help those buyers with low funds for down payment. This government agency was created by the National Housing Act of 1934 and insures loans made by private lenders, making more loans possible for many borrowers.
Foreclosure: When an owner does not make mortgage payments, the lender or bank repossesses the property. Foreclosures often lead to "bank-owned" sales and are sometimes sold below area market value.
Funding fee:Like a deposit that you never get back, the funding fee is an additional charge by a lender to provide and fund higher risk loan programs such as FHA and VA.
Homeowners association (HOA): Everyone's favorite governing body, the HOA creates rules and oversees the maintenance of common areas in a neighborhood, condo community, or townhome grouping. The HOA can levy and collect fines, fees, and special assessments to maintain the common areas of these properties.
HELOC (Home equity line of credit): Like charging a credit card against the equity of your home, the HELOC provides homeowners the opportunity to access cash, drawn over a set time period and at varying interest rates, which must be paid in full at the end of the draw period.
Home equity loan: When you owe less on a property than its appraised value, you may be able to take a lump-sum loan against that equity. A lien is placed on the property and decreases the equity until paid.
Home inspection: One of the most important steps in the home buying process, the home inspection is always highly recommended. Once you have a property under contract, hiring a professional inspector to visually inspect the property can help avoid headaches from unknown structural, appliance or other problems down the road.
Homeowners insurance: An insurance policy protecting a property's structure, interior contents, and potential injury to individuals on the property should a mishap or some type of damage occur.
Homestead exemption: Found in most states including Florida, this tax discount protects resident owners from large tax increases. In Florida, homestead can reduce the taxable value of a property by up to $50,000 and caps the annual increase to 3%. Homestead exemption requires a Florida drivers license, Florida car registration, and generally applies to primary homes only.
Jumbo loan: A loan amount that exceeds the Fannie Mae/Freddie Mac limit, which in Florida is currently $510,400.
Listing price: Not to be confused with the sale or sold price, this is the asking price set by a seller and can often be negotiated.
Loan estimate: A document sent from a lender to a loan applicant which details the potential loan terms, expected monthly payment and projected closing costs.
Loan-to-value ratio (LTV): The lower the better, this is a ratio used by lenders which is calculated by dividing the amount of the loan by the price of the property.
Mortgage broker: A licensed professional who has multiple loan and lender options to provide to a Buyer
Mortgage companies: A lender who does the underwriting of a loan and funds the loan in-house. The loan is often later sold to loan buyers.
Mortgage interest rate: How much it costs to borrow money for a home purchase; currently interest rates are low, with a set rate coming from the Federal Reserve. Lenders adjust this set rate based on the buyer's borrowing qualifications such as credit score and down payment.
Multiple listing service (MLS): Realtors® input new listings and track sale statistics through local databases called the MLS. Real estate websites and search engines receive their listing feeds through these local MLS's.
Origination fee: The fee charged by a lender or mortgage broker for their service provided on the loan application process.
PITI (Principal, interest, property taxes and homeowners insurance): One of the most common acronyms used in real estate, PITI are simply the four components that make up your monthly mortgage payment.
Points: To lower your interest rate and overall loan burden, you may decide to pre-pay some interest at closing. Each "point" represents 1% of the loan and this prepayment is tax deductible.
PMI (Private mortgage insurance): When a buyer is unable to make a 20% down payment, a lender charges PMI to off-set some of the risk of the loan. PMI is a fee of 0.3% to 1.5% of the annual loan amount and can sometimes be cancelled once the buyer has reached 20% equity on the property.
Pre-approval: More extensive than pre-qualification, pre-approval is an in-depth assessment of a borrower's assets, income, and credit worthiness to determine the borrower's approved loan amount.
Pre-qualification: One of the first steps before most showings, a Realtor will request a buyer provide pre-qualification which is a basic check of the borrower's financial and credit status to determine what loan programs are available.
Property tax exemption: There are an array of possible tax "breaks" for property owners to include discounts for use of renewable energy, senior tax exemptions, veteran related exemptions and the most used for our area homestead exemption.
A reduction in taxes based on specific criteria, such as installation of a renewable energy system or rehabilitation of a historic home.
Sellers market: More buyers than sellers creates a seller's market. Demand is high, inventory is low, and property prices tend to increase.
Short sale: When an owner is "upside down" or owes more on a property than its value and attempts to sell the property, the owner may attempt a short sale. In this scenario, the owner of the mortgage would have to approve the potential sale price as they recuperate the most value possible. A short sale is often attempted prior to foreclosure.
Special assessment: In the event that the budget or reserve accounts do not account for an unexpected improvement or expensive, a condo association or HOA may levy this extra fee to all owners to fund the shortfall.
Tax lien: If a property owner fails to pay their property taxes, the government may make a legal claim against the property.
Tidewater: In reference to VA loans, Tidewater Initiative is when an appraiser notifies the lender that the appraisal amount may be lower than the purchase price. There is then a short time period for the appraiser to be given alternative comparables to aid in the appraisal. If the appraisal comes in below purchase price, the Buyer may need to bring cash to closing or the purchase price may be renegotiated to match the appraisal.
Title insurance: This is insurance that protects a lender and buyer from claims to ownership on the subject property prior to the transfer of legal ownership.
Transfer stamps: Documentation, often with physical stamps, that indicates the transfer taxes have been paid by the buyer.
Transfer taxes: A fee imposed on the local or state level for the transfer of a property's title.
Under contract: The period of time after a Seller has accepted a Buyers offer on a property where the property is inspected, appraised, and title work is completed. The Buyer may also work on completing their loan during this period. Generally, a property that is under contract is no longer marketed online and is less visible or available to other Buyers in the market.
Underwater or upside down: As unpleasant as it sounds, being upside down is when a homeowner owes more money on their loan than the property's market value.
Underwriting: During the processing of a loan application, underwriting occurs as the lender analyzes the applicant's assets and liabilities, income, and the overall risk to the lender for approving the mortgage.
VA home loan: A home loan type offered by lenders, banks and mortgage brokers that is partially guaranteed by the United States Department of Veteran Affairs and typically includes zero down payment and no required PMI.
Walkthrough: A lot can change with a property over a 30-45 day loan period. The final walk through is a buyer's last chance to physically inspect a property prior to closing.
This list of real estate related terms is not exhaustive so if you have questions, we would be glad to help. Call Kevin Kling at (386) 527-8577 for personalized real estate assistance in Daytona Beach, Port Orange, and the surrounding Central Florida cities.