5 Things to Consider Before Building Your Own Pool
Posted by Kevin Kling on Thursday, June 9, 2022 at 7:45 AM
By Kevin Kling / June 9, 2022
Comment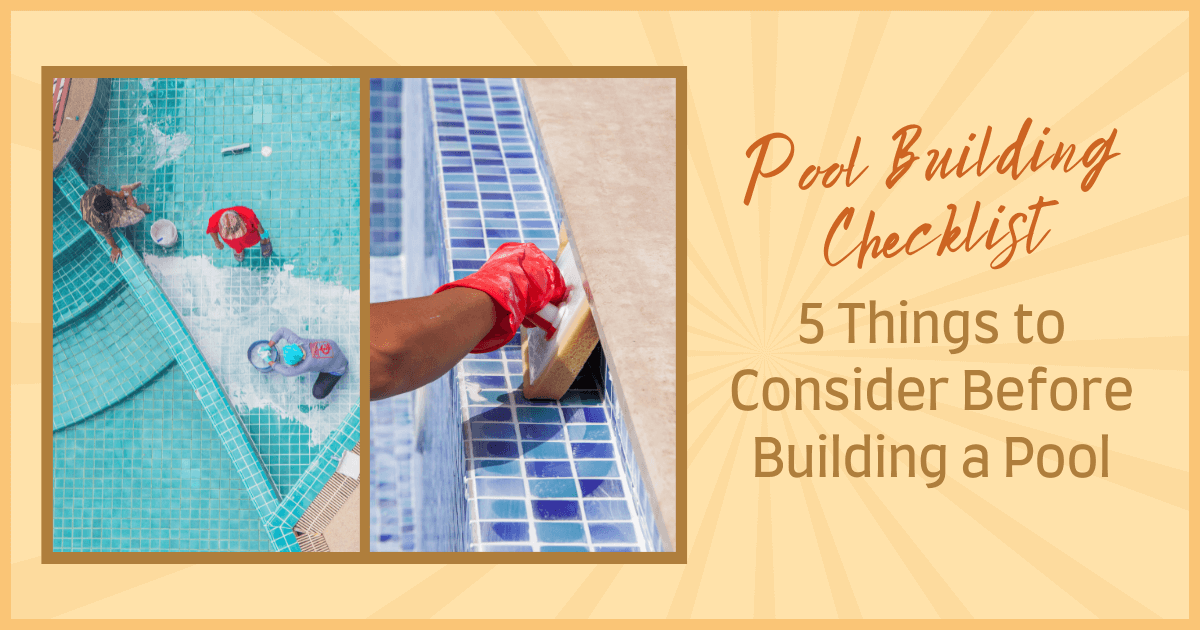 There's a lot to consider when building a pool. Homeowners need to obtain proper permits, find a reputable builder, design their pool, determine if it will be an above-ground pool or an in-ground pool, and learn how to maintain it properly. Dive into this checklist of everything to consider when building a pool.
Check Permits & Requirements Before You Start Planning
A few legalities and formal requirements are involved in pool projects homeowners need to be aware of.
HOA Rules
Some homeowners associations (HOAs) don't allow homes with pools—even above-ground options. HOAs that do are likely to have strict rules and some unique requirements in place and will need the community board's permission before approving such projects. Get all pertinent information and required forms from the HOA office.
City Permits
Speaking of HOAs, most won't approve a request for pool construction until it's reviewed and approved by the zoning board or local city municipal permitting office. Requirements vary from city to city, but most people can find information online or at the local permitting office.
Utility Easements
State laws dictate that one cannot build any structure, including a pool on an easement. Ask the utility company or the city whether the property is on an easement. This information may also be available on the property survey or deed.
Setback Requirements
A setback requirement is essentially the amount of space between a swimming pool and the very corners of the property. Setbacks are building restrictions homeowners must be aware of, and local ordinances and building codes establish these for safety purposes.
How to Design a Pool
From the terrain of the property and designing a pool to suit your lifestyle with suitable materials, here are some tips for designing a pool.
Property Requirements
Terrain will dictate the type of pool one can have. Flat landscapes are ideal for in-ground pools, while properties on a hill may need retaining walls or have to reshape the ground entirely. This could ultimately double the overall cost of such pools, while above-ground pools are easier to situate on uneven terrain.
How to Customize a Pool
There are a variety of shapes common to pools, and custom creations are also available. The first step in design is to consider what purpose the pool will predominantly serve:
Leisure
Entertainment
Exercise
To add beauty
For exercise, square and rectangular shapes are optimal, while those for leisure and entertainment might be irregularly shaped and feature conjoined or side-sectioned spas.
Choose the Right Materials For the Build
There are three primary materials used for pools, with cement appropriate only for above-ground pools. Above-ground pools often have vinyl lines, but high-end models can have resilient fiberglass surfaces, as can in-ground pools.
How to Choose a Pool Builder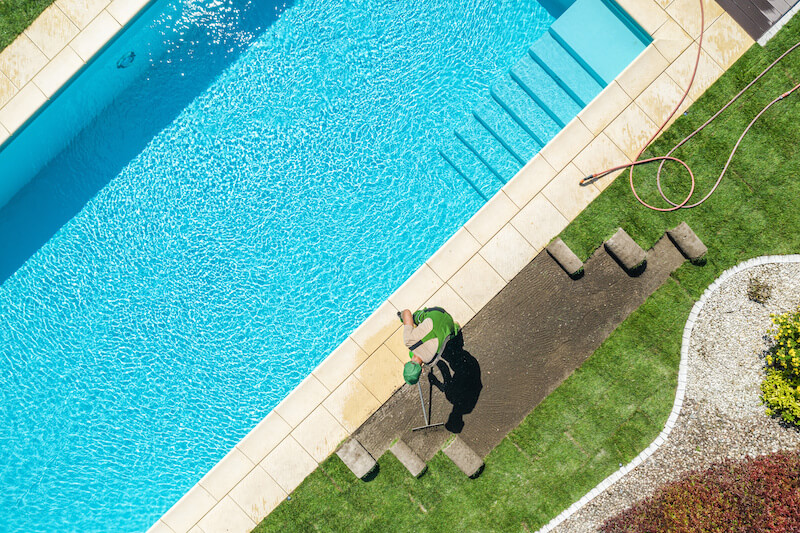 Choosing a pool builder is almost a must for in-ground installations. An easy way to start narrowing down options is by asking neighbors with pools about their contractors. Look online for reviews and check social media sites. When the choices are down to a few, start asking builders for references.
Why You Shouldn't DIY a Pool
Many small above-ground pools set upon flat terrain are potential DIY projects, but this isn't a good option for in-ground pools. These are complex projects and require huge construction machinery. The job can be dangerous and requires the skills of a professional.
Questions to Ask the Pool Builder
Some top questions to ask pool builders are:
How much experience do you have?
Do you subcontract work?
Can you design custom pools?
May I see examples of past work?
What does the bottom line cost?
How long will the project take to complete?
What to Look for in a Good Pool Builder
The top pool builders will have plenty of experience and a solid reputation for quality and on-time completion. They will readily obtain any permits, show proof of licensing, insurance, and other required certifications. They will also be friendly, easy to work with, and eager to satisfy clients.
Other Things to Know About Building a Pool
Before we swim away and start hunting for builders, there are a few other vital things to know about building and owning a pool.
Pool Maintenance Tasks
Pools indeed require routine maintenance. Balancing pool water with chemicals is essential to protect users and the complex systems of the pool itself. There will be a need to have a surface skimmer for an above-ground pool, but in-ground pools will also need a pool vacuum that gets to the grime and debris that settles on the bottom.
How Much Do Pools Cost?
The costs of pools vastly range, with above-ground pools almost always being the most affordable option. With in-ground pools, size, terrain, optional extras, decking additions, and permitting costs can add up to $20,000 or more, depending on additional pool accessories like diving boards, lighting, and landscaping.
Property Taxes & Home Insurance for Pools
In-ground pools are likely to boost property values, which in turn has the potential to increase an owner's property taxes. Furthermore, adding a pool often requires higher insurance coverage limits, which might increase one's homeowners insurance premiums.
Considering Building a Pool?
Having a private pool at home can transform the way owners enjoy the great outdoors on their property. However, it's not feasible to go about having one built without being prepared with knowledge. Hopefully, this quick guide will get you on the road to pool ownership and swimming the days away.
Daytona Beach Pool Resources
How to Stage Pool Areas for Faster Sales - Coming Soon!
Design Ideas for Backyard Pools - Coming Soon!