Top Daytona Beach Area Waterfront Restaurants
Posted by Kevin Kling on Monday, October 2, 2023 at 10:49:52 AM
By Kevin Kling / October 2, 2023
Comment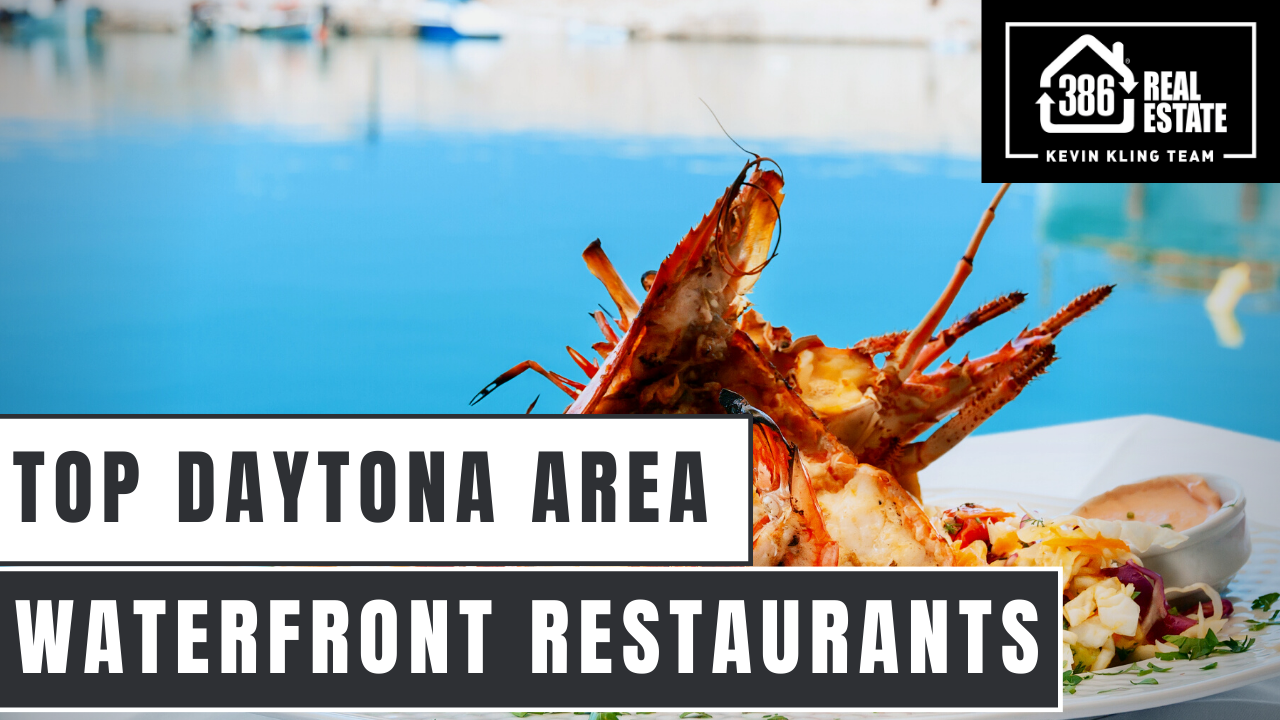 From the sands of the World's Most Famous Beach, to the banks of the majestic Intracoastal Waterway, our Central Florida coast offers many excellent waterfront restaurants. The Daytona Beach area is home to oceanfront and riverfront dining options where you will find an array of cuisine. Most of these waterfront restaurants will specialize in seafood, of course, but there are always plenty of delicious options for the land lovers as well. Browse some of the top restaurants on the ocean or river in Daytona Beach, New Smyrna Beach, Ponce Inlet, Port Orange and Ormond Beach.
Oceanfront Restaurants
What is more picturesque than direct beach scenes while enjoying a meal? How about walking right out onto the beach sand from your lunch or dinner spot? Here are local favorites directly on the ocean:
Ocean Deck
127 S Ocean Avenue, Daytona Beach, FL 32118
A legendary Daytona Beach destination for both vacationers and locals alike, the Ocean Deck is the ultimate oceanfront restaurant, with live music daily and colorful tropical drinks. This two-story eatery offers both open-air seating and air-conditioned dining with direct beach views. Be ready to use their free valet service as parking by the beach comes at a premium.
Chase's on the Beach
3401 S Atlantic Avenue, New Smyrna Beach, FL 32169
How many restaurants have you been to with a swimming pool? Not many! Well Chase's on the Beach in New Smyrna Beach is a local oceanfront eatery you may want to check out. Offering a menu of everything from seafood to handhelds and chicken wings, there is sure to be something for everyone in the family. And after your meal, beach time!
Racing's North Turn
4511 S Atlantic Avenue, Ponce Inlet, FL 32127
Our World Famous coast earned its claim to fame from early beach driving, and Racing's North Turn sits on the sands of that historic first track. Come enjoy live music, seafood, and a cool racing museum.
Riverfront Restaurants
Locals love riverfront restaurants that they can drive their boat to and dock to enjoy a meal. These river restaurants often offer freshly caught seafood and tasty tropical drinks. But don't worry, you can still access these riverfront eating options by car as well. Here are some frequently recommended restaurants:
Aunt Catfish's on the River
4009 Halifax Drive, Port Orange, FL 32127
Let me just start by saying that you don't want to miss the cinnamon rolls! Aunt Catfish has a long standing history in Port Orange and is loved by locals and visitors alike. This riverfront restaurant is located at the base of the Dunlawton Bridge on the mainland side in
Port Orange
and offers a large menu of seafood and traditional fare. Enjoy outdoor seating while you wait for a table and walk out onto the dock and take a photo with the 435 lb. catfish!
Boondocks
3948 S Peninsula Drive, Port Orange, FL 32127
Boondocks is a local favorite that isn't as much of a hidden gem as it used to be! This open-air riverfront restaurant is accessible by car or boat, and is often very busy on the weekends as patrons flock in to feast on an assortment of fresh seafood and other fare. Don't expect many frills here with a dirt parking lot and old wooden parking tables for seating, but do expect quality food and service in a serene setting.
Fysh Bar & Grill
3633 S Ridgewood Ave. Port Orange, FL 32129
One of the newest waterfront restaurants in Central Florida, Fysh is a two-story dining spot with panoramic views of the river and beach, and one of most wide-ranging menus you will find. Here they have sushi, pizza, tacos, fresh seafood and everything in between. You will often find live music here and don't forget to end, or even begin, your meal with a fresh gelato.
Outriggers
300 Boatyard St. New Smyrna Beach, FL 32169
Another popular option for boaters in the Daytona Beach area, Outriggers is a New Smyrna Beach restaurant that you can arrive at by car or floating vessel. Offering live music and Sunday brunch, this popular establishment can be busy on the weekends. But what isn't busy in, highly-sought and locally loved,
New Smyrna Beach
?
Surely you will find an excellent option for lunch or dinner from this list of local waterfront eateries. So which is your favorite? Did we miss a hidden gem? Leave a comment below and be sure to contact us to find the perfect home or condo near your favorite oceanfront or riverfront restaurant.