Why Is Salt Chlorination Better For My Pool?
Posted by Kevin Kling on Friday, April 2, 2021 at 12:11 PM
By Kevin Kling / April 2, 2021
Comment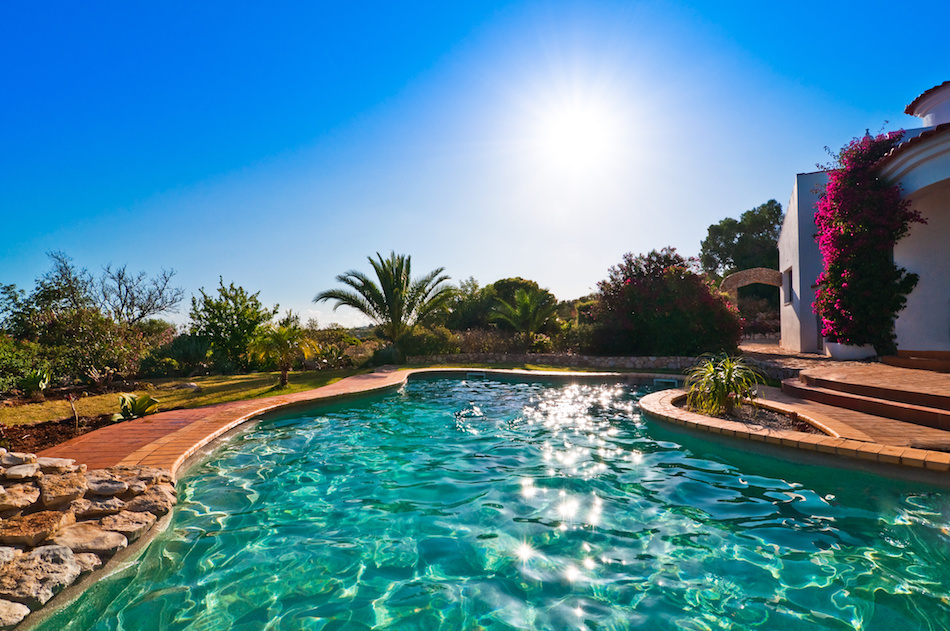 In the sweltering heat of a Florida Summer, many residents look for reprieve and relaxation in the comfort of their home swimming pool. For years, in fact since the early 1900's, chlorinated pools have been the most popular option for residential pools, however, through technological advancements people are becoming ever more interested in saltwater pools. There are advantages and disadvantages of both that include cost, maintenance and overall experience. Below I will outline the differences in each and then you can decide which is best for your home and family.
Dispelling Myths About Saltwater Pools
I will begin with saltwater swimming pools and immediately address the myth that these pools do not require chlorine. In fact, saltwater pools do contain chlorine. The difference is that with chlorine pools, the user manually adds and stores chlorine for their pool which consists of a routine and redundant process. Saltwater pools, however, use a chlorine generator that monitors and produces a steady flow of chlorine production into the pool and significantly cuts maintenance time.
Pros & Cons of Chlorine Pools
Chlorine pools are less expensive to install because they don't require special equipment to make chlorine conversions. Since less electricity is needed, they are cheaper to run during the summer, and homeowners can perform minor repairs themselves. Chlorine is also a great sanitizer.
However, people with sensitive skin may suffer from chlorine exposure, and even those without skin sensitivity can develop issues since chlorine is harsh on skin, eyes, hair, and throat. Routine maintenance is tedious because chlorine levels must be consistently checked (at least once a week, sometimes more) to ensure they're in the correct range, so bacteria don't grow. Pool owners must also make certain chlorine is stored in a consistently dry area, so chemicals aren't exposed to moisture. Annual maintenance costs are higher since chlorine needs to be added weekly, and this gets expensive.
Pros & Cons of Saltwater Pools
It's important to understand saltwater pools aren't chlorine-free. The difference is a saltwater generator converts salt into chlorine, but this is advantageous because it's gentler on the skin, eyes, hair, and throat. Fewer chemicals are involved in maintenance and upkeep. Saltwater pools can self-run for up to two weeks and, once the initial installation is complete, it's easier and less expensive to maintain.
Installing saltwater pools requires higher upfront costs because a saltwater generator that converts salt into chlorine is required. While day-to-day maintenance is cheaper, long-term costs may not be. The salt concentration in these pools causes damage over time to fixtures, lighting, and heaters if proper ones aren't purchased. Depending upon the makeup of a pool's surface, walls and floors could deteriorate faster. When breakdowns occur, a specially licensed technician is usually required, even for minor issues. Lastly, saltwater generators don't produce chlorine in temperatures below 60 degrees.
Both types of pools have pros and cons, but over time the costs theoretically even out. Homeowners should consider their own preferences about water, maintenance, and how much they want to invest (more upfront vs. every year) when deciding.
Other Considerations When Constructing an In-Ground Pool
The steady flow of chlorine in a saltwater pool prevents algae and fungi build up better than with the intermittence of a chlorine pool. Also, in this regard, in a saltwater pool you have less worries about over-chlorination that can adversely affect your swimming pool experience. The standard chlorinated pool requires stricter testing of the pH levels to maintain proper cleanliness and safety for the user.
Having said this, it is also important to realize that the initial cost of a saltwater pool is much greater than that of a chlorine pool.The chlorine generator will cost several thousand dollars extra, even if you are simply converting a chlorine pool over to salt. Because of the lower maintenance requirement, however, the extra money spent up front for the chlorine generator will be saved slowly due to its much lower cost of maintenance versus a chlorine pool.
For example, chlorine pools can average $200 maintenance at the beginning of the summer and $10-20 a week through the season while saltwater pools can cost an average of only $30 a month. This savings can see the initial investment returned in as little as two years.
If the money and maintenance aren't pressing issues then it is also very important to take into consideration your personal pool experience and preference. As said before, with a saltwater pool, the chlorine is regulated, and in general, less present in the water which means less burning eyes or skin. The saltwater pool is in fact much softer on the skin.
Whichever option you choose, remember to keep safety in mind especially with small children around, and mostly remember to have a great time in your Central Florida pool.