VA Loan Information - Daytona Beach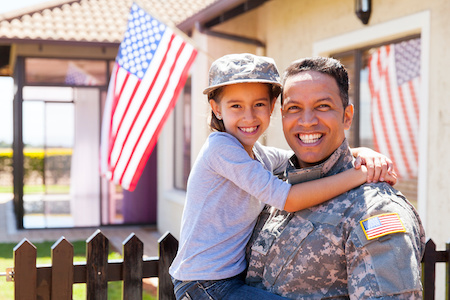 View VA-Approved Condos - Contact our Veteran Specialist
Many veterans choose to call the Daytona Beach area home because of the array of area attractions and perpetually perfect weather. In fact, Florida ranks 3rd among number of veteran residents throughout the United States. Another reason that many veterans may come here is because of the affordable housing market. If you are a veteran, and qualify for VA benefits, then the VA home loan is an excellent opportunity to secure a home for you and your family, and at a competitive interest rate. We love working with veterans and making their home buying or selling goals come to fruition. Below we will outline the often misunderstood VA home loan and how you can use it to get the key to the home of your dreams.
Most VA Home Loans are handled entirely by private lenders and VA rarely gets involved in the loan approval process. The VA "stands behind" the loan by guaranteeing a portion of it. If something goes wrong and you can't make the payments anymore, the lending institution can come to the VA to cover any losses they might incur. The VA loan guaranty is "insurance" provided to the lender.
The guarantee VA provides to lenders allows them to provide you with more favorable terms, including:
No down payment as long as the sale price doesn't exceed the appraised value.
No private mortgage insurance premium requirement.
VA rules limit the amount you can be charged for closing costs.
Closing costs may be paid by the seller.
The lender can't charge you a penalty fee if you pay the loan off early.
VA may be able to provide you some assistance if you run into difficulty making payments.
You should also know that:
You don't have to be a first-time homebuyer.
You can reuse the benefit.
VA-backed loans are assumable, as long as the person assuming the loan qualifies.
For more detailed information you can visit the VA Home Loan Site, or call us today and we will find the perfect home for you and your family. Thank you for your service!